Our Top Sportsbooks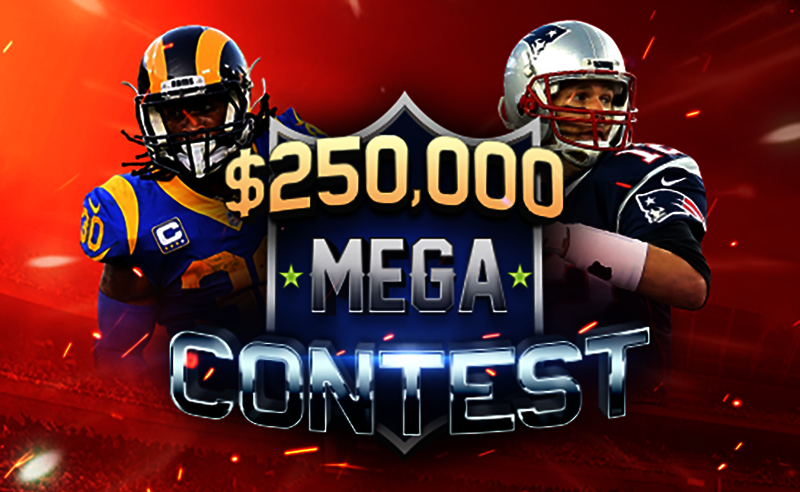 BetOnline's $250,000 Mega Contest is a season-long handicapping contest that runs Week 1 through Week 17 of the 2020 NFL regular season.
Registration opened on July 20 and closes on September 14 at 7 p.m. ET. If you register for the contest on September 13-14, games from the Week 1 schedule that have not started will be available for selection.
One entry: $100. Contestants must have a valid BetOnline account to register for the Mega Contest. Contestants can participate by purchasing at least one entry for $100, and can enter the Mega Contest up to five (5) times. The fourth and fifth entries are available at a discounted rate:
All entry purchases will be deducted from your BetOnline Sportsbook balance. If you do not purchase all five entries, you can come back and purchase more entries at any time until the deadline. Registration for the Mega Contest is only available online. You cannot register via phone, chat or email. All sales are final and there are no refunds.
How to Play
Contestants must pick five games against the spread (ATS) every week of the NFL regular season. The spread is determined by the current odds available in the BetOnline Sportsbook.
Once a pick is made, the pick saves automatically with the odds available at the time of selection. Contestants may submit and/or change picks at any time until the specified start time of each game. At the specified start time, games are no longer available for selection and any picks involving that game cannot be changed.
If a contestant changes or removes a pick, they will only be able to re-pick that team with odds available at the time the team is re-selected. Contestants earn one (1) point for every correct pick and a half-point (0.5) for a PUSH.
Contestants who submit less than five picks only receive points for selected games. Contestants who do not submit selections will not receive points. Every week, the contest will reopen no later than Tuesday afternoon. At this time, you will be able to make your selection(s) for the week's upcoming games.
Contestants cannot select the same side twice or select both sides of the same game on a single entry. If a game is canceled and/or postponed, the game must be played by Tuesday of the following week in order to earn points in the Mega Contest standings.
The NFL regular season must consist of at least 10 weeks for the BetOnline Mega Contest to be considered valid or the BetOnline Mega Contest will be canceled, and all entry fees will be refunded. This does not apply to the 1st Quarter and 2nd Quarter Prizes.
$250,000 Guaranteed Prize Pool
The $250,000 is a cash prize pool with no rollover requirements. Winners will be paid directly into their BetOnline.ag account within 72 hours of the completion of Week 17's final game. Payout structure is as follows:
| Place | Prize |
| --- | --- |
| 1st | $100,000 |
| 2nd | $35,000 |
| 3rd | $15,000 |
| 4th | $10,000 |
| 5th | $7,500 |
| 6th | $5,000 |
| 7th | $4,500 |
| 8th | $4,000 |
| 9th | $3,500 |
| 10th | $3,000 |
| 11th | $2,500 |
| 12th | $2,000 |
| 13th | $1,600 |
| 14th | $1,400 |
| 15th | $1,250 |
| 16th to 20th | $1,000 |
| 21st to 30th | $750 |
| 31st to 40th | $500 |
| 41st to 50th | $400 |
| 51st to 75th | $350 |
| 76th to 100th | $300 |
There are no tiebreaker questions. If there are ties for any prizes, the money will be split among the tied contestants, along with the next-lowest prize. Example: If three entrants tie for third place, they will split the third-, fourth- and fifth-place prizes of $20,000, $12,000 and $7,500. As a result, each player would win $13,667.
Contestants will also be competing for four quarterly prizes of $2,500 each which are paid to the contestants that accumulate the most points during each quarter of the NFL season.
In the event of a tie for a quarterly prize, the $2,500 will be split evenly among all tied contestants. Prize money will be credited to contestants' BetOnline accounts within 48 hours of any prize being won. Prizes are non-transferable.
Sports Contests
If you're looking for a new and unique betting challenge, there's nothing better than one of BetOnline's many types of sports betting contests. It's a great chance to take down a big prize with minimal investment.
Some of the most popular contests of the year are betting pool-type contests during the pro and college football season. You'll find contests such as "survivor" pools all year long, along with special events in conjunction with the Super Bowl and college football bowl games.
Basketball players look forward to March Madness and BetOnline.ag is ready with brackets and similar contests for the NBA playoffs and NCAA college basketball championships. They also offer special contests for the Kentucky Derby and a wide variety of other events.
Upcoming Events
Doc's Picks Service
Need more winning picks? Get $60 worth of premium member picks from Doc's Sports – a recognized leader and trusted name in sports handicapping since 1971.