Our Top eSports Betting Sites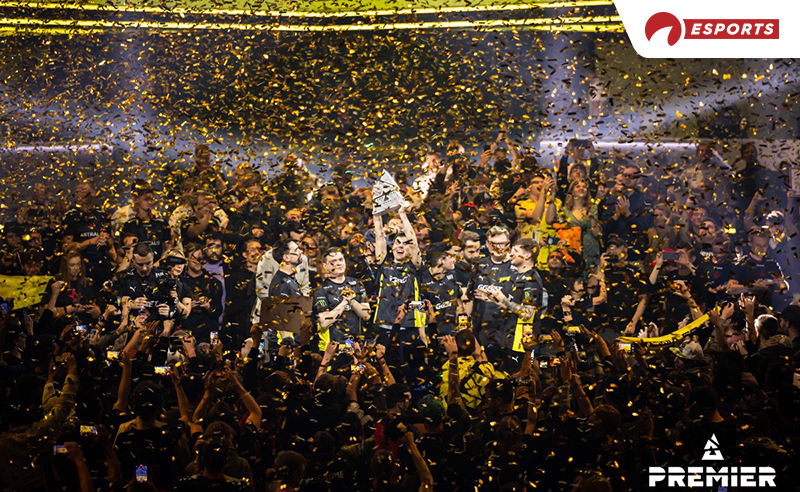 The final big event of the Counter-Strike calendar is just around the corner, with the Blast Premier World Final capping off 2021 from December 14-19.
Blast's World Final is also the closing event of the Blast competitive circuit, meaning every team at the event earned their spot with their performances throughout the year. This includes winning seasonal finals, the ESL Pro League, or gathering points by placing well at other tournaments. As such, we'll only see the best of the best competing and are in for an amazing event.
Make sure to check out our guide on How to Bet on CS:GO and let's take a look at the event in more detail.
Who's Playing At The Blast Premier World Final?
There will be eight teams battling it out at the event, featuring all of the best squads of the year. Natus Vincere enters as the favorite and they're joined by Gambit, Heroic, G2 Esports, Team Vitality, Ninjas in Pyjamas, Astralis and Team Liquid, the only non-European side.
If you've been following Counter-Strike this year, you'll know this is really the cream of the crop of CS:GO, with the top five ranked teams attending, while the lowest-ranked team is 12th on HLTV's world rankings. We're set to be closing out the competitive year with the absolute highest level of Counter-Strike.
Being an eight-team event, the format is a little different from most tournaments. Things kick off directly in a double elimination playoff. This means teams have two lives, all starting in the upper bracket and advancing further with a win or dropping to the lower bracket with a loss. Once a team loses twice, they are eliminated, and the last team standing is crowned champion.
Odds to Win Blast Premier World Final

| Team | Odds |
| --- | --- |
| Na'Vi | -167 |
| Gambit | +325 |
| Vitality | +800 |
| G2 | +1100 |
| Astralis | +1500 |
| Heroic | +1500 |
| Ninjas in Pyjamas | +1800 |
| Liquid | +5000 |
Odds as of December 7 at Betway
Can Anyone Rival Na'Vi?
It's impossible to talk about any Counter-Strike event at the moment without mentioning Na'Vi. The reigning major champions have been dominating the game for some time, having been ranked first on HLTV's world ranking since July and having won six of their last seven tournaments.
Right now, it doesn't look like anyone is really capable of stopping them either. They've lost just two of their last 20 maps and even then didn't really look like they'd lose the series. Na'Vi are truly the world's best.
With that being said, it is still possible for them to be defeated, as unlikely as it may be. If they've lost one map in a series, they can lose two, and that's all it takes. Currently, Vitality and Heroic look to be the teams with the best chance to stop them, having recently won maps against Na'Vi. However, we'll still likely see the favorites win out here.
Multiple Rosters Look To Go Out With A Bang
The end of the year always brings about roster changes in Counter-Strike and it's the same this year. Multiple teams are making moves, from slight player adjustments to sizable overhauls. All of these teams already know changes are coming in 2022, making this final event a bit less important than usual.
As you might expect, knowing that the team is changing will affect the squad's performance, sometimes for the better and other times for the worse. In the case of the teams present, it seems to be putting in a positive effect. Most notably, both Liquid and Vitality are moving around multiple players and they've hit a run of good form to end the year.
Vitality is one of the only teams that managed to take a map off of Na'Vi and has been blazing through IEM Winter. Meanwhile, Liquid is playing some impressive CS, having taken down Astralis and rivaling Heroic recently. Both teams are looking to go out with a bang, having the pressure lifted off their shoulders and simply playing some quality Counter-Strike.
Does Gambit Still Need More LAN Experience?
Gambit has been a standout team this year, winning multiple events and even finding themselves at No. 1 in the world rankings in the first half of 2021. However, with the return of LAN competition, the team has slowed down a touch.
This comes down to the inexperience of the roster. Other than Hobbit, none of the players had played at the highest level before 2021, never mind attending the biggest LAN events CS:GO has to offer. It takes some getting used to in order to be able to play as well in an unfamiliar environment as from the comfort of your own home and this has been Gambit's biggest weakness.
They dropped out from IEM Cologne, the Stockholm Major and IEM Winter earlier than expected and while they played well, it wasn't the same Gambit. However, they've still managed to pick up valuable LAN experience at those events and have been looking more comfortable.
Coming into the final event of the year, it will be interesting to see if Gambit still needs time to adjust to LANs, or if we'll see a return of the tournament-winning team.
Upcoming Events
Doc's Picks Service
Need more winning picks? Get $60 worth of premium member picks from Doc's Sports – a recognized leader and trusted name in sports handicapping since 1971.