Our Top eSports Betting Sites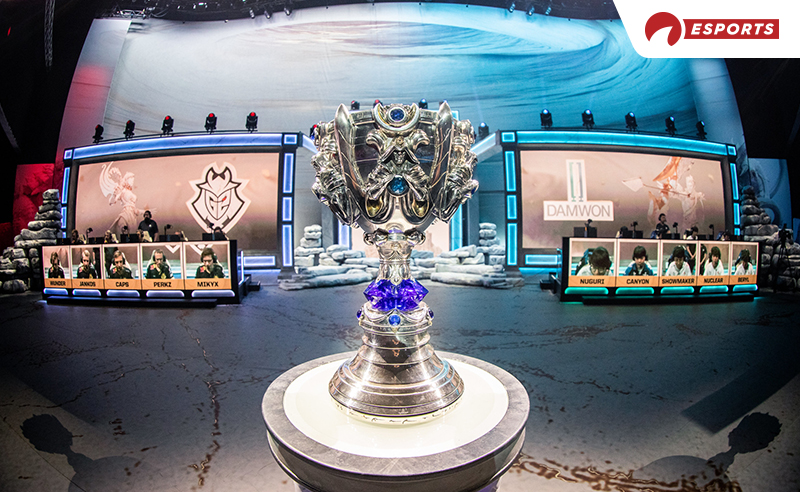 League of Legends' World Championship edges ever closer and as the last few leagues have wrapped up, we finally know all 22 teams heading to Shanghai.
The competitive summer splits saw a ton of exciting matches, close calls and upsets, as favorites fell and underdogs triumphed on the journey to LoL Worlds. Let's take a look at each region and all the teams heading to the world championship.
See Odds Shark's Best Esports Sites
Who's playing at LoL Worlds 2020?
As previously mentioned, 22 of the world's best will be battling it out at LoL Worlds, with teams from all around the world competing in China from September 25 to October 31. There has been a slight change from what was expected, with the Vietnamese teams dropping out due to coronavirus concerns, giving one more spot to an LCK team.
Now, let's dive into each region and see who made it and how.
LCS - North America
Team SoloMid
FlyQuest
Team Liquid
The North American summer split had possibly one of the most unexpected endings ever. The dominant Cloud9 side that was undefeated for the first four weeks seemingly fell off a cliff and somehow didn't even make it to Worlds after looking like the most dominant team in the region.
Instead, Team SoloMid, FlyQuest and Team Liquid qualified after a set of very competitive matches that saw all three of the final playoff games go all the way to five maps. The biggest shock by far was Cloud9 not making it, but other than that, these three were the favorites.
TSM's run was perhaps the most impressive, as they battled through the lower bracket after an early loss to Golden Guardians to make it all the way to the grand final and win it. FlyQuest and Liquid, meanwhile, battled hard in the upper bracket, but a 3-2 win for FlyQuest saw them advance to the final and eventually claim second place, while Liquid dropped to TSM for third.
These results mean that Team SoloMid and FlyQuest have earned a spot at the LoL Worlds main event, while Team Liquid has to fight it out at the Play-In.
LEC - Europe
G2 Esports
Fnatic
Rogue
MAD Lions
Europe's summer season was what some would call a game of two halves. The underdogs dominated the regular season, with favorites G2 and Fnatic struggling and coming in at third and fourth place.
However, it all turned around come the playoffs. The two favorites were back at it again, dominating the underdogs that dismantled them during the season. Both easily made it to the semifinals, where Fnatic got the upper hand over G2. However, G2 got their revenge where it mattered, as they demolished Fnatic in the grand finals 3-0.
After being defeated by the veterans, first-placed Rogue and second-placed MAD Lions fought it out in the lower bracket. Rogue swept the Lions aside with ease, condemning them to fourth place, before being eliminated by G2 in a close 3-2 and claiming third place.
As such, G2, Fnatic and Rogue grabbed Europe's three main event spots, while MAD Lions have one last shot at the Play-In stage.
LCK - Korea 
DAMWON Gaming
DRX
Gen.G
The results in Korea were possibly the most consistent of any league. DAMWON, DRX and Gen.G were dominant throughout the regular season, claiming the top three spots going into the playoffs.
They continued their strong form, with DAMWON claiming the first spot at Worlds, while DRX overcame Gen.G in a five-map epic to secure the second spot. This left Gen.G to battle it out in the league's regional finals, where they took down T1 in a convincing 3-0, claiming the third and final spot.
All three teams from the LCK advanced directly to the main event, as they were given an extra spot due to the Vietnamese teams dropping out.
LPL - China
Top Esports
JD Gaming
Suning
LGD Gaming
If you're a casual League of Legends fan, you might be scratching your head at this list. 2018 world champions Invictus Gaming and current world champions FunPlus Phoenix both not making it – how is this possible?
Well, Chinese League of Legends has been a bit of a roller-coaster in 2020. Something just clicked for a few of the teams, while the well-known names struggled. FunPlus Phoenix were eliminated by Victory Five, while Invictus saw themselves at the business end of an LGD Gaming masterclass.
This left summer regular-season winners Top Esports and runners-up JD Gaming to clean up the bracket, with both easily making their way to a competitive grand final that saw Top take first place.
In the third-place match, Suning took down LGD 3-0, earning third place. With four teams making it to Worlds, Top, JD and Suning advanced to the main event, while LGD face the Play-In stage.
PCS - Taiwan, Hong Kong, Macao and SEA
Machi Esports
PSG Talon
Taiwan, Hong Kong, Macao and Southeast Asia's league was perhaps the most competitive of all the major leagues, as it seemed just about anyone in the top four could make it to Worlds.
The regular season was as close as it gets, with just one win separating the top three as J Team claimed first place, followed closely by ahq eSports Club and PSG Talon. Machi Esports were the other standout team of the league, with just two more losses than J Team, but six less than fifth-placed Alpha Esports.
In the end, it was fourth-placed Machi Esports that came up big in the playoffs, sweeping aside J Team twice and getting revenge on PSG Talon in the grand finals after a semifinals defeat. With only two spots on the line, Machi went directly to the main event, while PSG Talon find themselves in the Play-In stage.
CBLOL - Brazil
INTZ
The Brazilian LoL league saw an amazing story, as INTZ came back from a relegation match at the end of the first season to winning it all in the second season. The team was nearly eliminated from the highest league in Brazil after placing seventh in April, but survived and bounced back.
INTZ performed brilliantly in the second season, placing second just behind paiN gaming and went on to win the playoffs, defeating KaBuM! e-Sports in their first match, before taking down paiN in the finals.
As these are the minor leagues, each league gives only a Play-In stage spot for the winning team.
LCL - CIS Region
Unicorns Of Love
The CIS league saw dominant Russian team Unicorns Of Love take an expected place at Worlds. UOL have been the team to beat in the region, dominating the spring season, before going on to complete a nearly undefeated summer season. They lost just one map all summer, in their grand finals match against Gambit Esports, which they won 3-1.
They deservedly earn their spot in the LoL Worlds Play-In stage, truly being the best in their region.
LJL - Japan
V3 Esports
Japan's league was another incredibly close one, as two key teams battled it out for a spot at Worlds. DetonatioN FM and V3 Esports were the teams to watch in the region, as the former won the spring season, while the latter triumphed in summer.
As such, it was no surprise that the two clashed in the grand finals. However, a very close 3-2 saw V3 clutch Japan's spot at the LoL Worlds Play-In stage.
LLA - Latin America
Rainbow7
The Latin America league saw quite a big upset as underdogs Rainbow7 crashed through the summer playoffs to take their region's Worlds spot, taking down heavy favorites All Knights.
For those who are unfamiliar with the region, All Knights were by far the standout team over both seasons, dominating the first regular season and playoffs, while also coming in first during the second regular season.
However, the playoffs came as a huge shock, as Rainbow7 stormed through each round, eventually meeting All Knights in the grand finals and taking a 3-2 win and the Play-In place at Worlds.
OPL - Oceania
Legacy Esports
It was Legacy Esports who expectedly claimed the Play-In spot down under, as they dominated Oceania over two seasons.
Legacy were, and still are, the team to beat in Oceania as they easily swept through the competition to win the summer season. They lost only a handful of games all summer and proved themselves as the dominant favorites in the region.
TCL - Turkey
Papara SuperMassive
Last but not least we look at the Turkish league, where once again an unexpected squad made it into the Worlds Play-In stage.
Papara SuperMassive had a disappointing first season in the league, crashing out in last place in the playoffs. However, they really stepped it up in the summer. A third place in the regular season saw them enter the playoffs with potential, and they stepped it up match after match.
They dominated second-place Galakticos, before overcoming the impressive 5 Ronin in the grand final with a score of 3-2.
---
Now that you know who's playing at LoL Worlds and how they made it, all you have to do is wait for the event to start and you'll be able to place some wagers on the game's biggest matches. If you're unsure how it all works or just want to learn more about the world championship, make sure to check out our in-depth guide on the event.
There are a ton of exciting wagering options, including all-important futures. Early odds saw Top Esports enter as the favorites, however, judging by the results of each league, it seems that just about any team can win and we're set for a very exciting world championship.
Upcoming Events
Doc's Picks Service
Need more winning picks? Get $60 worth of premium member picks from Doc's Sports – a recognized leader and trusted name in sports handicapping since 1971.