Odds Shark Top ESports Sites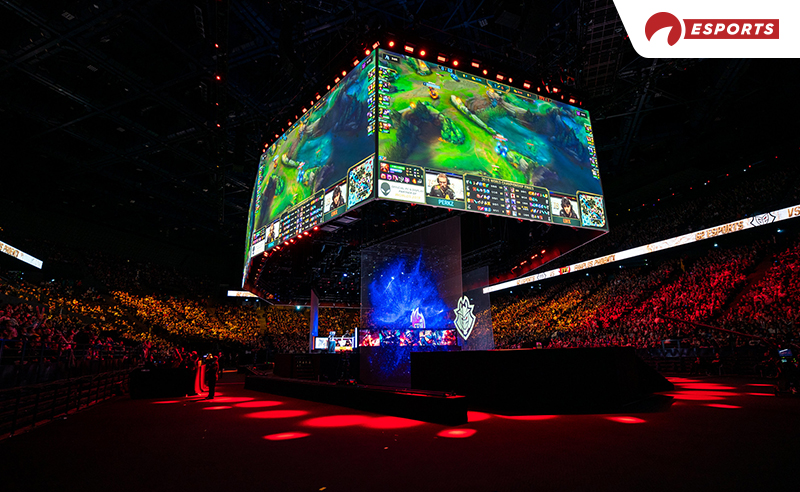 With the summer seasons of all the major League of Legends competitive leagues nearing their end, players, fans and bettors alike begin to look to the game's world championship.
Twenty-four of the world's best will battle it out from September 25 to October 31, with one winner eventually being crowned the 2020 League of Legends world champion. This of course means there will be a ton of exciting matches to watch and bet on.
However, before we jump into the wagering action, let's take a look at how it all works and get into the juicy details of LoL Worlds 2020.
See Odds Shark's Best Esports Sites
How does the League of Legends World Championship work?
If you're unfamiliar with the LoL competitive scene, you may not have heard of the world championship. Of course, it's fairly obvious what it is – an event to decide the best in the world, much like in any sport. But how exactly does it work?
To break it down simply, teams around the world play in their respective regions, which are categorized as Major or Minor regions. Major regions are the best of the best, and teams from these regions earn more spots at Worlds, as well as higher seeds, including spots directly in the main event. These are places like Europe, North America, China and Korea.
Meanwhile, Minor regions are regions with a lower skill level or less competition, meaning teams are granted lower seeds and enter what's known as the play-in stage. These are places like Latin America, Turkey, Japan and Oceania.
Regardless of region, teams play two regular seasons. The second season is generally considered to be the most important, as results from it seed directly into Worlds. For example, Europe is one of the strongest regions, with many teams that perform well at the world championship. Therefore, the top three teams of the summer season qualify directly into the main event, while the fourth-placed team gets a chance in the play-in stage.
What are LoL Worlds' Main Event and Play-In Stage?
Now you may be asking yourself: what is the main event and the play-in stage – isn't the world championship just one event? Well, it is, but it's split into two parts.
It all kicks off with the play-in stage, where teams from the Minor regions and the lower-placed teams from the Major regions battle it out for a shot at the main event. It's like a mini-tournament, where 12 teams fight it out for four spots.
This is where the Minor regions have a chance to prove themselves, while the Major region teams get one last chance to play at the main event.
As you can imagine, the main event is the central point of Worlds. The 16 teams that reach this point can be considered the best 16 in the world and all have a shot directly at the world championship title. This stage features a group stage, followed by an eight-team playoff.
Now that you have an idea of how it all works, let's take a look at who's playing at the event.
Who's playing at LoL Worlds 2020?
The summer playoffs continue to rage on in every region, so all the spots are not confirmed yet. However, a few of each region's best have already secured their place. G2 Esports, Fnatic, JD Gaming and Top Esports highlight the team list so far, having won their playoff matches and secured a main event spot.
Meanwhile, FlyQuest, Team Liquid and Rogue are guaranteed at least the play-in stage but can still make it to the main stage if they play their cards right. That leaves 17 more spots unaccounted for, and you can expect those to be filled by September 9, although with playoff matches taking place almost every day, there will be a stream of new additions very soon.
Bodog has even released some very early odds for the event, which will give you an idea of which teams are expected to make it, and their odds once they do:
Odds to Win League of Legends World Championship 2020

| Team | Odds |
| --- | --- |
| Top Esports | +250 |
| JD Gaming | +400 |
| DAMWON Gaming | +550 |
| DRX | +800 |
| G2 Esports | +1400 |
| Gen.G | +1600 |
| T1 | +1600 |
| Invictus Gaming | +1800 |
| FunPlus Phoenix | +2500 |
| Team Liquid | +4000 |
| Fnatic | +6600 |
| Afreeca Freecs | +10000 |
| Schalke | +25000 |
| Evil Geniuses | +40000 |
| Rogue | +50000 |
Odds as of August 25 at Bovada
How to bet on LoL Worlds
Whether you're a new or experienced League of Legends bettor, there's no better time than the world championship to get some wagers down, and here's how to take part.
First off, if you haven't already, make sure to get yourself acquainted with the game – there's not much point in placing a wager if you have no idea how any of it works. There is quite a bit to the game and it can be complicated to learn all on your own. Luckily, we already have a guide in which you can find out everything you need to know about League of Legends.
Next up, consider the type of wager that you want to place. The basics are all covered in our LoL guide, but you may want to try out something different. Prop bets are a great way to spread your wings and with League of Legends there are many different options, such as kills, objective, and "race to" props – find out all about those here.
Last but definitely not least, you need to pick somewhere to place your bets. Of course, we've once again got you covered. There are hundreds of bookmakers out there, all offering a variety of options at a variety of odds.
However, we've tested them all out and created a list of all the best websites for esports betting. Just take a quick look and pick whichever catches your attention – they're all amazing options for bettors new and old.
Now that you know how it's done, all that's left to do is wait for the world championship to kick off and start placing some wagers.
Doc's Picks Service
Need more winning picks? Get $60 worth of premium member picks from Doc's Sports – a recognized leader and trusted name in sports handicapping since 1971.