Our Top eSports Betting Sites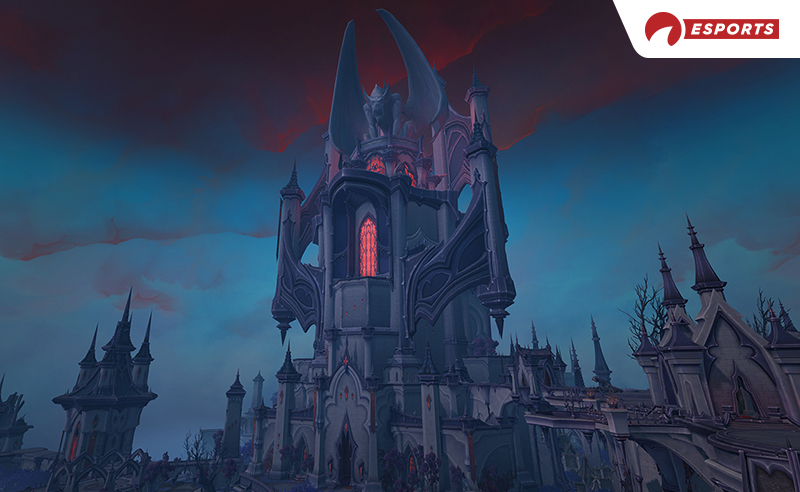 World of Warcraft's newest expansion is set to launch on November 23, with its first piece of end-game raid content scheduled to release on December 8. Just a week after that, on December 15, the most challenging version, also known as Mythic, is set to be released.
This means we'll see the first "Mythic race" of Shadowlands kick off on December 15, with guilds all across the world competing to be the first to kill the final boss of Castle Nathria.
If you've not followed World of Warcraft before, essentially what this means is that groups of 20 players will attempt to storm a large dungeon (known as a raid) and defeat all the bosses as quickly as possible. In this case, players will be taking on Castle Nathria and fighting 10 bosses, with the race being decided by who kills the final boss, Sire Denathrius, first.
Anyone can take part in this race, however, there are quite a few groups that have made a name for themselves and usually lead the pack. Let's take a look at all the teams to watch.
See Odds Shark's Best Esports Sites
Guilds to Watch in the WoW Shadowlands Castle Nathria Mythic Race
Anyone with an active World of Warcraft account is able to participate in this race, but there is a selection of squads that have proven themselves to rise above the rest. First up come the two favorites, Complexity Limit and Echo. These two have dominated Mythic races for a long time, with either Limit or Echo winning every race since 2017.
Things get a little confusing with the next team, Method. If you're doing some research, you might notice that Method has been winning lately, but they come in as huge underdogs, while Echo doesn't have much of a history. That's because Echo is the Method squad under a new team name, while the Method organization have been doing a full rebuild ahead of Shadowlands.
Other than those three, you'll see teams like Pieces, FatSharkYes and Alpha. They've all come in the top five or six over the last few years, but have never been able to overcome the big dogs.
Odds to Win WoW Shadowlands Castle Nathria Mythic Race

| Team | Odds |
| --- | --- |
| Complexity Limit | -110 |
| Echo | +110 |
| Method | +800 |
| Pieces | +2500 |
| FatSharkYes | +4000 |
| BDGG | +4000 |
| Jitanhong | +5000 |
| Alpha | +6600 |
| Exorsus | +6600 |
| Skyline | +8000 |
| Aversion | +9000 |
| Chao Jie | +10000 |
| Hei Jia Ji | +12500 |
| KR | +12500 |
| Practice | +15000 |
| PMA | +25000 |
| Unwealthy Homeless Men | +25000 |
| Deviants | +30000 |
| Momento | +35000 |
| Impact | +40000 |
| Honestly | +50000 |
| Ethical | +50000 |
| Midwinter | +75000 |
| Future | +100000 |
Odds as of November 20 at Bovada
Complexity Limit Looks for Back-to-Back Wins
Limit enters the race hot off a victory in the final Mythic race of WoW Battle for Azeroth, as they beat out Method (now Echo) for the first N'Zoth kill in Ny'alotha, the Waking City.
Their roster remains mostly the same and the players are raring to go into the next expansion. However, with a ton of new features and reshuffling of most of the existing class abilities, it remains to be seen if they can figure everything out in time.
Limit does have a big advantage with the backing of the powerhouse esports organization Complexity, so there is a very good shot they come out on top here yet again.
How Will Echo Look Without An Esports Organization?
Historically, the Echo squad has had the advantage over Complexity Limit. They've come out on top in six of the last seven races, only losing the most recent one.
However, after a 2020 filled with controversy and an eventual departure from the Method organization, Echo will now be without the backing of an esports organization.
The star-studded lineup are now out on their own and looking to bounce back after a tough loss. Will they come back stronger than ever, or will the lack of a proper organization prove to be the difference?
Does Method's New Squad Stand a Chance?
Despite a turbulent 2020 filled with unsavory allegations, a loss of sponsors and the departure of the majority of players and staff, Method is looking to bounce back as an organization in the World of Warcraft space.
Founder Scott McMillan announced that he is rebuilding a WoW squad and a whole new lineup was confirmed on November 9. This features a few fresh faces, as well as some solid players with Mythic race experience.
However, we've yet to see the players and groups as a whole in action, so they remain a bit of a mystery. This may be the start of another powerhouse, or we may just see another two-horse race between Limit and Echo.
Upcoming Events
Doc's Picks Service
Need more winning picks? Get $60 worth of premium member picks from Doc's Sports – a recognized leader and trusted name in sports handicapping since 1971.