Our Top Sportsbooks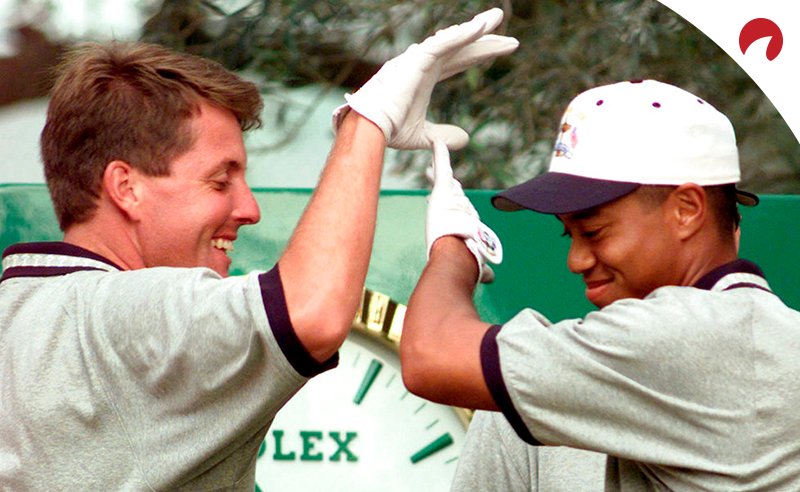 Tiger Woods' 2019 Masters victory was one of the most memorable tournaments of the last decade. Phil Mickelson's historic victory at last month's PGA Championship was icing on an already Hall of Fame career. Throughout their careers, when one does something noteworthy, the other feels the need to top them. Sportsbooks have taken notice of these two unlikely victories and have offered a new prop bet. Can either Woods or Mickelson win yet another major championship?
If neither are able to add to their major championship resume, the bet is void, but the oddsmakers at Bovada have Mickelson as a heavy -300 favorite over Woods at +220. This is due to a number of factors, the most important being that Mickelson is currently playing and Woods is at home recovering from a serious injury.
See Odds Shark's Best Golf Sites
When Will Tiger Woods Return?
In late February, Woods was involved in a serious car accident that left him hospitalized for weeks. Keeping information close to the chest, as Woods does, his status was uncertain for a while. As time progressed, we received more and more information regarding the 15-time major winner's status. It doesn't look good for Woods long term, as he has already battled many injuries through his illustrious career, most notably involving his back and ACL.
Now Woods will need to contend with a leg injury, as no timetable has been set for his return to competitive golf. There is a chance he is involved in September's Ryder Cup as an assistant captain. Captain Steve Stricker has hinted at the possibility, so more news could be on the way in the coming months if Woods is up to the task.
The main concern when it comes to Woods shouldn't be whether he will win another major championship, but if he'll ever play competitive golf again. At 45 years old, he is closer to the Champions Tour than even he'd like to admit. While it is a fool's errand to doubt the greatest to ever play, you have to wonder if Woods has another major championship in him. Because of this big question mark, he is rightfully listed as a big underdog vs Mickelson.
Until we receive more information, it is a complete guessing game as to when Woods will return to tournament golf. It could be a year, it could be two years – we simply do not know. Despite the unknown, Woods does have the potential to play in many future major championships and should not be completely dismissed.
Who Will Win a Major First?
| Golfer | Odds |
| --- | --- |
| Phil Mickelson | -300 |
| Tiger Woods | +220 |
Odds as of June 4 at Bovada
When and Where Could the Next Major Victory Come?
There are two schools of thought surrounding the pair's major championship chances. The first pertains to Mickelson and his current state of play. You have to wonder if he can keep this year's momentum going and ride this wave into the U.S. Open at Torrey Pines, a course he has had ample success at in the past. Or possibly to Royal St. George's in July for the Open Championship? It was there that 42-year-old Darren Clarke defeated young superstar Dustin Johnson in 2011. Could something similar happen this year for Mickelson?
The other school of thought is more of a long-term perspective. If Woods or Mickelson are able to win another major championship, you have to imagine it will happen at either the Masters or the Open Championship. Why? Because at those venues, your mental fortitude and experience are just as important as your current form, if not more so. Not only that, but it wouldn't be the first time an elder is in contention in either of those tournaments.
You could point to numerous examples, but the three that come to mind are Greg Norman in 2008 and Tom Watson in 2009 at the Open Championship and Freddie Couples in 2012 at the Masters.
At 53, Norman became the oldest to ever hold the lead in a major championship after 54 holes. He led by two strokes at Royal Birkdale before faltering in the final round. That record lasted only one year as Watson led at the 54-hole mark at the age of 59. Watson bogeyed his 72nd hole and eventually lost in a playoff to Stewart Cink.
At Augusta, Couples co-led after 36 holes at the age of 52 – only a couple of years older than Mickelson, who is 50 – but faded over the weekend. The point is those are the tournaments where Woods and Mickelson will need to make their hay, as the good old days of overpowering golf courses are coming to an end, especially for Woods.
See Odds Shark's Top Golf Betting Sites
Final Recommendation:
Mickelson simply has more opportunities in the short term to be a legitimate threat in a major championship. Not only that, his long-term prospects are better than Woods' are. Mickelson has enjoyed a long, prosperous and, most importantly, injury-free career.
With that in mind, the -300 number currently listed next to his name is the correct play. Now, I'm not doubting Woods' ability to shock us – I never would – but the status of his health is too concerning to back him in this case.
Upcoming Events
Doc's Picks Service
Need more winning picks? Get $60 worth of premium member picks from Doc's Sports – a recognized leader and trusted name in sports handicapping since 1971.