Our Top Sportsbooks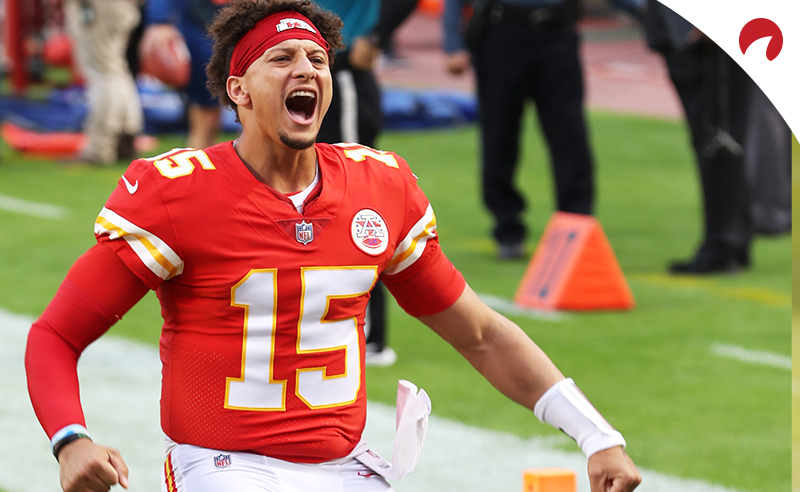 Coming off back-to-back Super Bowl appearances, the Kansas City Chiefs stumbled out of the gate but have righted the ship to remain favorites in 2021 AFC West odds.
[ol-sportsbook-bp:48:Bovada:26:Bodog] is giving the Chiefs -260 odds to win the AFC West, followed by the Los Angeles Chargers at +200. The Denver Broncos (+2000) and Las Vegas Raiders (+15000) still have outside shots at the division title.
New to betting on football? Check out our in-depth NFL betting guide to help you feel comfortable making a wager. Also, keep an eye on our NFL odds page for the latest up-to-date betting lines.
AFC East | AFC North | AFC South | NFC East | NFC North | NFC South | NFC West
Our Most Trusted NFL Betting Sites
What Team Leads AFC West Odds?
Odds to Win AFC West in 2021

| Team | Opening Odds |
| --- | --- |
| Kansas City Chiefs | -260 |
| Los Angeles Chargers | +200 |
| Denver Broncos | +2000 |
| Las Vegas Raiders | +15000 |
Odds as of December 16 at [ol-sportsbook-bp:48:Bovada:26:Bodog]
AFC West Odds Favorite: Kansas City Chiefs
Do the Chiefs need any explanation? Back-to-back Super Bowls, Patrick Mahomes has found his groove in recent weeks, and Kansas City still has a loaded roster and a reworked offensive line. All indications point to the Chiefs locking up another AFC West title with ease, but it hasn't been as easy as many foresaw.
Kansas City's biggest flaw in 2020 was an exposed offensive line, but the struggles in 2021 came from the defense. Despite turning things around and rocking a 9-4 record, the Chiefs still have one of the league's worst defenses, allowing passing yardage comparable to the New York Jets and Miami Dolphins.
With QB Mahomes struggling early, Kansas City's issues compounded. The MVP candidate threw 10 interceptions in the first eight weeks and the Chiefs found themselves 4-4. They've now won six games in a row and have regained control. Mahomes hasn't always been his dominant self, but the team has played up to its standard once again.
AFC West Value Picks
Los Angeles Chargers
The Los Angeles Chargers showed some life in 2020 and they've built on it in 2021. While they finished just 7-9 last season, Justin Herbert's Chargers won the last four games of the season and drew some attention heading into 2021. With a new scheme and head coach, the Chargers delivered on preseason value and have a chance to take the West.
Herbert's progression, a strong season from RB Austin Ekeler, and timely defense have positioned the Chargers within striking distance. LA has one of the best passing defenses in the league, allowing just 207 yards through the air per contest. If the Bolts can figure out the ground defense, giving up 140 yards to runners every game, they could really make some noise in the division and playoffs.
How To Read AFC West Odds
When you visit your sportsbook of choice, you'll see AFC West odds laid out like they are in the above table. The team with the lowest odds is the favorite. For instance, if you think the Chiefs at -260 are the team to beat, and you bet $100, you'd get a payout of $138.46 – your original $100 comes back along with your winnings of $38.46.
On the other hand, if you think the Chargers look good at +200 and believe they'll knock off the Chiefs and snag the AFC West title, that same $100 would give you a payout of $300 – your $100 is returned, coupled with your winnings of $200.
Our Odds Calculator will show you how much you'd win based on the odds and amount bet.
It's important to keep in mind that underdogs (in this case, the team with the highest odds) are that way for a reason. Oddsmakers don't mess around with futures lines – more on that below – because they know how important this kind of bet is to bettors and betting sites alike.
What Is A Futures Bet For The AFC West?
This is a bet made on events that have yet to happen. It can be argued that all sports betting is on things that haven't taken place yet; however, a futures bet can be made weeks or even months in advance.
Prior to the beginning of the NFL season, oddsmakers look at each team's past records, offseason moves and schedule to set their odds. As the games are played and coaches are fired, players succumb to injuries, and squads climb or fall in the standings, the odds will change. Because of these line movements, we suggest taking odds you like as soon as you see them.
Upcoming Events
Doc's Picks Service
Need more winning picks? Get $60 worth of premium member picks from Doc's Sports – a recognized leader and trusted name in sports handicapping since 1971.