Our Top Sportsbooks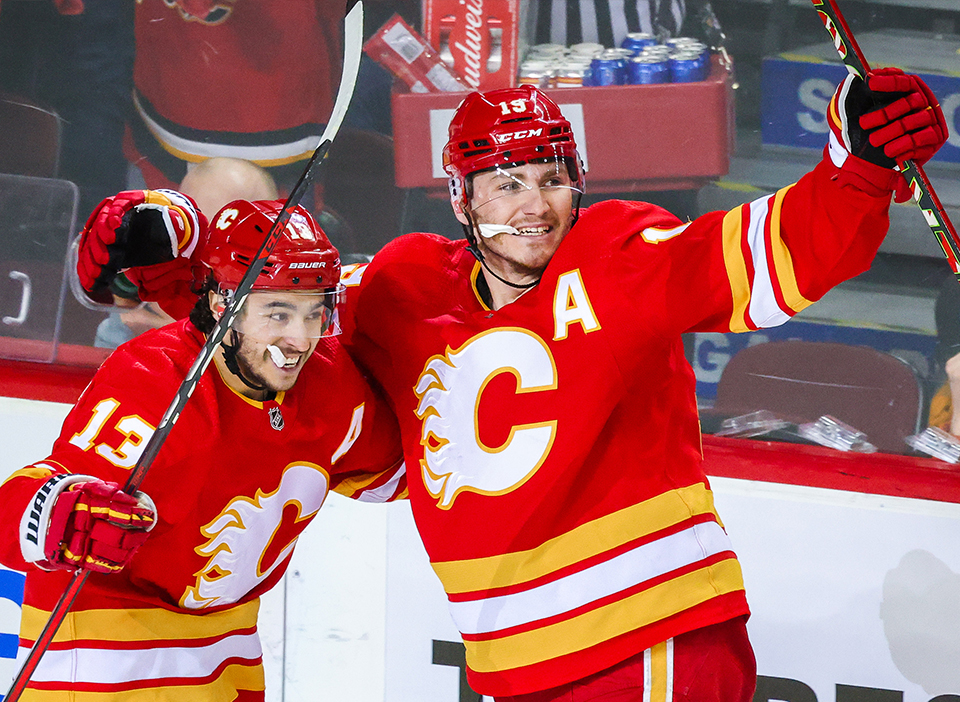 The Calgary Flames (55-24-11) and Edmonton Oilers (53-30-7) are coming off their highest-scoring postseason meeting ever in Game 1 on Wednesday, so what will they do for an encore in Game 2 of their second-round playoff series on Friday? Bettors would love to know if they can keep scoring at a record pace, as the Battle of Alberta continues at the Saddledome, with the Oilers vs Flames prediction seeing the hosts opening as bigger favorites and the total listed at 6.5 after closing at that number for Game 1.
Oilers vs Flames Odds & Analysis
Opening Odds 
What a series opener between these Canadian teams, with Calgary scoring twice in the first minute and later leading by four goals on multiple occasions before Edmonton tied it up at 6-6 early in the third period only to eventually fall by a 9-6 count. It is worth noting that the past two meetings at the Saddledome have now seen 29 goals scored, making you wonder if we will see 7s pop up at any sportsbooks prior to puck drop. While the number opened higher for the Flames, the Oilers are getting some early support from bettors, with the line dropping 10 to 15 cents so far.
Get the best Oilers vs Flames odds and lines available from our recommended sportsbooks for your favorite picks of the night.
Edmonton Needs To Find A Way To Play Some Defense
When you give up nine goals for the second straight meeting with a bitter rival, something has to change drastically very quickly or else the clock is ticking on your elimination. That is the unfortunate reality for the Oilers, who might have benched the best goalie in Game 1 after he surrendered three quick goals in the eventual 9-6 defeat.
Mike Smith, the former Calgary netminder, did not look ready for the series opener early on, but that does not mean he would not have recovered to give his team a chance to win. However, that is all in the past now as Smith and his teammates attempt to bounce back in Game 2.
In Edmonton's last 12 wins in this series, the team did not allow more than three goals. That has got to be the primary objective here, and to score four or more to pick up a win. 
Flames Must Play More Under Control To Take 2-0 Lead
Calgary had a fun time out on the ice in Game 1, but that changed quickly late in the second period and early in the third when the hosts saw a four-goal lead disappear. Once the Flames settled down and realized it was probably not a good idea to play too loose against an opponent as offensively talented as the Oilers, things went their way again, and they were able to pull away for a fairly easy victory.
The plan for Game 2 should be to play more disciplined and tighten up the D in an effort to keep Connor McDavid and Leon Draisaitl in check. The Edmonton duo totaled seven points (two goals, five assists) and will eventually take over at Calgary if they are allowed to do so. The Oilers vs Flames prediction might see money continue to come in on the visitors for that reason.
Oilers vs Flames Pick & Insights
Oilers: Keys To Victory
Holding Calgary to three goals or less is the key, as Edmonton cannot be required to score five or more to win in this spot on the road. McDavid said in the last round following a 5-4 overtime loss to the Los Angeles Kings that four goals should be enough for his team to win. Six should definitely be more than enough, but it was not in Game 1. 
Flames: Keys To Victory
After notching a hat trick, Matthew Tkachuk called the series opener "probably our worst game of the playoffs so far." Tkachuk also said Calgary got "super lucky" and his acknowledgment of that shows he and his teammates know they need to be better. If you are taking the hosts with your Oilers vs Flames pick, then you think they will come out with a much stronger defensive effort too.
NHL Computer Pick: Flames -175
Check out more of our signature NHL computer picks, plus our favorite sportsbooks that serve hockey customers. 
Upcoming Events
Doc's Picks Service
Need more winning picks? Get $60 worth of premium member picks from Doc's Sports – a recognized leader and trusted name in sports handicapping since 1971.