The COVID-19 outbreak has forced us to lock ourselves in our homes and self-quarantine as we hope to stay safe and let the virus pass us by. However, in these times of isolation and social distancing, it doesn't mean we're not allowed to have some fun with friends. Rappers Post Malone and Mike Stud have created a beer pong tournament filled with celebrities and athletes with everyone paying an entry fee that will go toward the COVID-19 relief effort.
An explanation of @theballinacup by our founding father @PostMalone pic.twitter.com/X5dQArBDZm

— MIKE (@justmike) March 27, 2020
But wait! What about social distancing? No worries, this event is taking place over eight days and is being held on Instagram Live in complete isolation.
The celebrities competing in this tournament are: of course, Post Malone and MIKE, Detroit Lions wide receiver Danny Amendola, Cleveland Indians pitcher Mike Clevinger, Dana B and Marty Mush from Barstool, YouTube's NELK Boys, Dallas Stars forward Tyler Seguin, retired NFL tight end Rob Gronkowski and model Camille Kostek, former Cleveland Browns QB Johnny Manziel, country music singer Morgan Wallen, Kansas City Chiefs tight end Travis Kelce, Cincinnati Reds pitcher Trevor Bauer, country singer Kane Brown, rapper Machine Gun Kelly, New York Mets pitcher Marcus Stroman, Atlanta Braves shortstop Dansby Swanson and US Soccer forward Mallory Pugh, and DJ Zack Bia.
Online sportsbook Sportsbook released odds for this eight-day event with Danny Amendola Sportsbook as a +500 favorite and Zack Bia and Dansby/Mallory bringing up the rear at +1600.
What Does the Ballina Cup Tournament Look Like?
The beer pong tournament began Friday, April 3, and has two games each evening for eight days, ending with the championship on the night of Friday, April 10. The matchups are a best-of-three format with the evening's first game starting at 8 p.m. ET and the second starting an hour later. The championship game will start at 9 p.m. ET.
Here's a look at the bracket: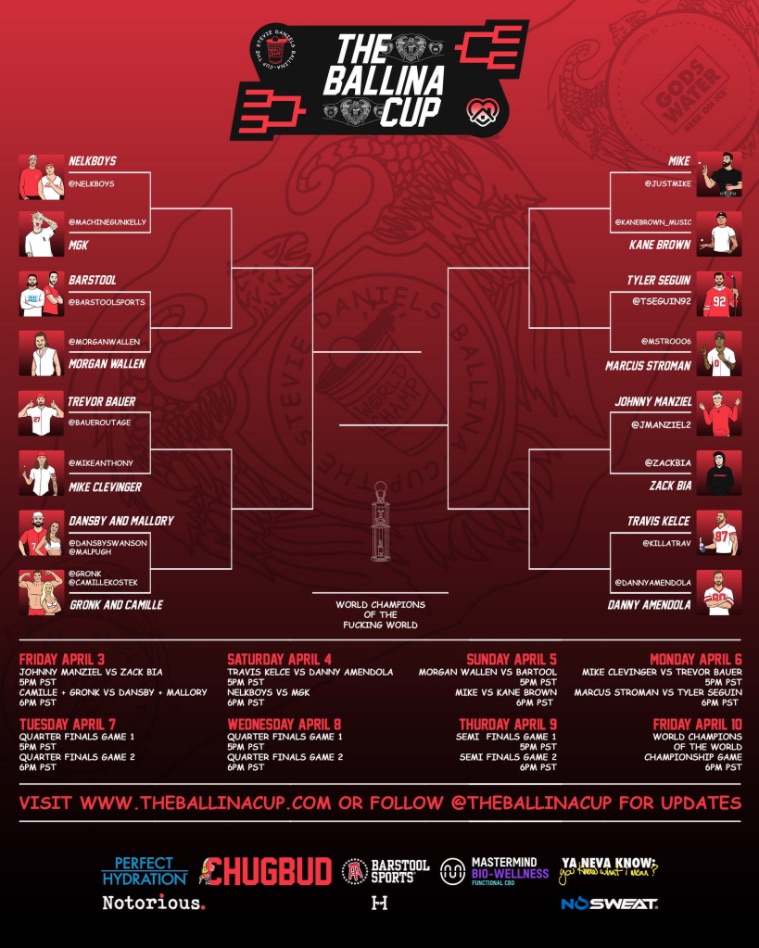 Final Four: Who Will Be The Ballina Cup Champ
The semifinals are set to take place on April 9 beginning at 8 p.m. ET. The matchups are MIKE vs the pre-tournament favorite Danny Amendola, while on the other side of the bracket Trevor Bauer collides with NELK Boys. 
The route to the semifinals went as such: MIKE knocked off Kane Brown in the Sportsbook round and Marcus Stroman in the quarterfinals. Danny Amendola took down Travis Kelce and Zack Bia to earn his semifinal berth. Meanwhile, NELK beat Machine Gun Kelly and Morgan Wallen. Lastly, Trevor Bauer edged former teammate Mike Clevinger in his first matchup and Dansby and Mallory in the quarters. 
The remaining competitors have each hit about a third of their shots, which should make for a very interesting semifinal and final. MIKE is a -140 favorite in his matchup against Amendola, who is coming back at +150. In the other matchup, Bauer is favored at -150 over NELK coming back at +110.
I'm going to hitch my wagon to the former favorite, Danny Amendola, to win the tournament at +150 and his matchup at +100, and to Bauer to advance to the final at -150.
Here's a look at the full list of odds to win the Ballina Cup Tournament:
Odds to win the Ballina Cup Tournament

| Sportsbook | Odds |
| --- | --- |
| MIKE | +100 |
| Danny Amendola | +150 |
| Trevor Bauer | +250 |
| NELK Boys | +300 |
Odds as of April 9 at Sportsbook
MIKE vs Danny Amendola

| Sportsbook | Odds |
| --- | --- |
| MIKE | -140 |
| Danny Amendola | +100 |
Odds as of April 9 at Sportsbook
Trevor Bauer vs NELK Boys

| Sportsbook | Odds |
| --- | --- |
| Trevor Bauer | -150 |
| NELK Boys | +110 |
Odds as of April 9 at Sportsbook