The Las Vegas poker ecosystem grew a bit bigger last week when the Sahara reopened its poker room after a decade-long hiatus. The Sahara, which is sandwiched between The Stratosphere and the Circus Circus on the north part of the Las Vegas Strip, has been undergoing a $150-million overhaul and the poker room is its latest addition.
In a press release, the Sahara announced that the room has seven tables with a 16-foot-wide LED video wall and more screens peppered throughout the room. You'll also have a bunch of different games to choose from. The new room will have No-Limit Texas Hold'em (of course), Limit Hold'em, Pot-Limit Hold'em, 7-Card Study and other mix games depending on what players want.
Sahara said the poker room will open every day at 10 a.m. and offer daily tournaments with four different start times. The buy-ins range from $45 to $100 and there will be cash game promotions throughout the day. The room will have a 10 percent rake, with a maximum of $4. For the grinders out there, you get $2 in rewards points for every hour you play in a cash game. If you're racking up all those hours and building up an appetite, the Northside Cafe offers food to the room at all hours.
It hasn't just been 10 years since Sahara has had a poker room, it's been nearly a decade since a new poker room has opened in Las Vegas. Poker rooms shuttered across the city after the 2008 financial crisis and only the largest survived. The first wave of players have already taken a seat at the new Sahara room and voiced their opinions: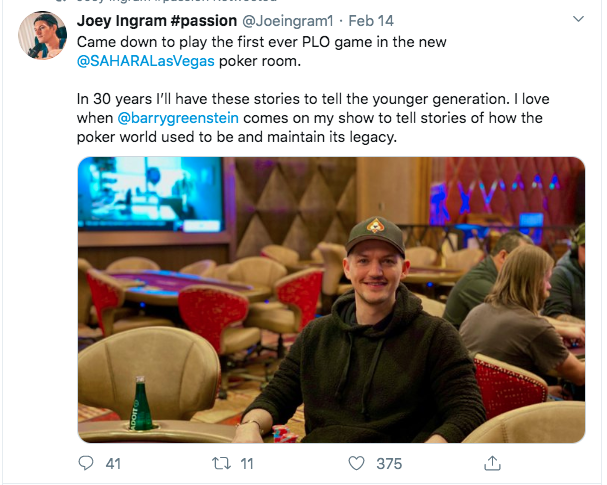 Former World Series of Poker media director Nolan Dalla also visited the poker room and reviewed it.
"Let me be clear. I'm difficult to please," Dalla said on his blog. "I'm opinioned. I don't do fluff pieces. I blast failure. But I also praise commitment and effort. At the Sahara what I see is exactly that — commitment and effort."
You can check out his website to read the full review.
Have you visited the new poker room at the Sahara? Tell us what you think about the new room in the comments below.