Our Top Sportsbooks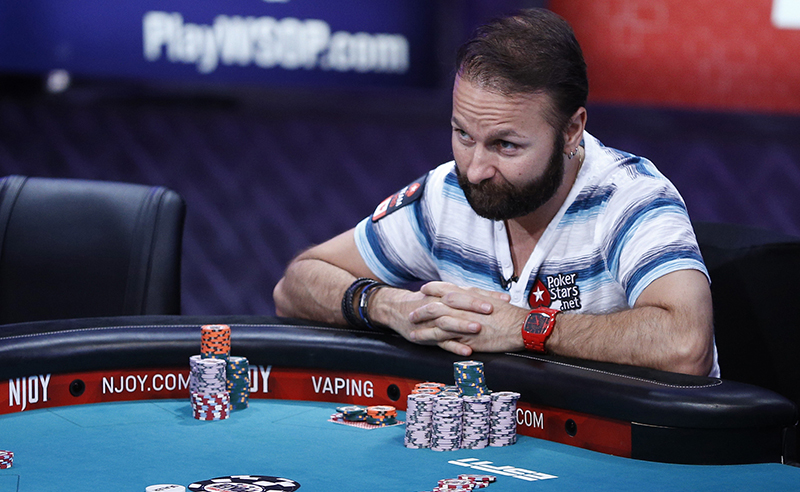 Poker fans around the world know names like Daniel Negreanu and Phil Hellmuth. But what about Adrian Mateos? Sergio Aido? Igor Kurganov?
All of these players and more have confirmed their participation in the highly anticipated 2018 Super High Roller Bowl set for May 27-30. The tournament requires a massive $300,000 buy-in to play, coinciding with the start of the World Series of Poker in Vegas, and there are only 48 seats available.
When registration opened for the first 30 seats, a total of 61 players put up a non-refundable fee of $30,000 to reserve a spot. That required a lottery to determine the 30 participants, and names like Negreanu and Hellmuth were among them. Other well-known lottery winners include Erik Seidel, Dan Shak, Justin Bonomo and businesswoman Kathy Lehne, founder and CEO of Sun Coast Resources.
The tournament is so popular with poker fans around the world that Bovada opened single-line betting for the event, giving odds to all 30 players chosen thus far.
Negreanu, Mateos top odds list
At the top of the list are Negreanu and Mateos, each holding at +1200, famed players who are known as pitchmen for some of the top U.S. poker sites.
Negreanu is known in and out of the poker world. The PokerStars Team Pro has earned more than $36.5 million in live poker tournaments to date, and that doesn't count cash games and online poker action.
Mateos is mostly known to poker connoisseurs and to fans in Spain, as he is the top-ranking player in his home country. He has also been on a serious run in the past year, having won a high-stakes tournament in Monte Carlo for €908,000, a World Series of Poker bracelet in Heads-Up Hold'em for $336,656 and the Asia Championship of Poker High Roller for HK$2,325,000, among others. He won more than $5.8 million in 2017 alone, and in the first three months of 2018, he amassed another $1.14 million in winnings.
Bovada put a number of players at +1400 and +1500, and Seidel and last year's champion, Christoph Vogelsang, are among those at +1800.
The rest of the tournament seats will be awarded in the coming weeks, with a celebrity invitation likely. Last year, actor and comedian Kevin Hart livened up the tournament, though it is unclear if he will return.
The tournament will be available to watch at the end of May via a PokerGO video subscription, via NBCSports online, or on the NBC Sports app.
Odds to win 2018 Super High Roller Bowl

| Player | Odds |
| --- | --- |
| Adrian Mateos | +1200 |
| Daniel Negreanu | +1200 |
| Stephen Chidwick | +1400 |
| Justin Bonomo | +1500 |
| David Peters | +1500 |
| Koray Aldemir | +1500 |
| Nick Petrangelo | +1500 |
| Sergio Aido | +1500 |
| Nikita Bodyakovskiy | +1500 |
| Ben Tollerene | +1500 |
| Isaac Haxton | +1500 |
| Cary Katz | +1500 |
| Igor Kurganov | +1500 |
| Phil Hellmuth | +1600 |
| Erik Seidel | +1800 |
| Christian Christner | +1800 |
| Christoph Vogelsang | +1800 |
| Kahle Burns | +2000 |
| Byron Kaverman | +2000 |
| Markus Dürnegger | +2200 |
| Keith Tilston | +2500 |
| John Andress | +2500 |
| Brian Rast | +3300 |
| Dan Shak | +3300 |
| Arne Ruge | +3300 |
| Andrew Lichtenberger | +3300 |
| Andrew Robl | +3300 |
| Talal Shakerchi | +4000 |
| Andreas Eiler | +4000 |
| Kathy Lehne | +5000 |
Odds as of April 3 at [custom:bodog-link]