ODDS SHARK TOP POKER SITES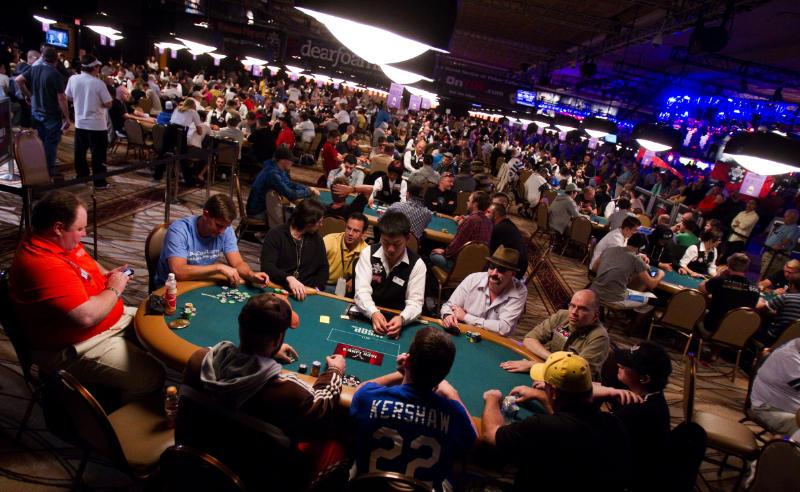 There's a good chance that online poker would never have become the worldwide sensation that it is today were it not for the invention of the tournament format.
For years, poker existed exclusively as a cash game where players simply wagered the cash in front of them and attempted to double or triple their buy-in. The format was (and still is) enjoyable but it didn't do much in terms of settling a clear winner on the day.
The World Series of Poker changed all that in the early 1970s with the invention of the "freezeout." Years later, amateur poker player Chris Moneymaker made international headlines by winning the 2003 WSOP Main Event for $2.5 million after qualifying online for just $40. Tournament poker is the preferred format for millions of poker players as they attempt to pull a "Moneymaker" of their own.
What is Tournament Poker?
Tournament poker was originally referred to as a freezeout and that's actually a fairly good description of the format. Players get a limited number of chips to start and once they run out, they are "frozen" out of the action. Players continue to get eliminated until just one player remains. That player is the winner and receives the biggest chunk of the prize pool, which is collected from all the players' initial buy-in fees.
To keep tournaments from running forever, organizers generally incorporate a structure that increases the blinds as time passes. That can lead to interesting decisions as players will eventually be forced all-in.
The entire format draws on a lot of similarities to sports events where there is an ultimate winner at the end of the day. Cash games are generally less defined as players tend to win or lose a buy-in or two. It's rare in a cash game that you'd be able to quintuple your buy-in but it's very common in tournament poker if you can make it to the top of the field.
Why Are Tournaments So Popular?
There are plenty of reasons that players love tournaments but for most players the biggest appeal is likely the first-place prize.
Because every player in a tournament is chipping in toward the prize pool, it's possible to increase your initial buy-in by 500 or 1,000 times. It's that structure that allowed Chris Moneymaker to win $2.5 million despite only committing $10,000 to play the WSOP Main Event (technically it was only $40 for Moneymaker because he won his seat online!).
Some players also enjoy the distinct beginning, middle and end to a tournament, which provides a bit more of a narrative than cash games.
Tournament poker is generally considered more swingy, or luck-based, than cash game poker so new players definitely have a legit chance to get lucky and win the entire thing.
The history of poker is littered with amateur players who got lucky and won a huge tournament for millions of dollars, while it would be slightly harder to find amateur players who consistently beat the cash games.
It also helps that tournament-based entities like the World Series of Poker, World Poker Tour and European Poker Tour helped popularize the game on television.
What's the Prize Pool?
In tournament poker, players pay a predetermined amount to get chips in a tournament.
Organizers take a small fee for hosting the event but the rest gets put into the prize pool, which will be awarded to players based on how long they last in a tournament.
Generally in online poker, the top 10 percent of finishing players make it into the money. The way that money is distributed is based on something called a payout structure. Structures vary from tournament to tournament but first place always pays out the most and it's generally somewhere around 20 to 40 percent of the entire prize pool.
In extremely small tournaments consisting of just one table, it's common for the winner to take 100 percent of the prize pool.
Are Tournaments Good for New Players?
New players tend to find tournaments more exciting than cash game play because it's easy to understand who's winning and losing. The prospect of a big payout is also tantalizing and there are a number of professional poker players who vividly remember their first tournament victory.
Large multi-table tournaments are considered to have the most variance (luck) of all poker formats so new players should approach with caution. Sometimes it can take 10 to 20 tournaments to make a big score so make sure you have enough buy-ins to make it work.
Cash games are often better for recording a large number of hands and learning the game because the start of tournaments are often very slow. Sit & Go's are also a good option for new players who want a tournament experience.
The flip side of all that is that if you only get a chance to play poker once in a while and the idea of a huge payout thrills you, then poker tournaments are really your best option. Just be responsible and pick a buy-in level that you feel comfortable playing.
What Are the Most Popular Tournament Variants?
There are a large number of poker tournament variants but the following list breaks down the five you'll likely encounter the most:
Standard tournament (or freezeout)
Re-entry, Rebuy or Add-on
Sit & Go
Bounty
Shootout
Here's a more detailed look at each format:
Standard Tournament
The most common poker tournament is the standard freezeout where players pay a fixed buy-in and are given a predetermined number of chips. Once a player loses all their chips, they are  eliminated from the tournament and finish in whatever position. Technically you only need two players to run a tournament but the format can scale up to include thousands of players like the World Series of Poker Main Event. Sometimes these events are referred to as multiple-table tournaments or MTTs.
Re-entry, Rebuy or Add-On
This is really just a slight adjustment to the standard tournament poker. In a re-entry tournament, players have the option of one extra re-entry if they lose their entire stack in the early stages of a tournament. Sometimes in multiple-day tournaments, players are allowed to use their re-entry on any starting day they choose. Some tournaments give players one re-entry per day. Rebuy generally designates unlimited rebuys for the early stages of the tournament, which can help pump up the prize pool significantly. Finally, add-ons give players the option of topping off their stack of chips as registration ends.
Sit & Go
The Sit & Go poker tournament begins the moment there are enough players. For instance, a nine-player Sit & Go begins the second there are nine players registered for the tournament. Sit & Go's are a popular format for new players because they can be very cheap to play and usually take less than an hour to complete. The format also translates very well to online play because there are enough players that Sit & Go's are generally starting every minute on the major sites. Some of the more popular sizes for Sit & Go's include six-player, nine-player, 18-player, 45-player, 90-player and 180-player.
Bounty
Bounty tournaments (also known as knockout tournaments) give players a little extra incentive for knocking out opponents. For example, a tournament might offer a $20 bounty on each player, which means that if you knocked out five players, you'd receive $100 regardless of where you finish in the event. Bounty tournaments are exciting because they motivate players to get a little more aggressive than normal tournament play.

Shootout
A shootout tournament is actually a combination of Sit & Go and a standard freezeout. In a shootout tournament, you start at a standard six- or nine-handed table and you play to a winner. That winner goes on to the next round of the tournament where they will once again attempt to be the survivor. The rounds continue until there is just one final table and then that table plays down to an ultimate winner. It sounds difficult but one way of thinking about it is simply winning a certain number of Sit & Go's in a row. Shootout tournaments tend to favor skill as it's difficult for players to turtle up in an attempt to make the money.
Doc's Picks Service
Need more winning picks? Get $60 worth of premium member picks from Doc's Sports – a recognized leader and trusted name in sports handicapping since 1971.