Top FIFA World Cup Betting Sites
The FIFA World Cup is a men's international soccer competition played every four years, with the next tournament taking place in 2026 with Canada, Mexico, and the United States as the host nations. Soccer provides bettors ample action, especially during the sport's biggest event. Here, we'll break down the best betting sites for the World Cup, and explore the odds and wagers you can make betting on World Cup soccer.
How To Sign Up At A Sportsbook
To get you started with World Cup online betting, you first need to sign up with a sportsbook. When you choose one of the betting sites we recommend above, you're in good hands. We only suggest sportsbooks that are trustworthy and safe and offer an optimal online sports betting experience. These sites come with the best odds and World Cup betting markets, and are available on mobile so you can bet using a World Cup betting app.
Above you will find the top recommended sportsbooks available to bet on the FIFA World Cup. Before you sign up, take a look at the criteria that goes into the selection process of these online betting sites.
FIFA World Cup Betting Sites Criteria
Deposit & Withdrawal Options
In order to sign up at any of the FIFA betting sites listed above, you need to determine the best fit in regard to your deposit options. The majority of Sportsbooks accept credit cards (AMEX, Visa, MasterCard, prepaid cards), e-wallets (PayPal, Neteller, Skrill), InstaDebit, direct bank transfers, and cryptocurrency (Bitcoin, Litecoin, Dash, Ethereum).
Bonuses And Promotions
When you register at a betting site, take a look at their World Cup betting promotions. You'll be offered what is known as a welcome bonus. This is generally a match bonus.
For example, the site could offer to match 100% of your first deposit up to $200. If you were to add $50 to your account, you'd get an additional $50 to bet with. Who doesn't love free World Cup bets? Find the best World Cup betting offers available to get you started with a leg up on this year's tournament.
Customer Service
Like with any service, having knowledgeable and reliable customer support is extremely important, especially in sports betting. Bettors need to have faith that if an issue does occur, the customer service team will be able to assist them in finding a resolution.
All of the sportsbooks listed earlier go above and beyond to ensure all of their customers are happy and satisfied with their betting experience and will help find a resolution to any issue that may arise immediately. This can come in the form of customer support email, mobile help line, online live chat, and also FAQs for some of the most common questions and problems users have experienced.
User Interface
Nobody likes feeling lost when they're online, and that is why we take user interface within these online sportsbooks seriously. The sites listed above all have sleek, intuitive designs that make it easy for users to navigate while still being visually appealing. 
These sites make betting with them easy and exciting, while still providing a top-of-the-line service to users.
Security Measures
Whenever your personal and financial information is being gathered, you want to ensure that your confidence is placed in the right spot. Each of the sites listed are well-equipped with the best data encryption technology to make sure that all of your sensitive information is held in a safe and secure space. When betting with any of these reputable sportsbooks, you don't ever have to worry about your information being at risk.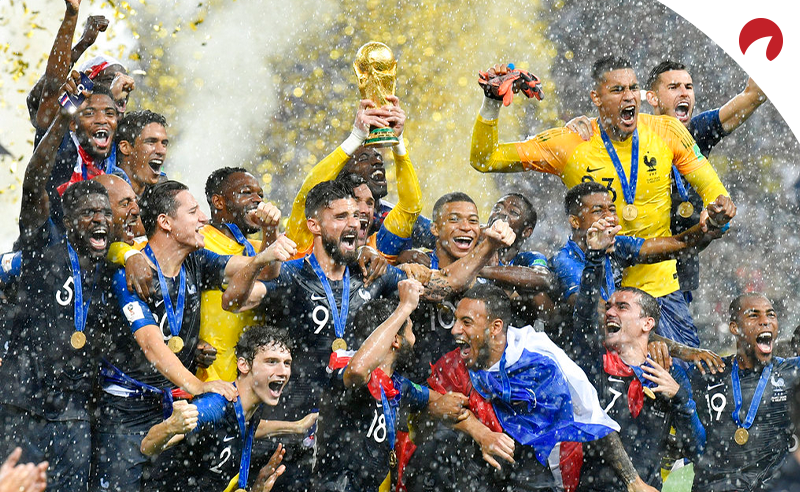 Reading World Cup Odds
FIFA World Cup betting odds will be available in three formats. You can choose which one you want to bet with. Your money is worth the same, no matter which odds type you use.
Here at Odds Shark, we use American odds. Bettors from the U.K. are more likely to use fractions, whereas those from Australia and Europe may use decimals.
Let's say defending champion France is playing five-time World Cup champ Brazil. The betting odds would look something like this:
France -500
Brazil +250
For this example, we're using American odds as they are the easiest to read. In this scenario, the French are the favorite and Brazil is the underdog. Favorites are always represented by the minus sign (-), while underdogs are always shown by the plus sign (+).
If you were to bet $35 and France won, you'd get $42 – your original $35 is returned along with your prize of $7. Conversely, the same $35 bet on a winning Brazil would get you $122.50 – your $35 comes back along with the $87.50 you won.
Our Odds Calculator can help you figure out what you'd earn based on how much you bet.
World Cup Football Betting
When betting on soccer's biggest event, you have many World Cup betting options since there are 31 countries competing – technically, there are 32, but the host country is guaranteed a group spot.
The tournament begins with eight groups of four countries. Each country plays the others in its group once and the top two from each group move on.
Round of 16: The winning and runner-up teams from the group round compete against each other.
Quarterfinals: The remaining eight teams from the previous round compete.
Semifinals: The four teams left play against each other.
Third-place: This is a playoff where the losers of the semifinals play for third.
Final match: The two top teams strive for the title.
Moneyline
Sometimes called a 'straight-up' bet, the moneyline requires you to pick a Sportsbook. If Germany is facing off against Spain, you would choose which of those teams you think will win the match.
Asian Handicap
This is a more advanced soccer bet. Asian Handicap is somewhat like the point spread you'd bet in the NFL or NBA. Instead of simply picking a squad to win, that squad would have to win by a certain number of points set by the oddsmakers.
This means if Germany is favored at -1.5 over Argentina, then Germany would need to win the match by at least two goals. If Argentina loses by only one goal, plays to a draw or wins outright, your bet on Germany would lose.
Props And Futures
Props are bets on player and team milestones such as:
Futures are bets on final outcomes such as:
Golden Boot Betting
The Golden Boot is an award for the top goalscorer of the entire FIFA tournament. Past Sportsbooks include Cristiano Ronaldo and Premier League phenom Harry Kane. When making a Golden Boot pick, look at stronger teams.
Let's say Israel has a player who looks like he is going to dominate in scoring. However, the Israeli team may not advance past the group stage of the tournament since it will be competing against top-tier teams like Italy and England. You want to bet on a player whose team is going to remain in the World Cup until the end – or at least until the quarterfinals.
Now that you're ready to bet on the 2026 FIFA World Cup online, choose one of the sportsbooks we review from the above list and get started. Make sure to take advantage of free bets and bonuses before you start placing winning bets on the World Cup this year.
World Cup Betting Sites FAQ
Can I Bet On The World Cup?
You most certainly can bet on the FIFA World Cup. It's less of can you bet, but more so how will you bet. With hundreds of betting options to choose from, there is a perfect bet for everyone. From picking the Sportsbook of a group stage game to placing a futures wager on the tournament Sportsbook, you can bet on it all for this year's World Cup at any reputable sportsbook.
Who Is Favored To Win The World Cup?
As it currently stands in odds to win the 2022 FIFA World Cup in Qatar, Brazil is favored to win the tournament at +500. Closely trailing Brazil is England (+600), France (+650) and Spain (+700). These odds and lines are constantly shifting so be sure to stay up to date so you can maximize your winning potential on any futures bet placed.
What Does +500 Mean In Betting?
+500 is an example of how American odds are displayed. In betting terms, this means that if you were to place $100 on a wager that was valued at +500, you would win $600 – $500 profit, plus your original $100 wager. Check out Odds Shark's How to Bet on Soccer guide for all the information you could ever need to start winning soccer bets today.