Best UFC Betting Sites In 2023
With the Ultimate Fighting Championship (UFC) helping Mixed Martial Arts (MMA) gain prominence in the mainstream, bettors can enjoy a variety of MMA betting options. We'll teach you best practices for MMA betting so you can knock out some smart picks when betting on UFC. Step into the gambling octagon and wager with the best MMA sportsbooks for a shot at the UFC betting belt.
What Are The Best Online Betting Sites For UFC?
You're probably asking yourself, "Where can I bet on the UFC fights online?" Here you'll find the answer to that question along with UFC betting tips. 
When you're searching for the best place to bet on UFC, any of the above UFC betting sites are a great place to start placing your MMA bets. Some offer a larger array of UFC betting options, like method of victory or total rounds prop bets, while others may be a little more reserved in their market offerings.
The most common type of UFC betting market (UFC moneyline bet), which can be found at any of our recommended and most trusted UFC betting sites, is simple: Who will win the big fight? Conor McGregor, Amanda Nunes, Jon Jones or somebody else?
Our UFC betting sites are more popular than Joe Rogan's podcast, only a lot less controversial. There's no split decision when it comes to these top MMA sportsbooks. 
Here are the criteria we look at when ranking the best UFC betting sites around the world.
UFC Betting Site Criteria
Consider these areas of focus when deciding the best online sports betting site for title fights.
Withdrawal And Deposit Options
Of course, the first thing you should look at when considering an online MMA betting site is what options are available for you to safely put money into your account and, most importantly, how to withdraw after a big win!
The online sportsbooks that we recommend for UFC betting typically allow deposits via credit cards (Visa, MasterCard), debit, e-wallets (Skrill, PayPal) and cryptocurrency.
When withdrawing funds at UFC betting sites, you can use the same method you chose for making your deposit. Banking with an online sportsbook can be daunting, but all of the options we have suggested have been vetted carefully to ensure they are safe and secure to play with. That said, you can also select an alternative method such as Bitcoin, which is the fastest option. If you're unfamiliar with the crypto world, be sure to take a look at our BTC guide.
UFC Betting Bonuses And Rewards
To start, many UFC betting sites offer a welcome bonus of extra funds. This is a good way to get a leg up from where you started. Often, the best MMA betting sites will offer a bonus of 100 percent up to $200.
This means if you deposit $100, the UFC betting site matches it and you now have $200 in your account. With these bonuses you are set to wager and with that extra bonus cash, it's almost like free betting.
However, make sure you keep an eye on the terms and conditions because there often will be a required rollover of five times your deposit in order to cash out the bonus. That means if you deposited $100 and received a $100 welcome bonus, you would have to bet up to $500 over a period of time for the bonus to lock into your funds.
Customer Service
Another option to consider is how well the UFC betting site will look after you if an issue arises. Many of the best UFC betting sites have safe and secure customer support that can be reached around the clock via email, phone or live chat. 
Mobile Betting Apps
One issue that has hindered sportsbooks is their lack of UFC betting apps. If I'm watching a major event and I just saw Jon Jones take down Francis Ngannou in the first round, I want to be able to whip out my phone and put a live bet on Jones. Most people are either moving away from or have already moved away from conventional desktop UFC betting online and do it with their phones.
Luckily, we at Odds Shark have reviewed some of the best sports betting mobile apps to further your choice of where to bet on fights online.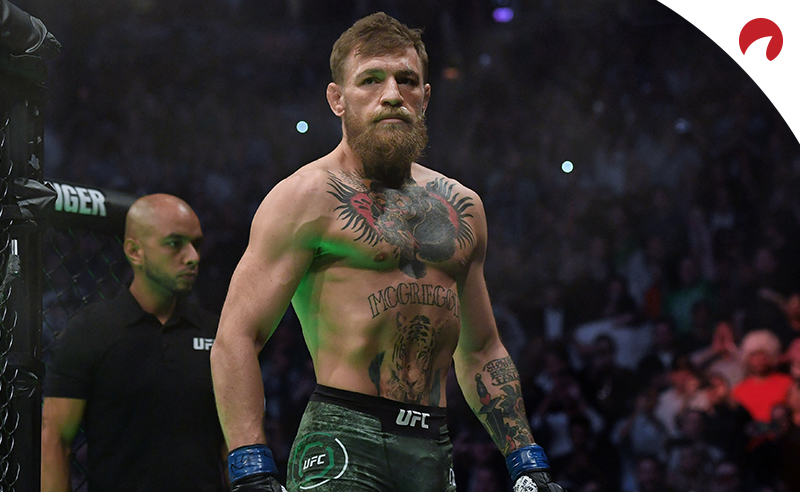 UFC Betting Tips
No matter what the fighter's odds are, one of the most important tips we can give you when betting on MMA is know the UFC fighters. Since the UFC has 13 different divisions and hundreds of competitors, seeing how a fighter relates to their own weight class and deals with the hype leading up to the fight will help you research your UFC bets.
Our UFC betting news page will help you with that. Our UFC Consensus page is another great gambling tool to help you pick fight winners. You can see which fighter the public is backing and use that info to make your picks. Moreover, UFC is simpler to handicap since you only have two fighters to examine instead of wagering on teams.
Now that you know about UFC betting and how to best use MMA betting online, choose a sportsbook from our list of best sites and make your picks for the next UFC Fight Night!
If you're looking for further information and advice, check out our guide on UFC betting odds, explained, and learn how to bet on UFC.
Upcoming UFC Events
Unlike the NBA and NHL where there are nightly games you can wager on, the UFC is more akin to the NFL. Similarly to the NFL with Thursday and Monday night games on top of the big Sundays, MMA also has different leagues such as PFL on Thursdays, Bellator on Fridays and UFC on Saturdays.
You can see UFC betting previews, expert picks and all the most current UFC action over at Odds Shark's UFC fight news page so you can gain a winning edge when betting on MMA fights. 
UFC Betting FAQ
Can You Bet On UFC Fights Online?
Yes, you can absolutely bet on UFC fights online. Mixed martial arts (MMA) is one of the more popular sports to wager on. And with the Ultimate Fighting Championship (UFC) helping MMA gain prominence in the mainstream, UFC bettors can enjoy a wide range of UFC betting options online.
Where Can I Bet On UFC?
There are plenty of online UFC betting sites where you can bet on UFC. But the online sportsbook we recommend most for UFC betting is Sportsbook. They have lines for UFC, exclusive bonuses on certain deposit options, and are one of the top UFC betting sites for fast withdrawals and special promotions.
What Should I Look For In A UFC Betting Site?
When deciding on a UFC betting site, search for a variety of UFC betting lines, different types of bets, and odds. See what the sportsbook offers for sign-up bonuses, and what deposit and withdrawal methods are available. Get a sense of their customer service and support team, and evaluate their user interface.