Mobile Casino Guide: Best Real Money Casino Apps
In the early days of online casinos, your only option was to play on a PC or Mac. As mobile technology advanced, online casinos started to offer mobile casino apps and later fully mobile-optimized online casinos. Now, as much as 70 percent of all gambling is done at mobile casino sites.
Odds are that you have used your mobile to play games, but maybe you haven't taken the plunge into playing at a real money casino on mobile. Today, we will give you all that you need to know about playing at mobile online casinos and how to start playing real money casino apps.
Mobile App Vs Web-Based Mobile Games
There are two ways you can play at mobile gambling sites. The first is through a mobile app, while the other is via web-based mobile games. Let's look at both options.
Check Out Odds Shark's Favorite Online Casinos
The biggest advantage of using web-based mobile gambling sites is that you can use them on all platforms. It doesn't matter if you have Android, iOS (iPhone/iPad), or other smartphones. All devices with a web browser can access the site.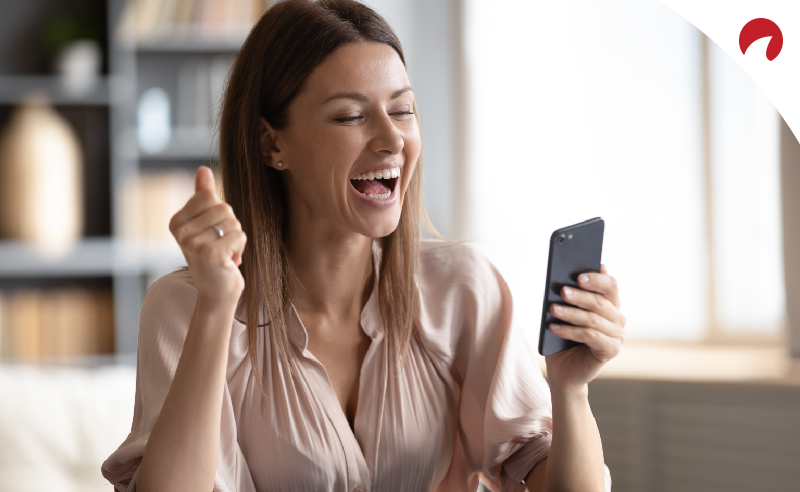 Benefits Of Mobile Gaming
Many people have moved over to mobile gaming because it offers many benefits over live gambling. Here are some of the top advantages of gambling at mobile gambling sites.
See Odds Shark's Best iPhone Casino Apps
Mobile Casino Games & Apps
All of the best online casinos games are the best mobile casino games. Good online casinos include at least one version of each game on the list below. Some mobile sites won't have craps or Sic Bo, but otherwise everything is available.
The table below offers the best version of each mobile casino game, though thousands of mobile slots exist. The best version depends on your preferences: progressive jackpots, RTP, bonus features, or theme. 
| | |
| --- | --- |
| Game Type | Best Variant |
| Blackjack | Classic Blackjack |
| Roulette | European Roulette |
| Slots | Currently: Hot Drop Jackpots |
| Baccarat | Live Dealer Baccarat |
| Craps | Online Craps |
| Keno | Keno Classic |
| Sic Bo | Sic Bo |
How We Rate Mobile Casinos
Any casino app we recommend has gone through a thorough review from an experienced member of our staff. There are several things we look for when reviewing Android and iPhone casinos. Below are the main things we look at when rating casinos.
Mobile Casinos Sites vs Casino Apps
In 2022, fewer mobile sites require players to download gaming apps. Instead, Android and iOS devices are compatible with the base games, which open in the web browser. Both modes of play have their advantages and drawbacks. Here is a list of pros and cons for both mobile options. 
| WEB-BASED MOBILE CASINO | CASINO APP |
| --- | --- |
| No Download Required | Need to Download an App |
| No Storage Space Used | Storage Space Required |
| Faster Sign-Up | Faster Day-to-Day Usage |
| All Slots and Table Games are Playable | All Slots and Table Games are Playable (usually) |
| Less Customizable Interface | More Customizable Interface |
| Access from Any Device | Requires a Download for a New Device |
| Personal Details are Secure | Personal Details are Secure |

Top Mobile Casino Games for Real Money
Most mobile games work seamlessly with Android and iPhone devices. Some work better with tablet computers than smartphones. Read our mobile games guide for advice on the best games to play for your chosen device. 
Visit Odds Shark's Top iPad Casino Apps
Withdrawal Options at Mobile Casino
| | | |
| --- | --- | --- |
| Payment Type | Advantage | Disadvantage |
| Bitcoin | Fast, Secure, Private, Transparent | Must have a Bitcoin wallet and use a crypto exchange.  |
| Etherum | Faster than Bitcoin: Same Protections | Must have a crypto wallet and use a crypto exchange.  |
| Visa | Cashback and Rewards | Slower payouts than crypto. Visa debit cards, gift cards, prepaid cards also work. |
| MasterCard | Cashback and Rewards | Slower payouts than crypto. MasterCard debit cards, gift cards, prepaid cards also work. |
| Eco Card | Guards Your Privacy: Web Wallet backed by MasterCard | Costs a fee and takes longer than MasterCard.  |
| Neteller | Web Wallet that Guards Your Privacy | Costs a fee and takes 5-10 business days for payment. |
| PaySafe Card | E-Voucher that Guards Your Privacy | Costs a fee and takes 5-10 business days for payment. |
| PayPal | Global Electronic Payment Service with Consumer Insurance | Costs 3% for each withdrawal.  |
How to Download Casino Apps
For those new to downloading casino apps, we've added a step-by-step guide for Android and iOS downloads. 
Choose a Casino: Find a casino that accepts signups in your region. Register an account like you would for a desktop computer. 
Fund Your Account: To play for real money, you'll need cash in your account. Use credit card, crypto payments, e-wallets, or bank wire transfers to make a deposit. Accept the mobile welcome bonus. 
Open App or Site: Download the mobile casino app that's optimized for your device. In many US casino sites, you won't need to download an app. In that case, simply click on the game icon and start playing. 
How to Download Android Casino Apps: If you're in the USA, don't go to Google Play to download a casino app. Instead, go to a real money mobile casino and download its casino app -- or simply play games in the web browser.
How to Download iPhone Casino Apps: Just the same, avoid the Apps Store if you use an iOS device. Instead, go to the same real money casino to download the casino app. All Internet casinos these days are compatible with later iPhones, iPads, and other iOS devices. 
Withdraw Casino Funds: Once you've had successful gaming sessions and cleared the bonuses' wagering requirement, request a withdrawal. Crypto payouts are the fastest and most secure. 
How to Create a Mobile Casino App Shortcut
If you use a mobile casino app, you'll want to create a mobile app shortcut for your phone's desktop. Here is how you create a mobile casino app shortcut for Android and iOS devices. 
Android Casino Shortcut: Go to the casino using the Android or Google Chrome browser. Tap the three-dot menue. Select "Add to Home Screen" and the icon will appear on your mobile desktop.
iPhone Casino Shortcut: Go to the casino using the Safari browser. Tap on the box-up-arrow icon. Tap "Add to Homescreen". The casino icon will appear on your mobile desktop. 
Tap the Icon to Launch Casino: Whether you use an Android or iOS casino, tap the icon to launch your chosen mobile app quickly. 
Mobile Casino FAQ
What are mobile casinos?
Mobile casinos are online casinos that you can access and play for real money on your mobile device. They will either be a mobile casino app or a web-based mobile app. You will have access to many of the same online casino games as you would at PC-based online casinos. Check out our casino reviews to see which licensed and legal casinos you can play at on mobile.
How does a mobile casino work?
They work in one of two ways. The first is you must download a Android or iPhone casino real money app and play it from your mobile device. Otherwise, you can go to the website in your mobile browser and play a web-based mobile gaming app. From there, you will access your favorite online casino games just as you would on a PC, Mac, or laptop. 
Are mobile online casino sites safe?
Absolutely. Mobile gambling apps offered by legal and licensed online casino companies must provide the same gaming as their PC counterpart. Licensed casinos are required to have their software audited and tested by third parties to ensure fairness and safety.
Also, iPhone and Android casinos offer the latest encryption technology to protect your data from hackers and identity thieves. 
Do any casino apps pay real money?
Yes -- many mobile gaming apps pay real money to players. The key is making sure to download a real money app as opposed to a social casino. Social casinos do not offer cash prizes to players. If a real money online casino offers a mobile app or is mobile-optimized, you can rest assured that they will pay real money to players. 
Can you win money on phone slots?
Definitely. In most cases, you will need to play at an Android or iPhone casino to find real money phone slots. Many phone slot apps are social games, meaning you do not win cash prizes. Most casinos will pay real money prizes to Sportsbooks.
Are mobile casinos for real money legal?
It depends on your location. In many areas, Android and iOS casinos are entirely legal. Canada has liberal gambling laws, allowing for legal online casinos. If it is legal to play online casino games in your country, it is legal to play at mobile casinos for real money.
How do I download a mobile casino app?
The majority of mobile casino apps can be downloaded directly from either the Apple Store or the Google Play Store. Search for your app and install it.
If you want to play for real money, you will have to get the app from the casino. Some will have download links on the website, or they will text you a link. 
What is the best mobile casino?
That depends on where you live. If you live in a state with regulated online gambling, you'll find somewhere between 3 and 30 excellent Android and iOS casino sites. If you don't, then you won't find any mobile casinos that we recommend. 
 
Are mobile casinos legit?
Yes, they are. In fact, mobile casinos are the same online casino sites that you'd choose if you were using a desktop computer. To find the best mobile site, simply read online casino reviews and pick the top option for your needs. Focus specifically on the mobile section of the casino review, which often is fairly far down the review page. 
 
What casino phone games pay real money?
Any casino game playable on a smartphone pays real money, but only if you choose to play at a real money casino. Avoid social media casino games or social gaming sites, which don't always pay real cash.
Instead, find a real money casino that supports Android and iOS play. These sites offer the same welcome bonuses and support the same banking methods that desktop casinos do. 
 
Are there casinos for mobile devices?
Yes, but you won't find them at Google Play or the Apps Store. Real money online casinos are fully optimized for Android and iOS devices. In some cases, players visit an online casino's mobile page to download the mobile casino app. In other cases, players simply click on a game icon to play using their smartphone or tablet. The game opens in the web-browser, so any mobile device works with the game. 
The upshot is online casinos are the best way to play using mobile devices. 
Can I play mobile casino games for free?
Yes, you can. Most online casinos allow visitors to play mobile casino games for free. These act as a promotional tool. The casino operator assumes that many players will enjoy the free games but want to play for real money. Thus, after a certain amount of free play, players will make a deposit and play the same casino games for real money. 
What are the best mobile casino games?
That depends on a player's preference. The best mobile casino sites have all the games you'd find in a land-based casino. Games like blackjack and baccarat are great for smartphones, because the graphics are simple and controls are easy (because they have few betting options). Blackjack has the best odds for players who learn basic strategy, while baccarat has the best odds for players who don't want to learn strategy. 
Craps and roulette are better for tablet computers, because they have a lot of bets. To manipulate the betting layout, it's best to have a bigger screen. Mobile slots are a bit of a mixed bag. On the one hand, the graphics are best displayed on the bigger screens of mobile tablets. On the other hand, slot betting is easy and repetitive, so it's easy to play on an Android smartphone or iPhone.