Best Credit Card Betting Sites: Sportsbooks That Take Credit Cards
There are many ways to fund and cash out your winnings at online betting sites. Whether you're hoping to win big on an NFL futures wager or are looking to make your first-ever bet on Fortnite, you'll need a secure and simple way to add real money to your betting account.
When it comes to payment options on sports betting sites, one of the easiest and safest banking methods is to use your personal credit card. American Express, Visa and MasterCard are accepted around the world at restaurants, grocery stores, malls, shops and even online betting sites.
Most sportsbooks gladly accept deposits from credit cards and even offer special bonuses – more on that below – that allow you to grow your bankroll. This page will outline the best credit card betting sites and how to sign up at a top credit card sportsbook.
Best Credit Card Betting Sites Online
Why Choose Credit Cards for Your Betting Site Deposits?
One of the great advantages of credit card deposits at an online betting site is the added layer of security it provides. Credit cards act as an intermediary between your banking account and the betting site. While using an intermediary might sound like an unnecessary step, it does provide a buffer between your personal banking information and the internet gambling website you're using to bet on sports.
Sports Offered
When it comes to betting, you'll find action on a wide variety of the most popular sports and events like the Super Bowl and World Series. You can bet on top North American leagues like the NFL, NBA, MLB and NHL. You can also wager on college sports (NCAAF, NCAAB), golf, combat sports (boxing, UFC), motorsports (NASCAR, Formula 1), tennis (ATP, WTA), and cricket. Soccer is incredibly well-liked at online gambling sites, where you'll find odds and lines on everything from the EPL to MLS.
Moreover, you can wager on politics, like which candidates will be allowed on the debate stage, who will win the upcoming United States presidential election and what will happen to the U.K. economy post-Brexit.
There's also entertainment offerings such as which movie will win Best Picture at the Academy Awards, which characters will be killed off first on popular TV shows, and who will be the last person standing on any given reality show. Esports betting is also prevalent at credit card sites letting you make picks on the top competitions and teams from around the world.
Casino and Racebooks
The majority of gambling sites that accept credit cards also have their own casino and horse racing sections. You can play table games like baccarat, blackjack, roulette and craps or visit one of their live poker rooms. There are also online slots and other casino card games you can have fun with if you need a reprieve from gambling on sports.
Odds and Betting Styles
Most credit card gambling sites rank among the largest and best-known in the sports wagering world and cater to bettors around the globe. Because of this, you'll be able to choose between American, fractional and decimal odds.
For betting types, look for moneylines, point spreads, teasers, futures, parlays, props and totals. Furthermore, most sportsbooks offer live betting where you can bet on a game as it's in progress.
Bonuses and Rewards
Credit card betting websites give you incentives in the form of free bets and sign-up bonuses. These will vary from sportsbook to sportsbook but are generally offered to you the moment you create your account. Also, bettors can look forward to more rewards like sport-specific offers that are ongoing. For instance, you could be rewarded with an extra $40 to bet on college football if you wager on a certain conference.
Customer Service
Besides giving you free bets, credit card sportsbooks provide great consumer services. Commonly, you can contact client services via phone, email and live chat 24-7. If something goes wrong with your account, you can rest assured that it will be taken care of ASAP.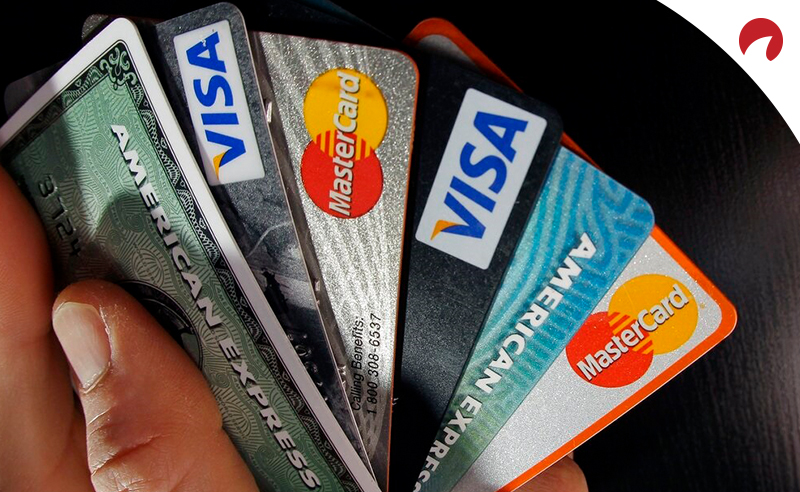 Deposit and Withdrawals
In terms of deposit methods, credit cards give you a fast way to fund your online betting account. For the most part, the minimum deposit amount is between $1-$10. Like when you use your debit card for transactions at gambling sites, credit card withdrawals can take anywhere from a few seconds to a few days depending on the betting site. The only faster deposit or withdrawal option for online betting is Bitcoin, which is instantaneous.
There may be regulations and fees involved depending on the country issuing your credit card, so it's best to check before you make your first deposit. Charges for using your credit card at a sportsbook could be as low as one percent, but it's still important to determine what these levies are prior to funding your online gambling account.
Some areas do not allow you to use a credit card to bet on sports no matter how trustworthy the site is. This is especially true in parts of Asia, like in India where you may be able to fund your account with your card but will have to use a different method for withdrawing your money.
Prepaid Credit Cards
If you do not want to use one of your credit cards for online betting, another one of the many payment methods you can use is the prepaid version. These are Visa and MasterCards that are preloaded with a balance of real money, just like a gift card. You can use these the same way you would use a traditional card.
Credit Cards for Online Betting
Fortunately for credit card users, just the fact that their preferred betting sites accept their card of choice, and vice versa, is almost an endorsement from the card companies themselves. Credit card corporations don't want to get involved with fly-by-night operations, and they put protections in place to keep their customers from doing so as well. If a credit card company allows the use of its logo on an online betting site, it's a good bet they've got confidence in the site itself.
Any of the sites we champion in the list above are safe, secure and known for their ample bonuses and awesome client services. Plus, we have vetted these sites so you don't have to. You can spend less time checking out betting sites and more time actually betting on sports.
How to Sign Up at an Online Sportsbook
Whether you're looking to start gambling on esports, use the online casino or bet on the next Sunday Night Football game, the first step is to select one of the credit card betting sites we mention. The second step is to create your account. To do so you'll need your email address and credit card. You'll receive an email from the site with a link to confirm your information. Once that's done, you can make your first deposit and start betting.
Credit Card Betting Sites FAQ
Do betting sites have fees for depositing with a credit card?
Players should first check with each specific sports betting site, but depositing into a sports betting website rarely comes with fees. This can be dependent on the sportsbook and on your specific credit card, but depositing without fees at a sportsbook with a credit card can be the easiest and safest way to start betting today.
Do all online gambling sites accept credit cards?
Depositing with a credit card is the most common method to start betting at an online sportsbook. While not every sportsbook accepts a credit card, many of Odds Shark's top books like Sportsbook, Sportsbook, Sportsbook, and Sportsbook accept various credit cards as methods to deposit and withdraw. You can get started today at any of the above sites and take advantage of some premium signup bonuses.
What betting sites are best for using a credit card?
We at Odds Shark recommend Sportsbook and Sportsbook as our top sportsbooks to use if you're depositing with a credit card. They are some of the top sportsbooks in the industry, offering football, hockey, basketball, and baseball betting as well as the top lines on almost every popular sports betting market. Check out our sportsbook review page to learn more about our top recommended betting sites.