Best Online Poker Sites | Where to Play Poker Online
Online poker has been a thing since the emergence of the internet and has since become one of the most favored online pastimes. The game has rocketed in popularity and has consistently grown year over year. There are hundreds of online poker sites online, with thousands of tournaments and millions of players enjoying the entertainment. Online poker has seen some huge tournaments with prize pools reaching into the millions. 
You can enjoy all kinds of poker online, including Texas Hold'em, Omaha, 7-Card Stud, and many others. Online poker has opened new doors for new poker fans, providing instant access to tournaments, strategies, and huge prize pools. You can also enjoy the poker action straight from your mobile device and sharpen your skills wherever the world takes you. Many online poker sites offer free to play poker, so you can enjoy the thrill without putting any money on the line. 
In this guide we're going to run through the different areas of online poker sites, and what you should consider when signing up for a new online poker platform.
*Terms and Conditions apply to all bonus offers on this website. Please visit operator for details.
How We Review Online Poker Sites
Online poker reviews on Odds Shark are broken up into two distinct categories: the Summary section, which includes details about the overall experience about playing at a given poker room, and the Value & Benefits section, containing information on aspects like rewards and customer service. 
Summary
The three main criteria we assess for online poker rooms as part of the Summary section are their mobile experience, desktop experience, and bonus rating.
The mobile experience is how a poker room performs on a mobile device. Is it easy to navigate, or is there anything unique about it? Essentially, how close is the experience in playing on mobile to playing on a desktop, whether that's on a site or through a downloaded piece of software.
The desktop experience is an overview of the user experience on the site. Are there any particularly notable features, or is there anything missing that should be there? The best online poker sites tend to use very similar designs with feature parity across devices, just optimized for each one.
The bonus rating is an assessment of a poker room's welcome bonus, if they have one, as well as how easy it is to obtain.
Value & Benefits
The two primary factors we assess in the Value & Benefits section of our reviews of the best poker websites are the rewards players can obtain and the overall customer support at the site.
The rewards section refers to the poker room's loyalty program. What are the long-term benefits to depositing and playing with this specific poker room? The best rated online poker sites offer incentives like cash benefits, tournament entries, and redeemable points, among other things.
The customer support section is exactly that - how good is a particular poker room's customer support? How quickly are issues resolved, and what is the overall experience like?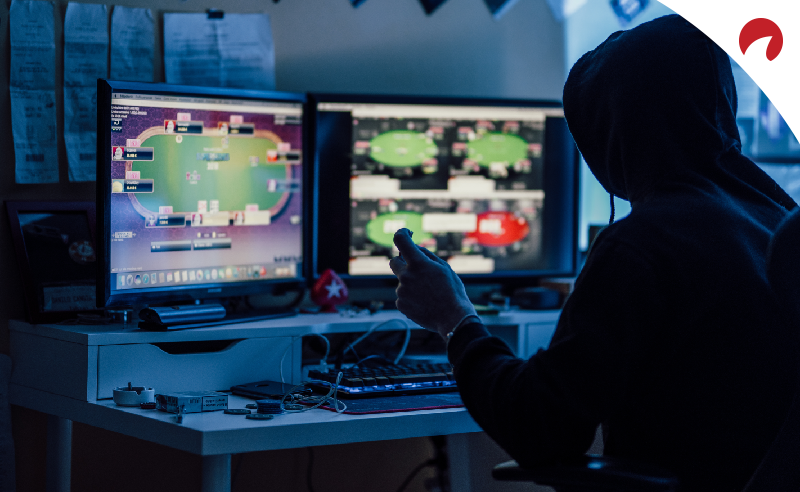 How to Sign Up at Online Poker Sites
Getting signed up to a new online poker site is an easy task. First, you need to make sure you pick a reputable and trusted poker site, and consider the bonus offers, range of tournaments and gaming interface. You can find the best online poker sites by checking out online poker reviews. We'd also encourage you to read multiple different reviews of poker rooms to get a better grasp on if the site is compatible with the experience you're looking for.
Once you have decided on your new online poker platform, you can register for an account by providing some of your personal details, such as your name, email, and address. Once you have completed your personal details, you just need to verify your account by confirming your email and you're all set. You can then make a deposit into your account and start joining some poker tournaments. 
Some online poker sites will require you to download some software. This will give you instant access to the poker lobby straight from your desktop.
When you're ready to cash out any winnings you will need to request to make a withdrawal. Before you can withdraw any funds, you will need to make sure that your account has been verified. You can do this by uploading some identification documents to prove you are who you say you are. Once you are all verified, you can make a withdrawal request. The withdrawal times will depend on the payment method you choose; you can usually find the time frames on a dedicated payment page located in the footer of the site. 
Differences Between Online and Live Poker
There are many differences between enjoying the game of poker online and enjoying it in a land-based casino, or a casual game with friends. The games use the same set of rules whether in real life or online. First, playing online is convenient and gives you instant access to any poker game, regardless of budget. However, playing live offers social interaction and creates a more stimulating betting environment. Here are some of the main differences between playing online against playing in a live environment. 
One of the most obvious differences is that those playing online cannot see your face, so the game of bluffing becomes more challenging. Those who are poker pros cannot suss out players through mannerisms and poker tells. Instead, they must monitor their betting patterns to decipher any possible bluffs. 
Live games usually move at a slower pace than online games. This is likely related to the area of bluffing. Online players are not being closely watched and are more encouraged to bet quickly. There are other areas that speed up the game too, such as the dealer not having to shuffle and deal cards, and in most cases, online players have a visible timer that counts down their betting time allowance. 
You will have far more choices in terms of poker games when playing online. There is a huge variety of tables covering No-Limit Texas Hold'em, PLO, Seven-Card Stud, and more. You can find tables with super low limits and high roller tables too, covering all bankrolls. What's more, online players will have access to many strategy tools that can influence their online poker betting activity. 
Players will also tend to play more hands when they are participating in a live game. This is because it's not as exciting to sit out a hand, while playing online you can fold and keep busy with something else until the next round is in action.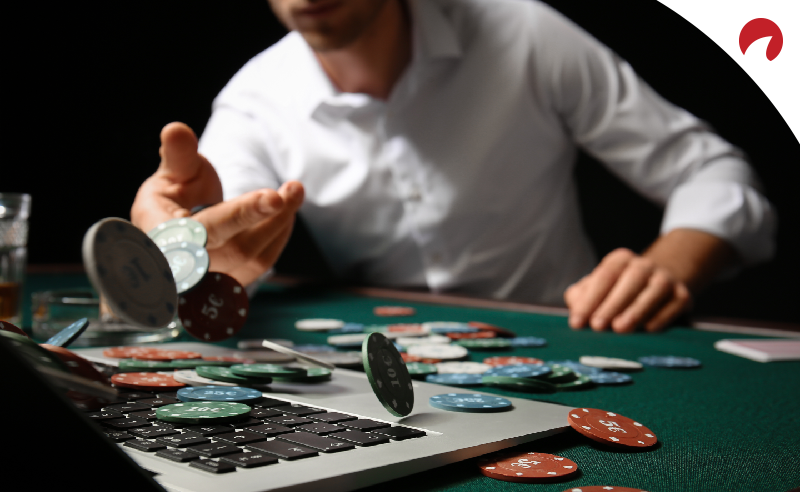 Bonuses at Online Poker Sites
You'll find that most online poker websites dish up a variety of bonus offers. There are many different types of poker bonuses, from regular deposit bonuses, no deposit bonuses, VIP club rewards and even free entry bonuses. Here's a breakdown of the bonuses you can expect to find at online poker sites.
Deposit Bonuses: These are the standard bonus offers that give you extra bonus funds when you make a deposit with real money. You can boost your balance with some hefty bonus offers, but they will come with wagering requirements. If you are not familiar with wagering requirements, this means you must risk the bonus funds a certain number of times before it converts to real money. 
No Deposit Bonus: This bonus is typically reserved for new players and requires you to register your details to claim. You will not be required to make a deposit, but you will be giving up your contact details in exchange for this type of bonus. These bonuses can vary for some bonus money or even a tournament entry. 
VIP Club Rewards: You can enjoy some enticing VIP perks as a regular poker player. These bonuses come in the form of points that can be redeemed for a variety of extras, such as merchandise, tournament entries, free spins on slots at online casinos, and trips to professional poker events. These loyalty rewards don't cost you anything to earn, so it's always worth picking a poker platform with a decent rewards program. 
Rakeback Bonus: You can come across poker sites that offer a certain percentage of the rake. This is the amount players pay the house to use the poker room. These bonuses usually come with high wagering requirements and are more suitable for those who play frequently. 
New Depositor Freerolls: The best rated online poker sites offer freeroll tourneys that do not require you to buy in. These are usually offered to those who are first-time depositors. The tournaments are free to enter but still feature a decent prize pot to play for. These are a great way to get the experience without risking your own funds. 
Deposit and Withdrawal Options at Online Poker Sites
You can make deposits and withdrawals safely and securely at reputable online poker sites. These sites provide plenty of payment options, including standard bank cards, eWallets and even cryptocurrencies. Here are some of the ways you can send money to and from your online poker balance. 
Credit Cards
One of the most popular forms of online payment is the credit card. This payment method is widely accepted and offers instant deposits. The withdrawals can take up to five days to process with the verification and approval processes involved.
Bitcoin
The Bitcoin cryptocurrency has been on a rapid rise with online poker players. Digital currency offers enhanced payment privacy, better security, and fast cash out times. Bitcoin does not have a CEO or establishment behind it, it's fully decentralized. This is what makes the currency different to other digital currencies. The coin will also only have a total supply of 21 million coins. 
Altcoins / Other Cryptocurrencies (Litecoin, Ethereum)
Altcoins are digital currencies that are not Bitcoin. There are thousands of Altcoins, but the main currencies include Litecoin, Ethereum, Ripple, Dogecoin, Cardano and Tether. Sending money via one of the Altcoin crypto payments offers excellent speed and security. The cryptocurrencies can be very volatile, and the price can change in an instant. However, crypto options like Tether are pegged to the US dollar and so one Tether will always be valued at one dollar. 
Cheque
Making online payment by cheque is not as popular as it once was but there are still some online poker sites that accept the payment method. Making deposits and withdrawals through cheques keeps the entire process offline and therefore away from potential online threats. However, the transaction times are far longer, with more time added to send and receive each cheque. 
Bank Transfer
The traditional bank transfer is a trusted payment method that does not require you to share any sensitive payment information. The process is much longer and can take a few days for your deposits and withdrawals to process. 
Online Poker Sites FAQ
Is it legal to play online poker in the US?
It is legal to play online poker in the US, provided that you live in and are playing from certain states, as there are no federal laws about gambling online. As it is being explored and approved on a state-by-state basis, the legalization of online poker in the US is an ongoing conversation. Michigan became the latest state to legalize playing online poker in January 2021.
Is there any legit online poker?
The vast majority of online poker rooms are legitimate. While things like card draw RNG can be unfavorable, this is true of any type of poker in any venue, from a home game to a land-based casino. Almost all of the best poker websites are large, well-respected entities with decades of history; it's not unusual to see professional poker players use these websites.
Can you get in trouble for playing online poker?
While real money online poker is technically prohibited in some states and provinces, no one has ever been arrested or convicted of gambling online. There is no federal statute that says making bets online is illegal. Further, online gambling is largely considered a victimless crime, so while some states or provinces may choose to go after online poker sites, they wouldn't go after the people who play at them.
What states allow real money online poker?
The current list of states that allow real money poker are Delaware, Michigan, Nevada, New Jersey, Pennsylvania, and West Virginia. Further, bills regarding online poker have been introduced in Connecticut, Kentucky, New York, and Virginia. Delaware, Nevada, and New Jersey are also part of the Multi-State Internet Gaming Association, meaning that players from these states can play and compete against each other.