College Football Betting Sites: Where To Bet On NCAAF Games
NCAA football is a powerhouse in the sports betting industry due to its massive audience and the size of its 11 Division 1 conferences. There are plenty of betting opportunities during the regular season and bowl games, with enough matchups played each weekend to keep oddsmakers busy setting the lines. Let's break down what makes certain sites worth your time and which ones to avoid.
Top College Football Betting Sites
Top Rated Sportsbooks

Well established with 20+ years of experience
Early lines
Competitor bonus matching
24-7 customer support

BetOnline Sportsbook

Known for their killer welcome bonus and Refer-a-Friend program, BetOnline.ag is focused on the bettor. Choose from player props to $125 worth of risk-free bets when you use this sportsbook for your wagering needs. They also boast early lines and quick payouts, making them one of the most respected in the industry.

BetOnline Sportsbook

Over 25 years of experience in the market
Dedicated, secure live betting platform
Fast payouts: same-day payout approval
Speak live on phone with customer service

BetUS is America's favorite sportsbook for a reason. From their incredible sign-up offer to their 24-7 customer service, you are always looked after. With live betting available on all sports, as well as mobile technology which makes everything so simple, BetUS is the only site for you.

BetUS Sportsbook Review For 2022: A Top-Tier Betting Platform

Exclusive Bitcoin Bonuses
Quick and Easy Deposits
Sports Betting, Poker, Casino and Racebook all on one account

When it comes to sportsbooks geared to American bettors, Bovada offers everything you need to bet on the NFL, NBA, MLB and college sports. There's also lines on hockey, UFC, esports and politics. From live betting to exclusive bonuses on certain deposit options, Bovada is the ultimate sports betting site for those looking for quick withdrawals, special promotions and different language options (English and Spanish).

Bovada Sportsbook Review For 2022: An Elite Sports Betting Experience

Everygame Sportsbook

With multiple bonuses to choose from, Everygame is your one-stop shop for betting on everything from soccer, football, baseball, tennis, basketball, esports and more. This online sportsbook gives you over 4,000 daily wagers and live scoring so you can track your bets in real time. Plus, their mobile betting site is just as easy to use as their desktop version.

MyBookie Sportsbook Review For 2022: A Supreme Sports Betting Site

MyBookie's vision is to redefine the gaming scene by establishing itself as the world's leading online sports betting and gambling website. Combined with a casino, North American racebook and new features like live betting and a mobile-friendly website, MyBookie is constantly improving because you deserve to "Bet with the Best".

SportsBetting.ag Sportsbook Review For 2022

Betting on sports is easy when you use an online sportsbook like this one. SportsBetting.ag is part of the BetOnline.ag family and it shows. With multiple betting options, live wagering and numerous sports available to bet on, this is a sportsbook not to be missed.

BetNow Sportsbook Review For 2022

Looking to bet on your favorite American sports? This is the sportsbook for you. With great action and an ample welcome bonus, BetNow has something for bettors of all walks of life. Besides their roster of sports to bet on, this online betting site is easy to use with clean graphics that look perfect on desktop and mobile.

BookMaker Sportsbook Review For 2022

Anyone wanting to bet on their favorite sports will love BookMaker. Whether you're an NFL aficionado looking for point spread action or an NBA fanatic looking to make a two-team teaser, this is the site for you. This sportsbook has contests, bonuses and enough to keep bettors rewarded for their sharp wagers.
*Terms and Conditions apply to all bonus offers on this website. Visit operator for details.
What Are The Best Sites For NCAA Football Betting?
Choosing the best online sportsbooks for betting on college football requires research. Or, you can sit back, let us do the research for you, and select one of the sites from our above list. Each of the NCAAF betting sites we recommend are safe, secure and provide great odds.
When we evaluate sportsbooks to bet on college games, we look at the following:
Deposit Options And Withdrawals
Before you start betting, you'll need to fund your account. The majority of college football betting sites accept credit cards like American Express, MasterCard and Visa. You can also use e-wallets (PayPal, Neteller, Skrill) and debit. A more recent development in online betting is cryptocurrency. If you can use Bitcoin (BTC) to make a deposit, you're looking at a fast and easy funding experience. Moreover, BTC withdrawals are quicker than any other method.
Bonuses And Rewards
To give customers a reason to keep betting on college football, bonuses are provided. Some are currency-specific, like $100 in free bets if you use Bitcoin, while others are related to certain sports. For example, you could get an extra $50 to play with if you create a college football playoff parlay ticket.
One of the most popular offers is the Welcome Bonus. The online sports betting site will match your initial deposit up to a percentage. This means that if you were to add $200 to your account, you could get an additional 50 percent of that amount ($100) to wager with.
It's important to remember that each sportsbook will have different terms and conditions for their bonus offers. Make sure to read that fine print before accepting any rewards.
Customer Service
If you're lucky, you'll never need to contact client services. However, it's nice to know that the betting site you're using for your NCAA football picks has resources in place should something go wrong with your account. Customer service is generally available 24-7 via email, telephone and, in some cases, live chat.
User Interface
Most of us bet on our phones, which is why you want a site that is mobile-friendly. Any betting site that can easily go from tablet to desktop to smartphone is one you should consider. Sites that aren't optimized for multiple software platforms are not going to get very far in the industry. The sites we recommend are compatible with iOs and Android.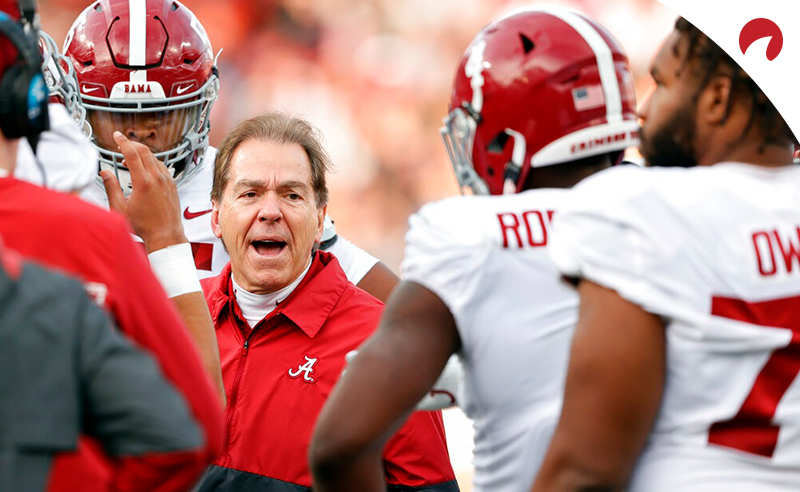 Betting Types And Odds
If you're already a college football fan and are familiar with the teams, conferences and players, you're off to a great start like Boise State in 2002. As we stated above, the league is huge, which could be overwhelming to novices when trying to figure out which team to bet on and which games offer the best odds. Another important part of picking a betting site is finding the odds type you like best.
At the sportsbook, you'll have the option to toggle between American odds (-500), Fractional odds (1/5), or Decimal odds (1.20). We use American style at Odds Shark, but you can choose the style that makes the most sense for your bets.
When it comes to wagering types, the college football betting sites we trust will have these:
Moneyline: Which Team Will Be Victorious?
To make a moneyline bet, you have to select the team you believe will dominate the matchup. Let's say Ohio State is playing Michigan. The odds would look something like so:
In this case, Ohio State is the favorite. You can tell this by the minus sign (-). Michigan is the underdog. You can see this by the plus sign (+).
If you were to lay $100 on the Buckeyes, you'd get a payout of $176.92 – your original $100 is returned along with your loot of $76.92. On the other hand, that same bet on the Wolverines would give you $340 – you get your $100 back coupled with your prize of $240. Bets on dogs are riskier, which is why they come with a bigger reward. Our Odds Calculator will tell you how much you'd win based on the odds and amount bet.
Point Spread: Which Team Will Cover?
In spread betting, the underdog is given a set amount that they can't lose by (or they can win outright), whereas the favorite has to win by a certain amount. Spread odds for a game between two SEC powerhouses could look something like this:
In this scenario, LSU would need to win by eight or more points to cover the spread. Conversely, Bama would need to not lose by more than seven points, or win the game, to cover.
Some college football matchups are extremely uneven, resulting in larger spread odds. In some cases, you could see teams favored by more than two or three touchdowns, especially if a ranked squad is playing an unranked team.
Totals: Combined Number Of Points
When betting the totals (also called OVER/UNDER), you will need to decide if the total number of combined points in the game will be OVER or UNDER the oddsmaker's selected number.
Odds would appear like this:
Nebraska vs Wisconsin
59.5 OVER
59.5 UNDER
If you think the pooled score for both the Cornhuskers and Badgers will be 60 or more, you would take the OVER. If you think it'll be 59 or less, you would take the UNDER.
College football scoring is typically greater than the NFL because the clock stops after every first down, and players only need one foot inbounds for a catch to count. NCAAF betting totals will usually be within the 55- to 70-point range, but can go higher if the oddsmaker feels the game will be a high-scoring affair.
You may also see totals odds that don't have a decimal (.5). Let's pretend the total is 60 instead of 59.5. If the collective score is 60 on the nose, you would get your money back since neither the OVER nor the UNDER cashed in. This is called a PUSH.
Props: Player, Team And Entertainment Milestones
Props are bets that can be placed on player and team statistics. You'll see things like total number of passing and receiving yards during a single college football game, first team to score, coin toss results, and if certain celebrities will be at the game. Will Matthew McConaughey be watching the Texas Longhorns live? Will Will Ferrell be cheering for the USC Trojans at LA Memorial Coliseum? These bets are incredibly popular during bowl season and the national championship game.
Parlays: More Bets For Your Buck
When it comes to college football betting, parlays can provide a fun way to bundle together a bunch of smaller bets with different odds. You can take Notre Dame moneyline, TCU vs Oklahoma totals, and Oregon to cover the spread on one ticket. In order for you to win your parlay, all bets on the ticket would need to hit. If there's a PUSH, that bet is removed from your bet slip as if it didn't happen.
Teasers: Creating Better Betting Lines
Teasers let you move the odds in your favor.
Clemson Tigers -10 vs Ole Miss Rebels +10
South Carolina Gamecocks - 13.5 vs Florida Gators +13.5
You could move the spread 7 points for one team in each game to create a teaser which would look like this:
Clemson -3
Florida +20.5
You're basically giving yourself an incredible betting edge by changing the spread. The most common football teasers are 3, 6, 7 or 10 points. Generally, sportsbooks will let you make between two and 15 team teaser tickets.
Futures: Betting On Things To Come
Futures betting in college football is heavily centered on the Division 1 championship game. You'll also find Heisman Trophy odds and conference champion odds. These are bets you can make weeks or even months in advance. For instance, you could bet on which two teams you think will make it to the Rose Bowl or who will take the Big Ten championship.
Live Betting: Wagering During The Game
Available at most NCAA football sites, live betting markets include live odds for spreads, totals, moneylines, player and team props, and the results of each drive and play. If you're watching Indiana at Purdue, you can bet on if the next offensive play for the Hoosiers will end in a touchdown or interception, and if the next defensive play for the Boilermakers will be a sack, a block or an interception. Live odds disappear as quickly as they appear. If you see some you like, it's best to grab them like a defensive tackle.
Trusted NCAAF Betting Sites
Use any of the safe and trustworthy sportsbooks from our list for college football betting. Now that you know where and how to bet, go make your wagers!
More College Football Betting Resources
College Football Betting FAQ
Is it legal to bet on college football?
Yes, it is legal to bet on college football, however in many cases it's up to the respective jurisdiction to determine the legalities. It may be legal to bet on college football in one part of the country, while it may not be legal to bet on NCAAF in another. It's up to you to find out if your particular region offers legal NCAA football betting.
Can I bet on college football online?
Yes, you can bet on college football games online. The majority of online sportsbooks that offer NCAAF betting odds are going to cover the major conferences and NCAA football games within Division I. Many college football betting sites online are going to cover smaller Division I NCAAF games as well.
Where can I bet on NCAAF?
In our recommended list of college football betting sites, we include a number of top-rated CFB sportsbooks such as BetUS, Bovada, BetOnline, Everygame, SportsBetting, and MyBookie. We examine and evaluate different NCAA football betting markets, NCAAF odds as well as bonus offers, in addition to innovative interfaces, and how user-friendly the navigation is of each bookmaker.