Bingo might be a simple game, but it has captured the hearts and attention of people all over the world. Given its popularity, it should come as no surprise that it would make the jump onto the internet, where it is enjoyed at online casinos every day. Our definitive guide delves into the game's history, some of the versions you can expect to find, and, most importantly, where you can play bingo online for money.
Playing Bingo Online
You can play bingo on the Internet exactly as you would play bingo in real life. You'll be given a card to use – if you're playing real money bingo, you'll have to buy it yourself, but you'll be able to keep your winnings – and a random number generator will pick numbers in lieu of a bingo caller. When the number that is called matches the number that appears on your card, you can mark it.
When you play bingo anywhere, the goal is to complete a line or the required pattern. Some online games of bingo may have multiple winning conditions, such as getting multiple lines or even completely filling up your card. Once the game is over, you can choose to start again with a new card.
Check Out Odds Shark's Favorite Online Casinos
How Online Bingo Works
Bingo online and real, live bingo both work in a similar way. In both games, random numbers are drawn from a drum which are "called" by the bingo caller. Players then mark off the corresponding numbers on a game card. 
In order to win, you simply need to cross off a set of numbers before other players. The numbers you need to win are dependent on which type of game you're playing. Normally, this involves making a pattern on the card; straight line, for corners, "X" pattern, full card, etc.
Playing bingo online is a bit less labour intensive, but it still replicates the fun and excitement of real bingo. With bingo online, instead of a live caller pulling the numbers, this is done with a random number generator. 
Also, you don't don't have to physically mark off the numbers on a card, you simply click or tap with your finger if you're playing bingo on your mobile phone. In some cases, the game will do this step for you, so you don't have to tap or click at all. This makes it easy to play multiple cards at one time—sometimes difficult at a bingo hall.
The other major difference when playing bingo online, is the huge variety of games you can play. In a bingo hall, the games are limited to two or three different games, and rarely have themes. With bingo online, you can choose from seemingly endless games like 90-ball bingo, 80-ball bingo, 75-ball bingo, 30-ball bingo, speed bingo and more.

How To Play Bingo Online
It's easy to start playing bingo online, whether you'd like to play for free or at a real money casino. The first thing you'll need to do is find a casino that (1) offers the type of bingo that you'd like to play and (2) legally accepts players from your area.
Bingo Bonuses: When you sign up at an online casino, you may want to take advantage of the welcome casino bonus. Often, the welcome bonus is an exclusive promotion that casinos offer players who play bingo, Keno, slots, and scratch cards.
Match Rates on Bonuses: The value of a welcome bonus is usually based on how much you're willing to deposit – depending on the casino, you can end up being credited with anywhere from a few hundred to a few thousand dollars.
Wagering Requirements: However, before you sign up, remember to read the terms and conditions surrounding the bonus. Depending on the casino, there may also be further deposit bonuses available.
Mobile Bingo: Bingo can be played at both desktop and mobile casinos, so no matter your device of choice - whether you're an Android user or have a favourite iPhone casino - you should be able to get in the game and start having fun.
Bingo Online Game Variants
There's already a lot of variety to be found in a normal game of bingo – you may have the goal of completing multiple lines or different patterns, or you may be playing classic one-line bingo. However, new versions of bingo have appeared over time, each looking to put their own unique spin on the game. You can enjoy many of these variants when you play bingo at casino sites.
90-Ball Bingo: In the United Kingdom, bingo is played with 90 balls as opposed to the 75 in the American version. Cards are also arranged differently, with nine columns and three rows. In "Housie", as it's known, the winning combinations are also different: four corners, a horizontal line, two lines or a full house are all Sportsbooks.
80-Ball Bingo: When you play bingo online for money, odds are that you're playing 80-ball bingo. The 80-ball bingo cards have 16 numbers across four columns and rows, as opposed to the traditional 24 and one free space across five columns and rows.
Speed Bingo: Another common variant among bingo games online, speed bingo only uses 30 balls, making the game a much faster affair. There are only nine numbers on the card, arranged into three columns and rows. Since the game plays so quickly, there is usually only a single Sportsbook. If you want to try something a little different that retains the original's charm, speed bingo is one of the best real money bingo games.
75-Ball Bingo: Games inspired by 75-ball bingo are the most like those played during the bingo nights hosted in most US charitable bingo halls. If you're a US resident looking for the games you played as a kid on a charitable bingo night, look for online casinos with 75-ball bingo games. 
Progressive Jackpot Bingo: A progressive jackpot is a jackpot that grows with every bet made – the more people playing the game, the larger the jackpot will become. It keeps growing until someone wins the entire thing, making progressive jackpot bingo a potentially lucrative option. However, to compensate for the higher amount of money that can be won, progressive jackpot bingo has fewer Sportsbooks.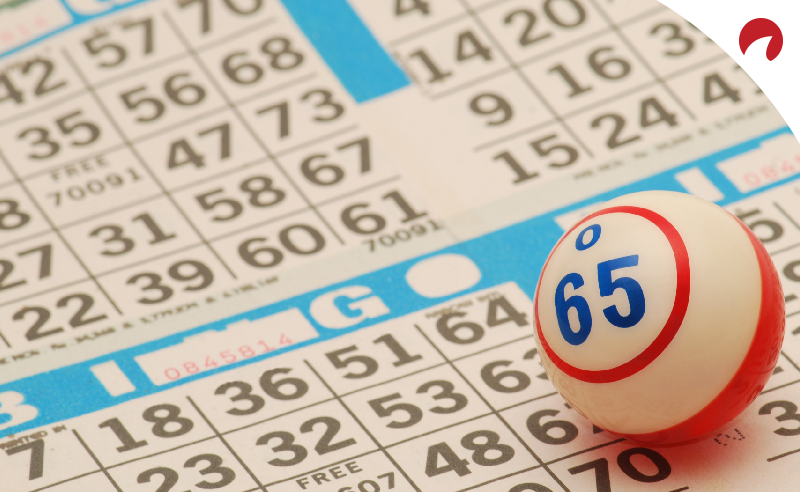 playing Bingo Online: Gambling Laws
Physical bingo is considered to be gambling in a social setting, and most states allow it to take place with little restriction. With online bingo, however, the laws get a bit trickier. Before you start to play bingo online, it's important to determine if it's legal in your state. 
In some jurisdictions, gambling is limited to specific games. In other states it isn't legal at all. Here are the states that currently consider bingo online to be illegal: Illinois, Indiana, Louisiana, Nevada, Michigan, New York, Oregon, South Dakota, Washington State and Wisconsin.
Most online bingo games available to US players are available through offshore sites that allow players from the USA. Our first recommendation for when you want to start playing bingo online, would be to find a reputable casino site that offers the game, and then determine if they accept US players. 
Online Bingo Games for US Players
If you play bingo online at a casino site, you'll encounter a lot of different game titles. We've listed the best bingo games that Americans are likely to play, along with a quick explanation of each game's features. Below that, we provide a table where you can find the best of these games.
Online Bingo Tips
Even with all of the different versions you can play, online bingo is still the same as regular bingo at its core. A lot of the tips that apply to traditional bingo also apply when you play bingo on the Internet for money. 
Play Small Stakes Bingo: While more players means a better jackpot, it also means that there is more competition. Playing smaller bingo games does mean that there will be less up for grabs, but it also gives you a greater chance of winning.
Free Bingo: If your goal is playing a free bingo game, you often don't even need to sign up at a casino – just open the game up and start having fun. 
Buy Several Bingo Cards: You may wish to buy several cards to play. In real-life play, this can become a bit chaotic, because it might be easy to miss numbers that are called or otherwise get distracted checking your cards. When you play bingo at mobile or online casinos, every number that is called is marked on your card automatically, making this a less risky strategy.
Bingo Bankroll Management: As with many casino games, the most important thing is to make a budget and stick to it. Playing bingo online for money can be a lot of fun, especially when you win, but you should never do anything that you know you can't afford.
Bingo: A Game of Chance: Both real-life and online bingo are games completely based on randomness, just like online slots games; there's no such thing as a hot streak, and you can't count on luck. Play responsibly and focus on having fun.
Check out Odds Shark's Guide to iPad Casinos
Online Bingo Glossary
Bingo is an easy game for anyone to pick up and play, but it certainly has its share of interesting verbiage. The next time you play bingo, see if you come across any of these terms:
Dauber: The tube of ink that people use to mark bingo cards. To mark off a number on a card is called "daubing".
Flashboard: A display board that shows which bingo numbers have been called.
Free Space: The space at the very center of a bingo card, underneath the N. This space does not have a number associated with it, and can be marked off at the start of a game.
Hard Way: A line or pattern that does not make use of the free space. Easy to remember since players who opt not to use the free space are doing things the hard way.
Pattern: The shape you need to cover in order to win the game. The most common patterns are straight lines, either horizontal, vertical or diagonal, but there are many different patterns in bingo, as an online game or in-person. One such pattern is needing to fill your entire card, known as a "full house" or a "blackout".
Throwaways: Cards printed on thin sheets of paper. One throwaway sheet may have up to nine separate bingo cards on it.
Banking Options for Online Bingo
Buying a bingo card isn't a particularly expensive thing to do, but depending on the casino you choose to play at, they may have different minimum deposits you need to make, and through one of their supported payment options.
The most common type of payment you can make is a credit card casino deposit. The vast majority of casinos accept both Visa and Mastercard, with many also allowing deposits through American Express or Discover. Using a credit card to make a deposit is safe and secure; all casino banking is done using the same security measures as your bank provides for their online services.
Also common are eCheck casino payments. This allows you to make a deposit at an online casino without needing to share your banking details with them directly. While not every casino accepts eChecks, they do offer a bit of extra security.
If you have any questions about a casino's banking methods, don't be afraid to reach out to their customer service staff to learn more.
Real Money Bingo vs Free Bingo
Americans can play either real money bingo or free bingo when they visit a US online casino. Each form of play has its pros and cons. Here's a quick comparison between real money bingo and free bingo games.
| | |
| --- | --- |
| REAL MONEY BINGO | FREE ONLINE BINGO |
| Win prizes as high as $15,000. | No money risked, no obligations incurred. |
| Play for as little as $0.01. | Play without an online casino account. |
| Receive bingo bonuses. | Learn the game before playing bingo for real money. |
Bingo Online FAQ
Can I play bingo online for money?
Yes, you can play bingo online for real money. Just like you would play bingo in person, you buy your ticket, random numbers are selected, and you mark them off on your card. If you manage to win, you'll receive at least a portion of the available pool, with the overall amount depending on what you've completed on your card.
Is there a strategy to bingo?
As with all casino games, both in land-based venues and on the Internet, bingo is a game of chance. Which numbers are called are generated at random, so no one has any control over what those numbers are. Further, bingo cards online specifically have no way for you to choose which numbers are on your card, so you can't rely on different probabilities of numbers being called.
How can I increase my chances of winning bingo?
One of the simplest ways to improve your chances of winning bingo, either online or in-person, is to play multiple cards at once. Playing multiple cards gives you more opportunities to mark off numbers, in turn giving you more chances to win.
How is payout calculated in bingo?
When you play bingo at a casino site, the payout depends on a number of different factors. If there are many tickets purchased for a game, the payout will be higher than for a game with fewer tickets sold. If the game offers many small prizes, the largest prize will also be smaller than games with just one or two big prizes. Some games also have guaranteed minimum jackpots, which scale with the cost of tickets.
What's the best free bingo game?
The best free bingo games can be found at real money online casinos that support games with a practice mode (free bingo). These are the best option because you can play the exact same game with the same graphics, sounds, and game controls as the real money games. All 5 of the casino sites we recommend offer free versions of their virtual bingo cards.
What bingo app allows you to win real money?
At the moment, we recommend 5 different US online casinos that allow real money bingo: Sportsbook, Sportsbook, Sportsbook, Sportsbook, and Sloto Cash. Each of these games allows players to play real money bingo on their desktop computer or mobile device. All 5 are fully compatible with Android and iOS devices.
What is the best online bingo site?
We recommend Sportsbook at the moment. Sportsbook features 7 different bingo games, including 3 progressive bingo games and 2 other games with Wild Bonus rounds. Ignition has a $2000 welcome bonus, plus a full range of online casino games, poker bets, and sports bets.