Our Top Sportsbooks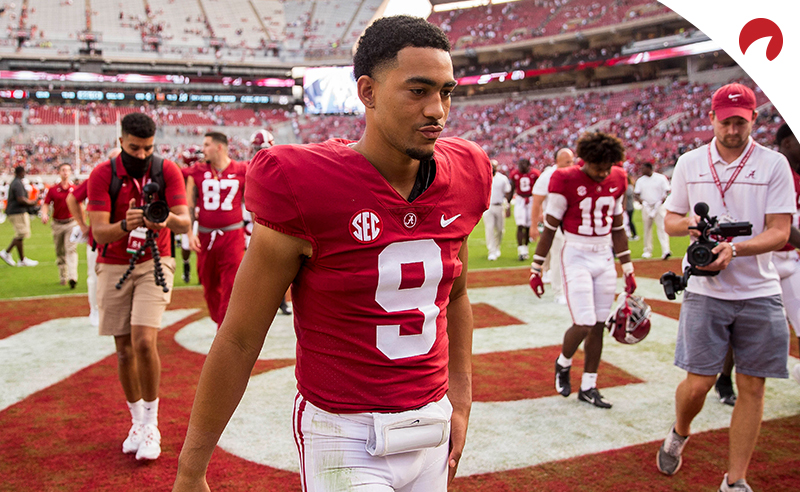 After an exciting end to the 2021-22 NCAAF campaign, we can begin to look ahead to next season. Despite losing in the College Football Playoff National Championship Game, Alabama is the favorite to take home the title in the 2022-23 season. 
Online sportsbook BetOnline Sportsbook has updated 2022-23 national championship odds, making the Crimson Tide the favorites at +225. They're followed by Ohio State (+400), Georgia (+475), Clemson (+1600) and Texas A&M (+1600) to round out the top five.
2022-23 College Football National Championship Odds
| Team | Odds |
| --- | --- |
| Alabama | +225 |
| Ohio State | +400 |
| Georgia | +475 |
| Clemson | +1600 |
| Texas A&M | +1600 |
| USC | +1600 |
| Wisconsin | +3300 |
| Michigan | +4000 |
| Notre Dame | +4000 |
| Oklahoma | +4000 |
| Florida | +5000 |
| LSU | +5000 |
| Miami (FL) | +5000 |
| Ole Miss | +5000 |
| Texas | +5000 |
| Oregon | +6600 |
| Utah | +6600 |
| Penn State | +8000 |
| Oklahoma State | +10000 |
| Tennessee | +10000 |
| Arkansas | +15000 |
| Auburn | +15000 |
| Baylor | +15000 |
| Florida State | +15000 |
| Kentucky | +15000 |
| Michigan State | +15000 |
Odds as of April 22 at BetOnline Sportsbook
New to the college football scene and reading college football championship odds? Check out our handy college football betting guide to help you get in the action. Also, keep an eye on our College Football Odds page for the latest up-to-date betting lines.
The NCAAF National Championship Betting Favorites
The great thing about college football is that we will see many familiar faces as well as some new ones next season. Here is a list of the favorites as we look ahead to the 2022-23 season.
Alabama (+225)
After a tough loss to Georgia in the national championship game, the Crimson Tide will look to get back on top in 2022-23. A few key pieces to the puzzle will be returning for another year, including Heisman Trophy winner Bryce Young.
Another key returning piece will be Will Anderson Jr., one of the best defensive players in college football last season. Young and Anderson will be among the returnees to an incredibly talented Alabama roster that will be adding several top talents next season.
According to 247 Sports, Alabama has the second-best recruiting class in the entire country. That class includes three five-star recruits, 19 four-star recruits and a pair of three-star recruits.
At the top of the recruiting class is five-star edge rusher Jeremiah Alexander, who ranks as the eighth-best player overall and the top player at his position. On the offensive side of the ball, the Tide will be adding the third-best QB in Ty Simpson.
Alabama, led by head coach Nick Saban, is always in the running for a national championship. Saban's ability to recruit top talent and get them to play to the best of their ability is second to none. These odds typically go down throughout the season, so it may not be a bad idea to place the bet early if you're looking for a long-term investment.
Ohio State (+400)
Trailing the Crimson Tide are the always tough Ohio State Buckeyes. The past season didn't go as planned as the Buckeyes were left out of the College Football Playoff, but they salvaged their season with an impressive comeback win in the Rose Bowl. The Buckeyes are once again in prime position to compete for a national championship in 2022-23.
C.J. Stroud, one of the best players in the country, will be returning for his sophomore season after finishing fourth in Heisman Trophy voting. According to BetOnline Sportsbook, the quarterback is currently the favorite on the oddsboard to win the Heisman in 2022 at +300.
Another returnee will be star running back TreVeyon Henderson, who was one of the best in college in 2021.
When it comes to recruiting, the Buckeyes were able to lure a ton of great players to Ohio. According to 247 Sports, they had the fourth-best recruiting class in the nation with two five-star recruits, 17 four-star recruits and two three-star recruits.
Both of the five-star recruits will join a defense that had some struggles this past season. Ohio State's top signing was C.J. Hicks, the No. 2 linebacker in the class. The other five-star recruit was No. 1 safety Sonny Styles.
Ohio State is certainly a threat to take home the title in 2022-23. Stroud could very well be the best quarterback in the country next season and this defense should be even better than it was last year. On top of that, the Buckeyes had a better class than the rival Michigan Wolverines according to 247 Sports. The Buckeyes have weapons all over the field on both sides of the ball, so don't count them out if you're looking for an early value pick.
Georgia (+475)
Not far behind the Crimson Tide and Buckeyes are the 2021-22 national champion Georgia Bulldogs. The Bulldogs finally got over the hump with a 33-18 win over Alabama in the national championship game and they will look to build on that victory and defend their title in 2022-23.
Numerous key players who helped the Bulldogs win the championship will be returning for another year. That list includes JT Daniels, who was Georgia's starting quarterback until he was usurped by Stetson Bennett following an injury this fall. However, the Dawgs will lose some key pieces on defense, including potential first-round NFL draft picks Nakobe Dean and Jordan Davis.
Visit The Best NCAAF Betting Sites
Looking ahead to 2022-23, the Bulldogs have a very solid class coming in. According to 247 Sports, they have the third-best recruiting class in the nation, including five five-star recruits, 15 four-star recruits and seven three-star recruits.
Four of the five-star recruits will be added to an already tremendous Georgia defense: Jaheim Singletary (No. 5 CB in class), Marvin Jones Jr. (No. 2 edge in class), Mykel Williams (No. 5 DL in class) and Daylen Everette (No. 6 cornerback in class).
After winning the national championship, the Bulldogs should once again compete for another title. With some key players returning and a great crop of new faces coming in, the Bulldogs could once again be a force to be reckoned with as they aim to defend their crown.
---
What Is A Futures Bet For NCAA Football Teams?
When it comes to big events for any sport, you can bet months in advance. In this case, a futures bet is a wager made on which team will win the national championship. Each week, oddsmakers will update the odds to reflect how a squad is doing. If a team is plagued with injuries, their chances of making it to the final game slim down. A surging squad will see their odds skyrocket.
Understanding College Football Championship Odds
When you go to a college football sportsbook, you'll see the betting lines laid out like this:
Alabama opens as the fave since the Crimson Tide have the lowest odds. The Bulldogs and Buckeyes are considered underdogs.
If you believe that Alabama has the best chance of winning the championship, and you bet $100 on them, you'd get a payout of $325 – your original $100 is returned along with your winnings of $225. On the other hand, if you're looking at Georgia and think they're going to win it all, that same $100 would give you $575 – you get your $100 back, plus your prize of $475. Our odds calculating tool will show you how much you'd win based on the odds and amount bet.
When you see futures odds that you like, it's best to jump on them early. As mentioned above, betting sites will adjust the odds as we get closer to bowl season and teams move up and down in the standings.
College Football National Championship FAQ
How are the College Football Playoff teams determined?
In 2014, the NCAA decided to do away with the BCS (Bowl Championship Series) in favor of the modern-day four-team College Football Playoff. A committee of 13 members from the five major conferences selects the four best teams.
Who won the 2020 national championship?
The Alabama Crimson Tide won the 2020 College Football Playoff National Championship. The Crimson Tide blasted the Ohio State Buckeyes 52-24 in the title game to cap a perfect 13-0 season. You can see which team is favored to win the 2021 championship game on our futures page.
How do you bet on the national championship?
There are several different ways you can bet on the national championship. The two most common ways are to make a futures bet where you choose the winner before the teams are determined, or bet on the game itself when the teams are decided. A betting tutorial can help you place a wager.
Upcoming Events
Doc's Picks Service
Need more winning picks? Get $60 worth of premium member picks from Doc's Sports – a recognized leader and trusted name in sports handicapping since 1971.