Our Top Sportsbooks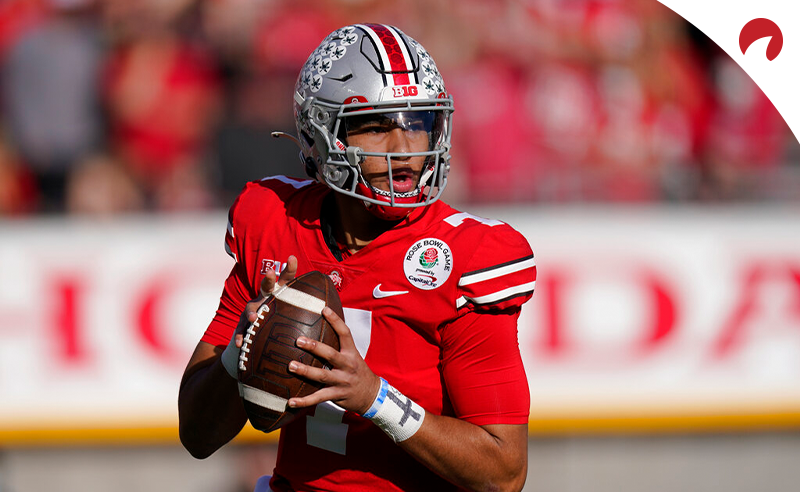 Alabama quarterback Bryce Young had a spectacular season to take home the 2021 Heisman Trophy. Now it's time to look ahead to the favorites to garner the hardware next season – new Heisman Trophy odds have been released as oddsmakers contemplate who will be the most outstanding player in college football in 2022. 
Quarterbacks are once again in the driver's seat to win the coveted award after Young ran away with the Heisman in 2021. Three of the first five players on the oddsboard in the opening Heisman Trophy odds are quarterbacks, along with a linebacker and a running back. 
Alabama is also well represented in the Heisman odds as three of those five players will be suiting up for the Crimson Tide this season.
Online sportsbook BetOnline Sportsbook has released 2022 Heisman odds and Ohio State quarterback C.J. Stroud is atop the oddsboard, sitting at +260 odds. He is followed by Bryce Young (+650), Caleb Williams (+900), Will Anderson Jr. (+1200) and Jahmyr Gibbs (+1400) to round out the top five.
At +260, Stroud's Heisman betting odds imply a 27.78 percent chance that he will take home the hardware next year.
C.J. Stroud Leads 2022 Heisman Trophy Betting Odds
Odds To Win 2022 Heisman Trophy

| Player | Odds |
| --- | --- |
| C.J. Stroud (Ohio State) | +260 |
| Bryce Young (Alabama) | +650 |
| Caleb Williams (Oklahoma) | +900 |
| Will Anderson Jr. (Alabama) | +1200 |
| Jahmyr Gibbs (Alabama) | +1400 |
| Tyler Van Dyke (Miami) | +2000 |
| Bijan Robinson (Texas)  | +2800 |
| Anthony Richardson (Florida) | +2800 |
| Dillon Gabriel (Oklahoma) | +2800 |
| Jaxon Smith-Njigba (Ohio State) | +2800 |
|  DJ Uiagalelei (Clemson) | +3300 |
| Jaxson Dart (USC) | +3300 |
| Will Levis (Kentucky) | +3300 |
| Spencer Rattler (South Carolina) | +4000 |
| TreVeyon Henderson (Ohio State) | +4000 |
| Quinn Ewers (Texas)  | +4000 |
| KJ Jefferson (Arkansas)  | +5000 |
| Hendon Hooker (Tennessee) | +5000 |
| Jordan Addison (Pittsburgh) | +5000 |
| Brennan Armstrong (Virginia) | +5000 |
| Braelon Allen (Wisconsin) | +6000 |
Odds as of June 16 at BetOnline Sportsbook
New to betting on college football? Be sure to take a look at our CFB betting guide to help you get in the action. Also, keep an eye on our college football odds page for the latest up-to-date betting lines.
Heisman Trophy: Favorites
C.J. Stroud (+260)
At one point late in the 2021 season, Ohio State quarterback C.J. Stroud had control of the top spot in the odds for the Heisman Trophy. However, a tough finish for the Buckeyes and a spectacular finish for Bryce Young and the Crimson Tide had Stroud fall just short. He will look to build off a very solid 2021 season and once again contend for a Heisman in 2022.
Stroud closed out 2021 in outstanding fashion, throwing for 1,187 yards (395.7 yards per game) with 13 touchdowns and no interceptions in his final three games. The only reason he wasn't in contention till the very end is because the Buckeyes were essentially eliminated from playoff contention after closing out their regular season with a loss to Michigan.
The Buckeyes have the potential to be one of the best teams in the country in 2022. According to 247 Sports, Ohio State's recruiting class ranks fourth in the nation. The Buckeyes were able to lure two five-star recruits and 14 four-star recruits.
Stroud will share the backfield with star running back TreVeyon Henderson for another season. The QB will also have four-star recruits Caleb Burton and Kaleb Brown at his disposal. Burton and Brown are ranked ninth and 10th in the recruiting class at the wide receiver position.
Stroud has all the weapons and talent to once again compete for the Heisman. Ohio State is going to be a team to watch in 2022, so look for him to have another tremendous season.
Bryce Young (+650)
Bryce Young had an outstanding 2021 season, winning the Heisman and leading his Alabama Crimson Tide to the No. 1 seed in the College Football Playoff. He will look to build on that in 2022 and finds himself up near the top of the oddsboard once again for the Heisman Trophy.
In 2021, Young threw for 4,872 yards while amassing 47 touchdown passes against just seven interceptions and took the Crimson Tide to the national championship game.
Looking ahead to next season, Alabama, to the surprise of no one, has one of the best recruiting classes in the nation. According to 247 Sports, Alabama ranks second in its recruiting class. The Tide were able to sign three five-star recruits to go along with 19 four-stars.
Visit Our Recommended Betting Sites
One of the five-star recruits is running back Emmanuel Henderson, who will have a massive role in the Alabama offense. Henderson ranks as the No. 1 player at the running back position in this class. Also heading to Tuscaloosa is Shazz Preston, the No. 3-ranked wide receiver.
Young has a phenomenal opportunity to win another Heisman Trophy in 2022. Alabama has surrounded him with another great class of players coming in. It may be early to be placing bets on the Heisman, but Young should be at or near the top when it's all said and done.
Caleb Williams (+900)
Caleb Williams went into the 2021 season as a backup to Spencer Rattler, one of the favorites to win the Heisman Trophy. Well, it certainly didn't go as planned for the Sooners or Rattler, who was replaced by Williams and decided to enter the transfer portal. Looking ahead to 2022, Williams is in prime position to have a tremendous season.
This past year, he played just 11 games and threw for 1,912 yards to go along with 21 touchdowns and four interceptions. On top of his great arm, he can get it done on the ground as well. The sophomore quarterback had 442 yards rushing and added six more touchdowns.
Williams will start from the jump in 2022 with the Sooners, who according to 247 Sports have the nation's eighth-best recruiting class, including 15 four-star recruits and six three-star recruits. One massive weapon the Sooners got in their recruiting class is running back Jovantae Barnes. Barnes is the 10th-best running back in the class and has electric speed that could open up the field for Williams.
There is no denying the 19-year-old flamethrower has exceptional talent. If Williams puts it all together and stays healthy in 2022, he will be a serious threat to win the award.
Heisman Trophy Best Sleeper Bet: Quinn Ewers (+4000)
If you don't know who Quinn Ewers is, you will learn quickly. Ewers began last season at Ohio State but wasn't able to take the field because C.J. Stroud stood in his way. Rather than sit behind Stroud for another season, the native Texan decided to enter the transfer portal and go home to play for a Texas Longhorns team that looks ready to make a run in 2022.
Ewers was the No. 1 prospect in college football just a year ago and now gets to be the starting quarterback of a very promising Longhorns team. He will have no shortage of weapons as Bijan Robinson, one of the best running backs in the nation in 2021, will be returning for his junior year. Texas also had one of the best recruiting classes in the history of its program.
Place Your Heisman Trophy Bets Now!
According to 247 Sports, the Longhorns had the fifth-best recruiting class in the entire nation and the most commits with 27. Leading the way is offensive tackle Kelvin Banks, their only five-star recruit and the second-ranked lineman in the recruiting class. Texas also added Brenen Thompson, the 12th-ranked wide receiver.
Texas has all the pieces to make a run in 2022. If the Longhorns have any plans to go far and potentially make the College Football Playoff, Ewers is going to be a massive contributor. At +4000, there is tremendous value on the freshman quarterback.
---
Heisman Trophy Historical Odds
By now, everyone is aware that LSU Tigers quarterback Joe Burrow won the Heisman Trophy in 2019 and was selected first overall by the Cincinnati Bengals in the NFL draft. But did you know his odds to win the Heisman Trophy prior to the start of the season were +4000?
That's the best part of betting on this prop. Players can be huge underdogs before the season starts and emerge from nowhere to take the spotlight. At some sportsbooks, Burrow wasn't even listed as a Heisman candidate until after LSU's second game.
Here at Odds Shark, we have compiled the opening and closing odds for every Heisman winner dating back to 2009, when Alabama's Mark Ingram took home the hardware. These odds are courtesy of sportsoddshistory.com.
Here are the opening/closing betting odds along with the preseason favorite for the Heisman Trophy since 2009:
Heisman Trophy Odds History

| Year | Winner | Preseason Odds | Closing Odds | Preseason Favorite (Odds) |
| --- | --- | --- | --- | --- |
| 2021 | Bryce Young | +900 | -3500 | Spencer Rattler (+550) |
| 2020 | DeVonta Smith | +6600 | -200 | Justin Fields (+450) |
| 2019 | Joe Burrow | +4000 | -12500 | Tua Tagovailoa (+250) |
| 2018 | Kyler Murray | +3000 | +700 | Tua Tagovailoa (+400) |
| 2017 | Baker Mayfield | +700 | -1800 | Sam Darnold (+500) |
| 2016 | Lamar Jackson | +10000 | -1350 | Deshaun Watson (+450) |
| 2015 | Derrick Henry | +2500 | -465 | Trevone Boykin (+650) |
| 2014 | Marcus Mariota | +425 | -1500 | Marcus Mariota (+425) |
| 2013 | Jameis Winston | +600 | -15000 | Teddy Bridgewater (+450) |
| 2012 | Johnny Manziel | N/A | -1000 | Matt Barkley (+300) |
| 2011 | Robert Griffin III | +2800 | -1000 | Andrew Luck (+325) |
| 2010 | Cam Newton | N/A | -450 | Mark Ingram (+450) |
| 2009 | Mark Ingram | N/A | -250 | Tim Tebow (+225) |
---
Making A Futures Bet
A futures bet is a wager made on events or milestones that will happen in time. The Heisman bet is a form of futures betting because you are making a pick based on an outcome determined at the end of NCAA football season. The trophy is given out in mid-December and if you want to get a bigger payout, it's best to lock in your bets sooner rather than later so you can take advantage of better odds. The closer it gets to Heisman voting, the more the odds will change.
How To Read Heisman Trophy Odds
The above chart features the odds for each top player in college football. At your sportsbook of choice, the betting lines would look something like this:
C.J. Stroud +260
Bryce Young +650
Caleb Williams +900
This means that Stroud is the favorite since he has the lowest odds and the highest chance of winning the prop, according to oddsmakers. If you were to bet $100 on Stroud and he won, you would get a payout of $360 – your original $100 is returned along with your winnings of $260.
On the other hand, if you strongly believe that Caleb Williams is going to win the Heisman at Oklahoma, a winning $100 bet on him would yield $1,000 – your $100 comes back along with your prize of $900.
Our Odds Calculator will show you how much you'd win based on the odds and amount bet.
Handicapping Your Heisman Odds Bet
We have the goods to ensure that you can make smart picks. Check out our college football pages to give you the edge over other bettors:
• Odds
• Futures
• Scores
Heisman Trophy Betting FAQ
What College Has Had The Most Heisman Trophy Winners?
Can I Bet On The Heisman Ceremony?
Who Is Favored To Win The Heisman Trophy?
Are There Benefits Of Picks Services?
Upcoming Events
Doc's Picks Service
Need more winning picks? Get $60 worth of premium member picks from Doc's Sports – a recognized leader and trusted name in sports handicapping since 1971.