College Basketball Futures: NCAAB Futures Odds & Betting Lines
National Champion 2023-24
---
North Carolina A&T Aggies
Maryland-Eastern Shore Hawks
Texas-Arlington Mavericks
Saint Mary's-California Gaels
Western Illinois Leathernecks
West Virginia Mountaineers
Mississippi State Bulldogs
Wake Forest Demon Deacons
North Carolina State Wolfpack
Mississippi - Ole Miss Rebels
College of Charleston Cougars
Notre Dame Fighting Irish
Georgetown University Hoyas
Louisiana-Lafayette Ragin' Cajuns
Georgia Tech Yellow Jackets
Southeast Missouri State Redhawks
Kent State Golden Flashes
Oral Roberts Golden Eagles
Southern Methodist Mustangs
Sam Houston State Bearkats
Charleston Southern Buccaneers
Youngstown State Penguins
Texas A&M-Corpus Christi Islanders
Middle Tennessee Blue Raiders
Southern Illinois Salukis
Western Kentucky Hilltoppers
Fairleigh Dickinson Knights
Southern Utah Thunderbirds
Southern Mississippi Golden Eagles
South Dakota State Jackrabbits
Stephen F. Austin Lumberjacks
Eastern Washington Eagles
Cal State-Fullerton Titans
Wisconsin-Milwaukee Panthers
Appalachian State Mountaineers
George Washington Colonials
Northern Illinois Huskies
Central Michigan Chippewas
Abilene Christian Wildcats
East Tennessee State Buccaneers
Jacksonville State Gamecocks
Loyola-Maryland Greyhounds
College Basketball Lines Legend
What Are College Basketball Futures?
College basketball futures are essentially wagers on the outcome of NCAA basketball events that are still a ways away like NCAA Championship odds. NCAAB futures open prior to the start of the regular season, and before any schedule is released. College basketball futures run right through the March Madness Tournament until a team is crowned as National Champions and the "One Shining Moment" song is played.
Sports betting on this season-long college basketball futures market can be boat loads of fun, but beware that NCAA futures odds fluctuate for all teams throughout the duration of the season. Oddsmakers at college basketball betting sites adjust their NCAA basketball futures to reflect the latest results, injuries, and any other basketball betting news that impact betting odds.
However, the odds you place your college basketball futures wager at are the same odds at which it will pay out, even if those title odds move after your basketball bets were placed.
College Basketball National Championship Betting
Which team will cut down the mesh at the end of March Madness and win the next national championship? Oddsmakers offer college basketball futures lines on almost every team during the season.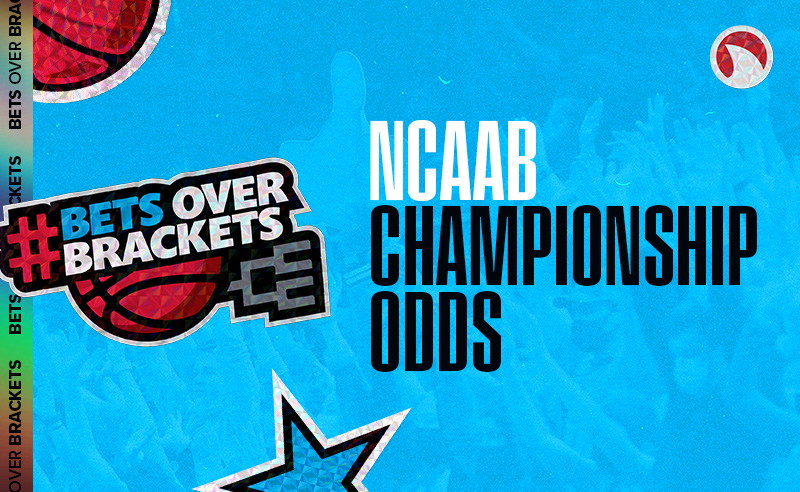 Betting On March Madness Odds
A top-five ranked team might have +300 odds to win the NCAA Tournament, while a lousy team might be at +6000. Let's say the Gonzaga Bulldogs are favored to win the NCAAB Championship with odds of +300. You would have to bet $100 to win $300 for a $400 payout if the Zags win the NCAA basketball national championship. You would get your $100 back, plus your winnings of $300.
College Basketball Championship Odds
If a long-shot like Louisville had +6000 odds to win the NCAA Tournament, a $100 bet on the Cardinals would win you $6,000 for a payout of $6,100 if they wound up victorious. You would get your $100 back plus your winnings of $6,000. Not too shabby right? It's risk versus reward when betting on NCAA basketball futures underdogs as opposed to favorites to win.
NCAAB Conference Tournament Betting
With college basketball futures, you can wager on conference winners. Online sportsbooks release odds to win each of the high major conferences. With over 30 conferences in total, the Power 6 conferences include:
College Basketball Player Awards Betting
NCAA futures odds also allow you to bet on the Naismith College Basketball Player of the Year as the country's top player. The Duke Blue Devils have produced the most Naismith winners followed by the UCLA Bruins, and the North Carolina Tar Heels.
When wagering on the Naismith Player of the Year Award, it's important to know that seniors have won this award more often than freshman, sophomores or juniors, and with more schools adopting small ball lineups, forwards and guards typically have a better chance of coming away with this honor.
If you fancy the Final Four, you can also bet on the Most Outstanding Player for the NCAA basketball tournament. Most often than not, the MOP is awarded to the winning team's best player.
College Basketball Futures FAQ
How do I read college basketball futures odds?
In standard American betting odds, futures are often presented as a long list of teams with odds that start with a plus (+) or minus (-). A team or player with a minus is a favorite, and you must bet that much money ($200 if -200) to profit $100 if they win. The underdogs are listed with a plus sign, and if you bet $100 you profit the number following the plus ($200 if +200). 
Where can I bet on college basketball futures?
You can place a college basketball futures bet at almost all popular online sportsbooks. To help experienced bettors or casual fans choose which site is right for them, Odds Shark's experts have compiled and ranked a list of the best March Madness Betting Sites with reviews and bonus codes for first time depositors.
What are college basketball futures?
College basketball futures are long-term bets on an NCAAB event or award. The most common futures bet is on the NCAAB Championship, or Sportsbook of March Madness, but you can also place a futures bet on the Sportsbook of a bracket region or an award like the Naismith. Odds Shark's How To Bet on March Madness guide has great strategies and tips for futures betting.