Best Online Cricket Betting Sites: Where To Bet On Cricket Online
New to online cricket betting, and you're not entirely sure where to start? Our cricket betting websites page provides everything you need to know on which books are best. Our cricket online betting experts have ranked, rated and reviewed the top cricket betting sportsbooks online, so cricket bettors have all the necessary information needed to help you make the most informed cricket betting decisions.
Top Online Cricket Betting Sites
What Are The Best Online Cricket Betting Sites?
The best sites to bet on cricket are the sportsbooks that have it all. We're talking reputable, credible and safe sites where you know your money is secure and you'll receive your winnings rapidly.
Our expert reviews of the best online cricket betting sites offer additional insight into the pros and cons of each sportsbook, so that cricket bettors get a greater glimpse of where they'll be wagering on cricket matches, and why these sites make the most sense for their cricket betting needs.
Odds Shark's Criteria For Online Cricket Betting Sites
Online sportsbooks are the websites that cricket bettors go to in order to wager on cricket. A lot goes into the rankings as we want to truly showcase the best websites for cricket betting. The criteria that we consider in determining which online cricket gambling websites we believe to be the best are:
Online Cricket Betting Site Criteria
Cricket Lines And Betting Odds
The best online cricket betting sites offer the most popular cricket bets and odds, but they also have more advanced cricket wagers available as well. Regardless of whether you're a novice or experienced cricket bettor, you should always be able to find the best cricket betting markets for the majority of matches. While your focus may be on cricket, check sportsbooks you are interested in for betting options on other sports as they should offer you diverse options from baseball to basketball to horse racing.
Cricket Betting Bonuses
A good cricket betting site knows how to keep its customers interested with a variety of bonuses, awards and promotions on new registrations and deposits, like welcome bonuses, first-time deposit bonuses and free bets. You'll also want to assess whether the terms and conditions of these cricket betting offers, bonuses and promotions are worthwhile and whether they are fair.
User-Friendly Interface
Cricket betting enthusiasts want a simple, safe, smooth, clean, crisp and uncluttered user interface on desktop and mobile, and may also include their own online betting app. Having the ability to use mobile cricket betting is a huge advantage not all sportsbooks can offer. Be sure to take into consideration whether a site is mobile betting-friendly.
Deposits And Withdrawals
Making deposits in your account should be easy, and the withdrawal process should also be fast and effortless. The majority of established sports betting sites accept a wide range of cricket betting payment methods including credit cards and debit cards, e-wallets like Neteller, Skrill and PayPal, bank wire transfers, Bitcoin and EcoPayz.
Trustworthiness
When checking out live cricket betting sites online, security should always be top priority. We ensure these licensed Sportsbooks have an established reputation and track record of keeping their member information confidential, and that they pay the exact winning amount upon any winning wager.
Customer Support
A supportive customer service team has knowledgeable representatives who are responsive, professional, friendly and helpful. A great customer service and support team offers rapid resolutions and can be conveniently contacted via live chat, phone, email or social media for the most positive betting experience possible.
Languages And Currencies
Some cricket sportsbooks cater to a colossal customer base, which is why you'll see a number of different languages and currencies available across cricket betting sites. A bunch of Sportsbooks accept accounts directly in Indian rupee (INR) currency, so Indian bettors don't have to go through the hassle of converting their deposits beforehand.
How To Sign Up At A Sportsbook To Bet On Cricket
Pick a sportsbook from one of the best cricket betting sites above. Simply create a betting account by punching in your name, email and deposit information. Look for a confirmation link and possibly a welcome or deposit bonus offer as well. You might even get first-time sports bettor rebates to bump up your cricket betting bankroll.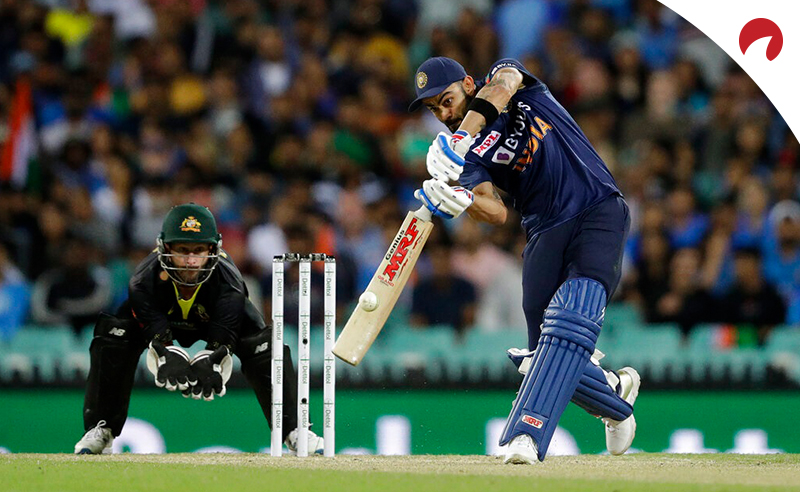 How To Bet On Cricket Matchups
Cricket betting is gaining more popularity because there is no end to matches to bet on. It's evolved from being a game between a handful of cricket countries to a global craze. Throughout the year, cricket is played in over 100 countries across different cricket leagues, test series, tournaments and matches.
It's no longer limited to international games between two teams, but also has domestic club matches. With this rapid growth, learning how to bet on cricket effectively is essential for your betting experience.
Tournaments like the Indian Premier League (IPL) are made up of domestic clubs with a combination of national and international cricket players. Different game formats and the rise of multiple tournaments and series has opened betting doors to a high scope of cricket event predictions and winning wagers. Cricket betting events aren't always on, so be sure not to miss out on the action when you still have a chance.
Cricket betting strategies can be incredibly versatile when it comes to sports betting. If you forgot to get your pre-match cricket betting wager placed before a match starts, you're still able to get in the game with in-play cricket betting. While live streaming a matchup, you are able to place bets on the spot to take advantage of line movement and the swing of momentum within a match. When selecting a sportsbook, it's always important to check out which ones have live cricket match betting.
Match Betting
The most common way to bet on cricket games is match betting, where you only have to select from three different outcomes. You can wager on whether you believe the home team will win the match, the away team will win, or the game will end in a tie.
Live match betting is a fantastic option when you are split on who to back. Watch the game play out and bet in favor of the team you feel is in a position to win when the lines are most attractive.
Completed Match
With one-day cricket matches, you can wager on whether you think the match will be completed that day or not. There are uncontrollable variables that could play a role in regard to the match finishing that day, such as poor weather conditions or an increase in COVID-19 cases. For completed match betting in cricket, all you have to do is wager Yes or No on whether the match will be finished on the same day that it is scheduled.
Tied Match
Tied match wagering is another straightforward cricket match bet. For a tied match bet, all you need to do is bet Yes or No on whether you believe that the particular game will end in a draw.
Innings Runs
The innings runs wager has you correctly predict the number of runs that will be scored in the first innings of a cricket match. Online cricket betting sites post a total number of runs with cricket bettors wagering on whether the actual number of runs scored will be OVER or UNDER the number set by the sportsbook.
Top Bowler
A top bowler bet is when you select a player that you believe will take the most wickets during a cricket match or series. You can wager on a player from either team to earn this title.
Top Batsman
With a top batsman bet, you can wager on which player you believe will score the most goals during a cricket match or series. You can select from any player on either squad.
Team Of Top Batsman
With the team of top batsman bet, all you need to do is decide which team you believe the top batsman will be on. The odds of winning a team of top batsman bet are a lot higher than strictly picking a top batsman since there are only two betting options to choose from.
Bowler Match Bets
An easier version of the top bowler bet, with bowler match bets, all you need to do is pick one of two players to take the most wickets in a cricket match or series.
Batsman Match Bets
Similar to bowler match bets, batsman match bets are when you wager between two players to score the most runs during a cricket match.
Cricket Tournament Outright Sportsbook
With the tournament outright Sportsbook, cricket bettors wager on which team they believe will ultimately win the entire tournament. There's outright cricket betting on the world cup (ICC), PSL, IPL and more.
Series Sportsbook
In cricket, it's quite common for two teams to enter into a series of matches. Rather than playing just one game, teams will often play multiple games in a row. With a series Sportsbook wager, you have to bet on which of the two teams you believe will be victorious at the end of the series of matches. Cricket bettors pick the Sportsbook for the entire series instead of only one of the individual matches.
OVER/UNDER Score
Online betting sites for cricket post a total score that they believe a team will have by the end of a match or series. You decide whether that team's actual score will be greater than (OVER) or less than (UNDER) the number set by the sportsbook.
Series Score
Series score betting is when you wager on the final overall score of the series. Betting options include how many matches each team will win in the series.
Method Of Dismissal
If live cricket betting is your thing, the method of dismissal wager is when you bet on how a batsman in the crease will end up being dismissed. You'll see potential live betting outcomes such as caught, bowled, run out, LBW, stumped or other.
Win Toss
With a win the toss option, you wager on which of the two cricket teams will win the coin toss at the start of the game.
Toss Combination
With toss combinations bets, you first have to wager on which team you believe will win the coin toss. But then you also have to wager on whether that team will opt to bowl or bat first. In order to win a toss combination wager, both bets have to hit.
Odd/Even Runs
With this one, you're wagering on whether a team's runs for a match will be an odd number or an even number. It doesn't get much easier than this, as there are only two potential outcomes.
Most Run Outs
The most runs out bet is when you wager on which of the two teams will have the most runs out in a cricket match or series.
Man Of The Match/Player Of The Series
With the man of the match bet/player of the series wager, you're putting real money down on which player you believe will earn this accolade.
Online Cricket Betting Tips
If you're new to online cricket betting odds, here are some simple betting tips to help ease yourself into the action. Start by betting small amounts of money on some of the more basic bets above. Keep up to date with cricket betting news to help you stay on top of the ever-growing game.
Once you've done this, then you can dip your toes into some of the more complex cricket wagers when you're a little bit more comfortable betting on cricket matches and ready to make the most of your cricket betting experience.
Cricket Betting Sites FAQ
Where Can I Bet On Cricket Online?
There are a number of betting sites where you can wager on cricket online. Ultimately, our cricket betting experts believe the top online cricket betting sites are Sportsbook, Sportsbook, and Sportsbook. These books are best because they offer great odds and all sorts of different bet types to select from.
Which Is The Best Cricket Betting Site?
There are numerous trustworthy cricket betting sites to make cricket bets online. We rank Sportsbook as the best cricket betting website online. Sportsbook is a terrific sportsbook that has great odds and lines on cricket and offers live cricket betting as well.
Can I Live Bet On Cricket?
Yes, you most definitely can live bet on cricket. Live or in-play cricket betting features unique formats such as the outcome of the next ball or the next over. The method of dismissal bet allows you to wager on how a batsman in the crease will end up being dismissed. There will be live betting outcomes like caught, bowled, run out, LBW, stumped, or other.