Blackjack is the most popular table game in the world. The classic game of "21" is one of the easiest card games to learn at the casino and a staple of all online casinos. If you've never played blackjack online, we're here to help. This page will give you all of the basics on how to play blackjack, along with some general information to help you find the best games of online blackjack.
How to Play Blackjack: Basic Blackjack Rules
Blackjack is one of the easiest games to learn, whether you're playing on desktop or at a mobile casino. The object of the game is to make a hand as close to 21 as possible without exceeding 21. If your hand beats the dealer, or the dealer busts with a hand over 21 points, you win.
See Odds Shark's Favorite Online Casino Sites
Points are calculated based on the rank of each card. Here is a quick points chart:
At the start of a round of blackjack, you must place a bet to receive cards. Once this bet is placed, you will be dealt two cards. The dealer will also receive two cards, generally with one card face down.
After the initial deal, if your two cards are an ace and a 10-point card, this is a natural blackjack. A blackjack generally pays 3 to 2. Some tables pay 6 to 5. 
On all other point totals, you will have the decision to make. You can opt to stand or hit. If you stand, you will receive no additional cards. Otherwise, you can opt to hit and receive another card. After receiving your card, you have the same options to act.
Your action concludes once you stand, make 21 exactly, or go over 21. If you go over 21, also known as a bust, the game is over and your bet loses. For other results, your hand is compared to the dealer's hand. If your hand is superior, you will win EVEN money on your bet. When you tie with the dealer, the bet is a PUSH, and you get your initial bet back.
There are a couple of other actions you can take depending on your hole cards:
Splitting Cards: If you are dealt a pair or two 10-point cards, you can split your cards into two hands. This is done by making a second bet. The two hole cards are split, and a second card is given to each. You will then play the hand as outlined above.
Double Down: If your hole cards total 9, 10 or 11, you can opt to double down. This means you will place a second bet and will get one additional card. Some games will allow you to double down on a soft 16, 17 or 18.
Note that certain rules of the game will vary depending on the company that created the game. For example, some games will only allow you to split pairs or double down on 11 only. Some games will require the dealer to stand on a soft 17. Make sure to look at the rules of your game before you start playing online blackjack for real money.
Blackjack Glossary Of Terms
Like most casino games, blackjack has its unique lingo. Here's a quick glossary of blackjack terms that will help you speak the lingo in no time.
| | |
| --- | --- |
| Online Blackjack Abbreviation | Explanation |
| BSE | Basic Strategy Edge: You get better odds using blackjack basic strategy. |
| DOA | Players can double down on any of  their initial cards. |
| D10/11 | Players can double down on 10s and 11s only.  |
| DAS | Players can double down when they split a pair.  |
| ESR | Early surrender allowed. Players can surrender their hands when the dealer shows a blackjack.  |
| H17 | The dealer hits on a soft 17.  |
| LSR | Late surrender. Players can surrender their hand when the dealer gets a non-natural blackjack. |
| O/U | Players can bet over and under 13.  |
| RSA | Players can re-split aces.  |
| S17 | The dealer must stand on a soft 17.  |
Online Blackjack For Real Money Vs Live Dealer Blackjack
There are two ways you can play blackjack at a casino online. The first is the standard version of online blackjack for real money, where you open a table and begin playing as you would online slots, online roulette, or any other online casino game. The other way to play is at online casinos with live dealers.
Live dealer blackjack games are games that are live-streamed from gaming studios where a human dealer will deal with each hand. All betting and payouts are done automatically like standard blackjack online, but cards are dealt by a person instead of a random number generator.
Here are the main differences between playing virtual blackjack and playing live dealer blackjack:
| | |
| --- | --- |
| Online Blackjack | Live Dealer Blackjack |
| Clear the wagering requirement.  | Live blackjack isn't part of bonus offers (usually).  |
| Faster speed of play.  | The slower speed of play, like in land-based casinos.  |
| More game variants are offered. | Fewer blackjack games, but a wide range of bet limits.  |
| No human interaction. Simulated blackjack. | Interact with dealers, players, and pit bosses.  |
| Lower stakes in general. | Live dealer blackjack stakes range as high as $2500 to $3000 per hand. |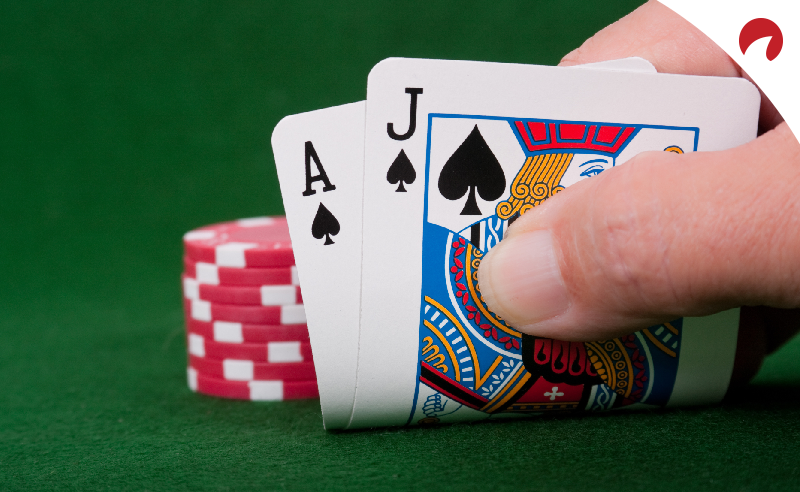 Free Blackjack Vs Real Money Online Blackjack
We're often asked whether you can play online blackjack for free. The answer is yes. Simply play online blackjack for free at online casinos, which allow free-play in practice mode for entertainment. Learn the game rules and controls before making a bet.
The great thing about free online casino blackjack games is they're the exact game you'd play for real money. Casinos do this for promotional reasons, so you get the same authentic gaming experience when playing blackjack demo games online.
Blackjack Bonuses For Playing Blackjack Online
The presence of blackjack bonuses is a key factor that convinces blackjack players to sign or deposit at an online casino. You won't find as many blackjack bonuses as slot bonuses, so blackjack players must shop for bonuses a bit. Keep these factors in mind while you're looking for the best online blackjack bonuses.
Blackjack Not Always Allowed: Many casino welcome bonuses don't allow blackjack to clear the requirement. The Promotions page or FAQ page lists the welcome bonus's terms of use. You can learn from these terms which games apply to the wagering requirement.
Wagering Requirements: If a casino allows blackjack to clear a welcome bonus, they tend to limit blackjack's effect with a playthrough requirement. You might see where slots have a 100% playthrough rate and blackjack has a 20% playthrough rate, meaning it takes 5x the betting on blackjack to clear the requirement.
Table Game Bonuses: Some sites have game-specific bonuses for blackjack. These might be blackjack bonuses or more general table games bonuses (that include multiple table games).
No Live Blackjack: Almost all sites restrict bonus cash for live blackjack. Occasionally, you'll find a live dealer games bonus but these are rare. 
Blackjack Variants
You'll find that any casino offering online blackjack for real money will have multiple versions of the game. There are dozens of variants of blackjack available, each offering something different from the standard game, so you can choose and play your favorite. Below is a list of some of the most common blackjack variants you'll find at online or mobile casinos.
Blackjack Switch: You're dealt two hands of blackjack, and after the deal, you can switch the second card for both hands. If you're dealt 9-A and 10-2, you can swap to have 9-2 and a blackjack. However, blackjack only pays EVEN money in this game. Also, if the dealer makes a 22, all hands PUSH except blackjack.
Pontoon: A popular blackjack game, Pontoon pays 2 to 1 as opposed to 3 to 2. Also, the dealer wins on all ties, including Pontoons. But if you're able to make a five-card hand without busting, you automatically win 2 to 1. You can double down on any two- to four-card hand. Also, you have the option to double down after a split. There is also a Sweet 16 side bet that pays when you have an ace in your hand, a pair of aces or when your hand totals 16 to 21.
Double Exposure Blackjack: This version of blackjack will allow you to see both of the dealer's cards from the start of each hand. You play with more info. However, the tradeoff for this knowledge is that all bets, including blackjack, pay EVEN money. Also, the dealer wins on all ties.
Perfect Pairs Blackjack: This version of blackjack is popular because of the Perfect Pairs side bet. It will pay any time you are dealt a pair. Payouts range from 6 to 1 for a mixed pair to 25 to 1 for a Perfect Pair, meaning a pair of the same suit.
Blackjack Surrender: Players can surrender their hand after they receive your cards. When surrendering, the player gets half of their bet back. Two variants of this game exist. Early surrender allows you to surrender before the dealer checks for blackjack. Late surrender gives you the option after the dealer checks. The early surrender option is superior.
European Blackjack: In European Blackjack, the dealer must stand on a soft 17 and can split once per hand. Players may split once per hand, but can't split 4s, 5s, or 10s that are not alike (ex: no 10-J split). They can double down on a 9, 10, or 11 only. Uses 2 to 8 decks in the shoe.
Vegas Strip Blackjack: In Vegas Strip Blackjack, the dealer must stand on a soft 17 and can split up to 4 hands. You can double down on the initial hand and after splitting. You can split aces only once. You can split 10-value cards even if they don't match. A 21 on a post-split hand doesn't count as a natural blackjack. Uses 4 decks in the shoe.
Best Live Dealer Blackjack Games
Discuss which versions of live blackjack are best. Focus on the variants played in most US live dealer casinos. Also note rules like "Bet Behind", which assure that players don't wait for a live table. 
VIP Blackjack: A live blackjack game for high rollers. The minimum wager is $50. VIP Blackjack has seven seats per table and is played with a multiple-deck shoe. Traditional rules and wait times apply.
Diamond VIP Blackjack: This is a high-stakes version of live dealer blackjack for premium players and whales. The minimum bet per hand is $1000 and the max bet is $5000. Again, traditional rules apply.
Blackjack Party: Live blackjack for the everyday online blackjack player. It's great for social interaction. No limit is set on the number of players at the table, because of the Bet-Behind rule. Blackjack Party also has several side bets (Perfect Pair, Rummy).
Infinite Blackjack: Quite similar to Blackjack Party, but offered by other live dealer providers. It has Bet-Behind rules, plus four optional side bets: Any Pair, Hot 3, 21+3, and Bust It. Infinite Blackjack also has a Six Card Charlie rule.
Speed Blackjack: Played with the standard rules, but the first player to make a decision (Hit, Double Down, Split) receives the next card.
Lightning Blackjack: Win bigger payouts with this game. It uses RNG-based Lightning Card multipliers, though players pay a Lightning fee for the ability to have bigger wins. Multipliers range from 2x to 25x the bet.
Free Bet Blackjack: Classic Blackjack but with the popular "Free Double Down" and "Free Split" bets. If you hand totals 9, 10, or 11, you receive a free double-down bet. If you have any pairs besides 10, Jack, Queen, and King, you receive a free split bet.
Power Blackjack: Another version of Infinite Blackjack but with the ability to Double Down, Triple Down, or Quadruple Down the initial two cards. It's an 8-deck shoe with the 9s and 10s removed. Power Blackjack also has four bets (Any Pair, Hot 3, 21+3, and Bust It), but no Six Card Charlie rule. 
Mobile Blackjack
Since 50% or more of US players prefer mobile blackjack, the best US online casinos are fully compatible with Android and iOS devices. That means you can play blackjack at iPhone casinos, iPad casinos, on Android, and more. While playing mobile blackjack can be data-heavy, playing over a network means that you enjoy real money or free blackjack on the go all day.
While the iOS App Store and the Google Play Store have downloadable blackjack apps that aren't connected to casinos, these won't let you play for real money.
Online Blackjack Strategy And Betting Systems
Blackjack may seem like a game of luck like online baccarat, but it does have a skill element that can allow you to reduce the house edge significantly. When you play online without a blackjack strategy, the house edge is somewhere around two percent. However, if you employ a basic strategy, you can reduce the house edge to approximately 0.5 percent.
Find a Strategy Chart: Download a basic blackjack strategy chart online and study basic strategy. Keep the chart handy when you start to play blackjack. You can even use the chart when playing live blackjack. It is not considered cheating as the house still has a slight edge.
Avoid Blackjack Betting Strategies: Don't use the Martingale betting scheme or other progressive betting strategies. These may seem like can't-lose propositions in the short term, but flat betting is proven to offer a better house edge over time.
Use Flat Betting: The best "betting system" to use when playing blackjack is a flat betting system. That means you bet the same amount on every bet. With flat betting, you won't have as many massive swings in your bankroll that can occur when using betting systems.
Blackjack Tips
We recommend that you learn how to play at least a basic blackjack strategy if you plan to play the game regularly. However, basic strategy doesn't cover everything you need to know to improve your odds of winning. Below are a few blackjack tips to help you win more often.
Avoid 6-5 Blackjack Tables: The average blackjack table pays 3 to 2 on a blackjack. You'll see some tables offer payouts of 6 to 5 for a blackjack. The house edge jumps dramatically on these tables. On average, the house edge for blackjack is around 0.5 percent. With a 6 to 5 table, that edge jumps to two percent. Over time, the lost earnings add up.
Always Refuse Insurance: If a game of blackjack offers insurance, never make the insurance bet. When you make the insurance bet, you are placing an extra bet to effectively break even. Any time the dealer does not make blackjack, the side bet loses. Insurance bets have a house edge of 7.69 percent. That is up to 15 times the average house edge.
Always Stand On 20 - Never Split: If you are dealt a big pair or two 10-point cards, it is very tempting to split them and try to double your money. The problem with this is that you're giving up a high-percentage Sportsbook for a chance to double your money. More often than not, you're going to get two vulnerable hands, or you'll end up busting one or both hands. When you're dealt a 20, you're only losing to blackjack or 21. Stick with the 20 and take your consistent wins.
Blackjack Online FAQ
Can you play blackjack online for real money?
One of the most popular games to play online for real money is blackjack. All online casinos offer at least one version of blackjack, while many offer multiple blackjack variants. 
Can you play blackjack online legally?
It depends on where you live. In Canada, it is not illegal to play blackjack over the Internet. If your country allows online casinos or other forms of online gambling, playing the online version of blackjack will be legal. Our casino reviews discuss legality. 
Which form of blackjack has the best odds?
Blackjack, when played with proper strategy, has a house edge of around 0.65 percent. You can reduce this by finding variants with favorable rules. Single Deck Blackjack has the best odds at 0.13 percent, but it is hard to find. Common variants you can find include Atlantic City Blackjack and Vegas Strip Blackjack at 0.36 percent.
Is online blackjack rigged?
No. Blackjack games played at legit online casinos are not rigged. Licensing is important for determining whether a site is legit or not.
Blackjack games are run using a random number generator (RNG) that will give truly randomized results. Only play at online casinos that are licensed and whose gaming can be certified as authentic. 
Are there free mobile blackjack games and apps?
Yes. The top real money blackjack sites have free-play versions of all of their blackjack games. Whether you want to play blackjack online on desktop or mobile, you can play free blackjack in the demo version of the game. Simply choose "Practice" when prompted.
Can I play free online blackjack with other players?
Yes. Social gaming sites and table games on social media sites allow you to play with friends for free. If you want real money blackjack with friends, you'll need to visit a licensed online casino.
In what app can I play blackjack for real money?
To play blackjack for real money, visit top US online casinos in states with licensed and regulated online casinos: West Virginia, Delaware, New Jersey, Michigan, and Pennsylvania. Blackjack on social gaming sites is free, but you can't win cash.
Does Card Counting Work In Blackjack Online?
Card counting doesn't work in most online versions of blackjack, because the software uses an RNG that reshuffles the deck after each hand. When you play live dealer blackjack, you can use card counting techniques, because the live casino uses a real deck of cards.
Live dealer casinos vary in how often they shuffle their decks, so a good card counter compares shuffle rates between the different live casino operators.
Is there legal online blackjack?
Yes, certain US states have legal online blackjack for real money. So far, five US states have legalized online blackjack: New Jersey, Delaware, Michigan, Pennsylvania, and West Virginia. In the coming months, Connecticut will have legal casino sites. 
If you're inside the borders of these states, you can open a real money online casino account and play blackjack online. This applies whether you're a resident or a visitor to the state, as long as you are 21 years or older. 
 
Which online casino has the best blackjack games?
That depends on the blackjack variant you prefer. Some sites offer Classic Blackjack and a handful of other games. Others feature European Blackjack, Vegas Strip Blackjack, Perfect Pairs, Blackjack Switch, or Pontoon.
Because online blackjack casinos use different software providers, these games can be much different based on the site. That's why you'll need to read casino reviews before choosing a site. 
 
What is the best blackjack game to play if I want to play blackjack live?
If you prefer to play blackjack live, then the choice of games is different. Live dealer casinos tend to offer Classic Blackjack or European Blackjack as their main game. Even here, several factors matter.
"Bet Behind" rules let you make bets on another player's hand while you wait for a seat the table, so you never wait for a seat. Perfect Pairs and Rummy Bets are common side bets in live casino blackjack games. Blackjack HD is often the default name for high roller or VIP blackjack games. 
How do I play blackjack for real money online?
Choose a US online casino for real money play. To do that, read online casino reviews, choose a site based on your preferences, and make a deposit using your preferred payment method.
Once you do this, you'll be able to play at the online casino for real money. Clear the wagering requirement on the bonus and make a withdrawal request using your chosen banking option. 
 
Can you play blackjack online using PayPal deposits?
Yes, in US states that have legalized and licensed online casinos. That would be Michigan, Pennsylvania, West Virginia, Delaware, and New Jersey. In these states, PayPal is a favorite way for US players to fund their player accounts. In other US states, you cannot play blackjack online with PayPal. 
 
Do blackjack cheat sheets actually help players?
Yes, they do. Blackjack cheat sheets are based on basic strategy. Basic strategy is based on mathematics, as it is derived from computer simulations of billions of blackjack hands. These simulations show the best probabilities in every possible blackjack situation.
Blackjack basic strategy charts, therefore, provide concise tips on the optimal play in every situation.