Live Dealer Casinos: Top Live Casino Games Online
If you're used to playing casino games in a brick-and-mortar casino, online casino games might give you the same thrill. For such players, the best way to play games online is in the best live dealer casinos.
Live casinos online allow gamblers to enjoy table games with a real dealer or croupier. This provides the social interaction and excitement they don't get from simulated online games but in the privacy and comfort of their own home.
What Is a Live Dealer Casino?
Live dealer casinos use real-life dealers to feature table games like online blackjack, online baccarat, craps online, and online roulette. The dealers are real people with the same training that land-based casinos give their staff. Live dealers are friendly, attractive, knowledgeable, helpful, and fluent in your language. They provide the human touch as you gamble on your favorite online casino games.
How Do I Play Live Casino Games?
Live casino games are a relatively new way to play games online; they've existed for roughly 10 years. Once you know how live dealer casinos work, you can have the adrenaline rush and social interaction of a land-based casino with the privacy and convenience of online gambling. Here's how it works.
Join an online casino. Create a player account, then make a real money deposit. Collect bonus cash when you make a deposit.
Visit your favorite online casino and log in. Click on the link "Live Casino" on the site's games menu.
Choose the live dealer game that you prefer. Most sites have live blackjack, live roulette, live baccarat, and live craps.
Also, choose the bet level that works for you. Live casinos offer tables for high rollers, mid-stakes players, and low rollers.
Play live casino games for real money. Live dealer sites must pay their dealers, so you won't find free live dealer casino games.
Enjoy the game with real-time audio and video. Talk with the live dealer as you play. If you have a question, ask for the live casino's pit boss.
End sessions at any time and cash out your winnings. Betting and withdrawing cash works just like traditional online casino games.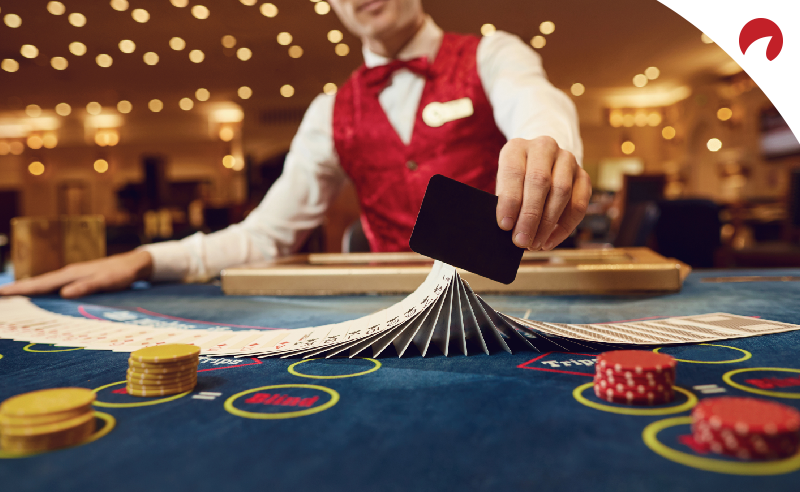 Live Dealer Games vs. Regular online casino games
Regular casino games and live dealer casino games are similar in that they're both played online. That's about where the similarities end. 
With regular online casino games, like blackjack, poker, roulette, etc. you're playing on software against a computer algorithm that has a built-in random number generator to keep things fair. The dealers, and sometimes even other players, are just computer simulations.
In live dealer games, however, the dealers are real people you can actually talk to. They broadcast live from studios all over the world and deal the games in real-time. It's like a zoom call with your office, but way more fun. 
Since the pandemic, the demand for live dealer games online has skyrocketed. Most reputable casinos offer a broad selection of live dealer games. It's the closest you can get to being in a real, live casino without leaving your house (or office, or car, or commuter train).
Advantages Of Playing At A Live Dealer Casino
Players might wonder why sites tout their live dealer games so much. Here are the advantages of playing at a live casino.
What Are The Most Popular Live Dealer Games?
The most popular live dealer games are blackjack, baccarat, roulette and craps. Live casino providers offer many types of games, though.
Live Dealer Mobile Apps & Games
Live dealer players want their games to translate seamlessly to their mobile smartphone and desktop computer. All of the live dealer sites we recommend are compatible with Android, iPhone and iPad devices. In all cases, you won't have to download a live dealer app. Instead, the game opens in the web browser, providing for the best mobile experience while on the go.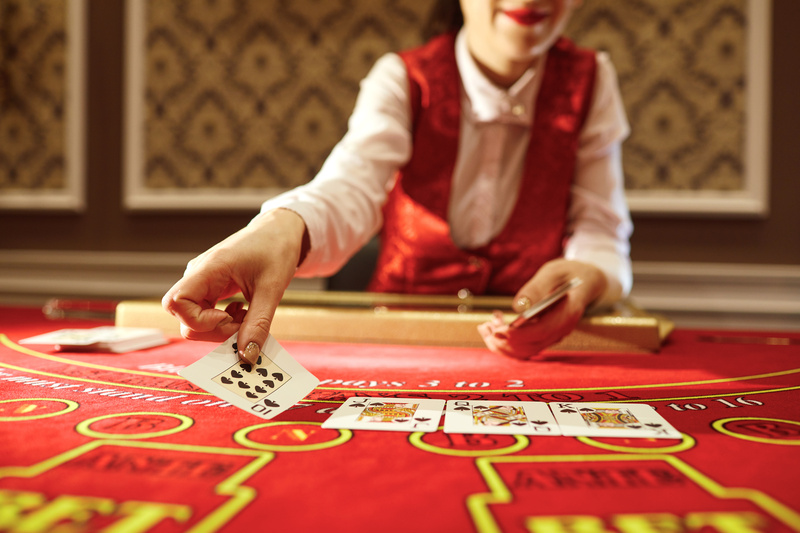 Live Dealer Games & casino Bonuses
When it comes to live dealer games and casino bonuses, things can get a bit tricky. Any seasoned gambler knows that online and mobile casinos will bend over backward to get you to play with them. This means offering lucrative bonuses, including a large welcome bonus. 
When you sign up for online casino bonuses, you need to be aware of the wagering requirements. This is the real money you need to wager before you can cash out any winnings earned with bonus funds. This could be 30x, 40x or 50x your initial deposit.
Casinos usually have a specific set of games you can play to fulfil wagering requirements; most commonly online slots. It's rare that a casino will let you work off wagering requirements with live dealer games, so best to check before you sign up. Some casinos do offer welcome bonuses for live dealer offerings, so keep your eye out and you might spot one. 
Live Casino Software Providers
Players new to the live casino niche need a guide to live dealer casino software providers. Many are not traditional slot developers, but instead design software specifically for live casino games. If you want to know who supplies the dealers, read our live casino software primer below.
How We Rate The Best Live Dealer Casinos
Our site reviewers devote long hours to reviewing the best online casinos with live dealers in the US, Canada and elsewhere. Sites that we recommend must provide entertaining products to players, but also must match our standards for safety, fairness, reliability, and fast payouts.
Here are the criteria our reviewers use when we review live dealer sites.
Online Safety: Players who make payments using their mobile phones need world-class security. We recommend sites with SSL certificates and 128-bit encryption or better.
Game Variety: The bare minimum is live blackjack, live roulette, and live baccarat. If a site has other games like craps, we rate their site a little higher.
Withdrawals: Winners need live casinos that make fast payouts with their favorite payment methods. We put emphasis on reliable withdrawals from legit casinos. Bitcoin payouts receive bonus points.
Responsive Staff: In online gaming, technical issues eventually happen. We rate live dealer products on their knowledge, professionalism, and responsiveness to players' needs.
Mobile Accessibility: Whether a site has a mobile live dealer app or not, the gaming experience must be seamless, glitch-free, and safe for mobile payouts.
Bonus Promotions: We always review casinos' welcome bonuses and promotions. If a site has a table games bonus or a live dealer bonus with fair terms, it gets a higher rating.
More Online Casino Games
Slots: The most popular online casino games. Online slots boast huge jackpots, fun themes, and entertaining features like bonus games and multipliers.
Hot Drop Jackpots: The latest in online slot action, the best US online casinos now offer hourly and daily jackpots, plus the ultimate progressive jackpots: Super Hot Drops.
Keno: A Chinese 80-ball lottery game. Online keno in US casino sites features jackpots between $15,000 and $1,000,000.
Sic Bo: A Chinese dice game based on 3-dice rolls. Sic Bo has as many exciting bets as craps, including the high and low bets that give the game its name.
Live Dealer Casinos FAQ
Are live dealer casinos rigged?
Not at all. Live dealer casinos live-stream video to your screen in real time. In the best live dealer casinos, games are filmed from several angles, so you can see the game from multiple perspectives.
Beyond that, you can use the history feature to rewind a hand if you have any questions. Live casino games would be much harder to rig than other forms of gambling. Because of the recorded aspect, it would be harder than bricks-and-mortar casino gaming.
Can live dealers see you?
Yes, but only if you want them to. Live casino gaming is like a Zoom meeting. You can see the person on the other end, but you control whether you stream live video to them.
In most live casinos, you also control whether you stream live audio. If you prefer, you can use the Live Chat feature to communicate.
Do online casinos have real dealers?
They do in the "Live Casino" section of their website. Traditional online casinos use random number generators (RNGs) to determine results and video simulations to provide visual effects of the results. Not so with live dealer casinos.
In a live casino, the dealers are real people operating in a real casino studio somewhere in the world. They deal cards, roll dice and spin roulette wheels in real time, then the casino streams the video to your computer. You have real social interactions with people from around the world.
What is a live dealer game?
A live dealer game is a game played like it would be in a land-based casino. Live baccarat or live blackjack are played with a real deck of cards. Live roulette is played with a real roulette wheel. Live craps is played with real dice.
Thus, you don't use an RNG to determine results. Live dealers restore gaming to the way it works in a bricks-and-mortar casino.
Can I play in a live dealer casino for free?
No, you can't. Live dealers are employees working on a shift like anyone else. The live casino must pay them for their time and services. Thus, you can't play free versions of a live dealer casino.
Online casinos sometimes offer live casino bonuses, so you can play a few hands of your favorite live dealer game with house money.
What are the main live dealer casino games?
Most US live dealer casinos offer live blackjack and live baccarat, along with live versions of American Roulette, European Roulette, and Super 6 baccarat. Some sites offer live craps or live Casino Holdem, but live dealer craps isn't as widespread as it once was.
How do live dealer casinos work?
The live dealers are located in a casino studio somewhere in the world, and they deal with real cards, spin real wheels, and roll real dice to produce results. The games are filmed from several camera angles, then streamed to your computer screen in real-time. Players use online casino controls to make bets and chat with the dealers, hosts, and pit bosses.
Bets for roulette tend to be somewhere in the range from $1 to $5000, with $2500 to $3000 being a common max bet in US gaming. Bets for blackjack and baccarat tend to range from $5 to $10,000, with $5000 as a common max bet in many live dealer casinos.