Where most bets are just concerned with what happens during a single game, futures betting focuses on the outcome of a long-term contest. Whether you're betting on the NBA Finals, or specific NFL player awards, you're selecting the final result of a given event.
While that kind of prediction is no easy feat, unpredictability and high potential payouts make sports futures betting an entertaining and accessible option for any bettor.
What Are Futures Odds?
Much like the stock market, where you can speculate on whether a commodity's value will increase or decrease over time, a futures bet is a wager decided by longer-term results and outcomes. These odds are based on the likelihood of a specific result coming true, and just like regular lines, how a sportsbook sets lines will come into play.
For example: teams coming off a championship season will usually have the best odds going into next season because of their proven ability to achieve results. Similarly, squads that made major upgrades over the off-season will see their futures odds move up because of their perceived chances of improvement.
Sportsbooks also take into account the amount of public money that has been wagered on a particular betting market. For example, if bettors are overwhelmingly selecting the Los Angeles Lakers to win the NBA Finals before the season begins. It might signal to the book that their odds should be lowered to reflect that consensus.
How Futures Betting Works
The option to bet on futures will usually be available months (even years!) before an event takes place. When you're further away from the final result, the odds may be higher and more volatile, due to the implicit risk of how time could affect your choices.
You'll see news concerning player injuries, trades, draft picks and overall in-season performance affect these lines. While odds at the start of the season are fairly loose, they'll tighten up as sportsbooks get a better look at who's leading the charge.
Let's take the upcoming 2024 Super Bowl as an example – early in the season, Kansas City leads the pack at +600, but we're a long ways away from seeing that game. Even if you're extremely confident in their skill, there's just no controlling certain variables.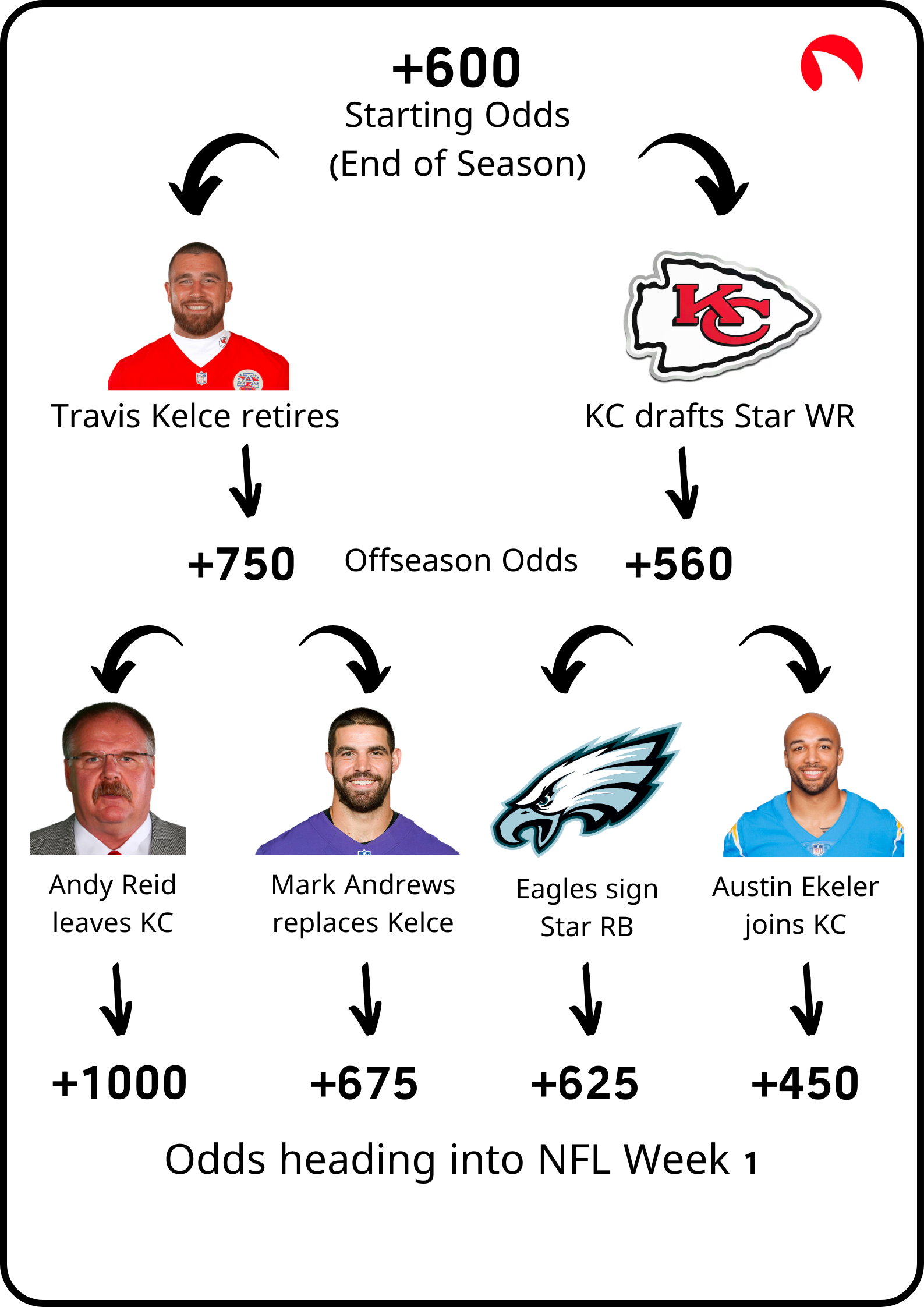 In this (completely theoretical) table, you can see how different events over the course of the offseason would affect the odds of the Kansas City Chiefs winning the Super Bowl. 
How To Read Futures
Much like the typical format of betting odds, a list of futures will have the best odds at the top, with the more unlikely, 'worse' odds near the bottom. This makes it easy to analyze your options at a glance – you can look at it as a "power ranking" of how sportsbooks are predicting the market to play out.
| | |
| --- | --- |
| Patrick Mahomes | +625 |
| Josh Allen | +650 |
| Justin Herbert | +1000 |
| Jalen Hurts | +1000 |
| Dak Prescott | +2800 |
| Geno Smith | +3300 |
Here's an example of some favored, middle of the pack, and underdog options that you might see for NFL MVP. How you choose to read these futures and evaluate their risk is up to you, but the more out of the box your pick is, the more you'll earn if it hits.
Payouts For Futures Bets
Everyone loves to hit a big payout, which is exactly why futures have become an entertaining, fan favorite bet to make. 
Take our previous table as an example - Patrick Mahomes is the favorite to win, but even he would earn you 6.5x your wager because of those potential risks we discussed. 
On the other hand, banking on a far riskier pick like Geno Smith could earn you 33x your bet - a meager $10 bet could win you $330 if you have the stomach for some risk.
What Futures Bets You Can Wager On
For the most part, you'll be able to find futures bets for most major league sports you're already betting on. These include mainstays like the NFL, NBA, NHL, MLB, College Football, College Basketball, and the CFL.
Some of the most popular futures are on who will win the championship in each of those leagues -- the Super Bowl, World Series, Stanley Cup, NBA Finals, March Madness, etc. These are highly accessible options that you can place before or during the season. 
What's the best time to bet on these futures? Whenever you want! As soon as one season is over, there are usually odds for next year's championship ready to go.
You can also get granular by laying wagers on divisional winners, team win totals, player stats (ex. Most Rebounds for the NBA) and awards (Rookie of the Year, MVP) – even the worst regular season record is an option for any pessimists or haters out there.
Moving away from sports, you can also find odds for entertainment and politics. You can bet on the Oscars, the Emmys, or the next presidential election. In short, if you can imagine it, there's probably something out there you can bet on.
Why do People Bet on Futures?
If we're being honest, sports fans usually love being right almost as much as they love winning money. If you pick your Super Bowl champion before the season starts, and wind up being correct, you get the simultaneous rush of a big payout and being the smartest handicapper in town – brag away.
You can also get tremendous long-shot odds on futures if you're clever, or just plain lucky. Think back to Leicester City's 2016 victory in the Premier League. Leicester started the season with staggering 1500:1 odds on futures to win the league. $10 would have made you $15,000 – a great payoff for bettors who threw a few bucks on the underdog!
In a nutshell, the popularity of futures betting is explained best by their high payouts, the thrills of a prediction paying off, and a casual aspect that other bets can't offer.
Advantages of Futures Bets
Unless you're making some outrageous single game predictions, there's very few 'one item' bets that will earn you a payday like futures will. You'll be highly rewarded for a correct choice and receive a nice ego boost to boot.
Thanks to their unpredictability, there's usually some notable discrepancies in how sportsbooks evaluate futures odds. This lets you shop around different books in search of the most favorable line, something that is rarer for typical bets like moneyline, spread, etc.
Finally, the advent of sportsbooks offering 'cash out' options give bettors the freedom to cash out on a good prediction. If your selection is trending in the right direction but you're having a few doubts, you can settle your bet for a profit and leave the risk behind.
Disadvantages of Futures Bets
A glaring issue with futures betting is that it'll likely take months for the bet to pay off. Depending on your bankroll, this could mean less in-season betting options. Plain and simple, they're just tough to hit. There are so many factors that come into play regardless of what you choose – even a well-researched and thoughtful pick can wind up fruitless if the cards don't go your way.
Hedging Futures Bets
Hedging is the act of making a secondary wager that would offset any losses you might face on your initial bet. Because of the wide variety of options and odd changes within futures, it's a fantastic option to give your long-shot bets a safe cushion.
When the season is coming to a close, the odds for a given contest will tighten up to reflect the updated value of each option. If your selection is the current favorite, it'd do you well to research other options and hedge your bet with an opposing team.
This becomes especially useful when your team is close to a championship. Let's say you made a $100 bet on the Seattle Seahawks to win the Super Bowl at +8000 odds. If they're facing the Kansas City Chiefs, who are -250 in that matchup, you'd want to place a wager on the Chiefs of $250 or more. This ensures you'll at least break even, while going over $250 guarantees a profit.