Floyd Mayweather vs Conor McGregor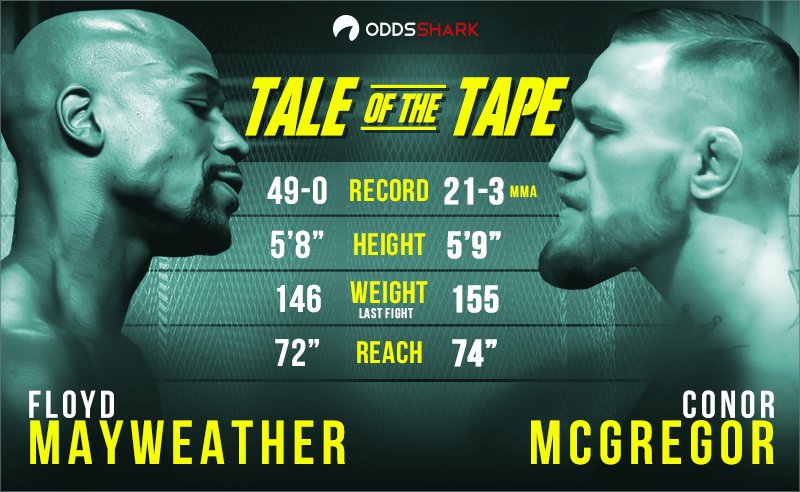 After more than a year of trash talk and speculation, Floyd Mayweather and Conor McGregor are finally set to fight in a boxing match that will take place on August 26 in Las Vegas. The pay-per-view event will begin at 7:00 PM EST. Odds for the fight were set long before it became official, with Mayweather Sportsbook as a gigantic favorite at -2250 and McGregor at +950. Since the Sportsbook betting odds were released, an avalanche of public money has come in on McGregor, causing a dramatic shift in the odds. The day after the fight became official, Mayweather's odds shrunk all the way down to -600, while McGregor's value has been chopped down to +400.
The fight will take place at the T-Mobile Arena and the fighters will compete at 154 pounds and wear 10-ounce gloves. Many were surprised to see Mayweather agree to fight at that weight as it should make for an easy weight cut for the UFC superstar, but the bigger weight requires the fighters to wear larger gloves which could reduce McGregor's chances of landing power punches.
Those familiar with UFC fight news know that McGregor has been a cash cow for bettors since he joined the UFC in 2013 as the Irishman has gone 9-1 in the promotion, but he's never closed at plus-money. His UFC odds were at their lowest when he fought Jose Aldo at UFC 194, closing at -105. He went on to KO Aldo in 13 seconds, becoming the undisputed UFC featherweight champion.
As for Mayweather's boxing odds, he's been a favorite in every fight we have on record and closed at -3000 in his last boxing match vs Andre Berto. That fight was back in September of 2015, meaning he will have gone 714 days between fights.
For complete betting odds coverage of the Mayweather vs McGregor boxing match, including prop betting and odds updates, check back regularly.
Bet Now at Sportsbook
Method Of Victory Props
Round Betting Props
Points Handicap Betting Props
Knockdown Betting Props
Punch Statistics Betting Props
Walkout Betting Props
Rematch Betting Props Props
Miscellaneous Betting Props