The Texas Longhorns are in the hiring process, with two very promising candidates battling for the starting quarterback position for the upcoming college football season. Returning starter Quinn Ewers will be trying to outshine incoming freshman Arch Manning, the nephew of retired NFL stars Peyton and Eli Manning. Regardless of the outcome, Texas fans should be eager for the talent expected on the field in the fall.
Job Requirements As Per Steve Sarkisian
Head coach Steve Sarkisian has taken to media expressing he's not basing his decision on popularity. I mean, all college football fans are anticipating the arrival of the up-and-coming Manning, curious to see if he has the same natural skill as his uncles and grandfather, Archie Manning. Meanwhile, Ewers is entering his second season with the program and, in my opinion of necessary qualifications, the classic Texas mullet gives him massive bonus points.
Sarkisian, heading into his third year at Texas, is looking at which athlete is more focused on developing himself to his full potential with a noticeably strong work ethic. He has said he's aware of Ewers' one-year advantage over Manning but won't let that blur his final decision – may the best QB win.
Resume Review: Quinn Ewers
There's plenty of buzz about Manning being at the top of the 2023 recruitment class. But let's not forget that back in 2022, Ewers was ranked No. 1 in the quarterback class too. After transferring from Ohio State before last season kicked off, the redshirt freshman was a clear leader in the Texas locker room.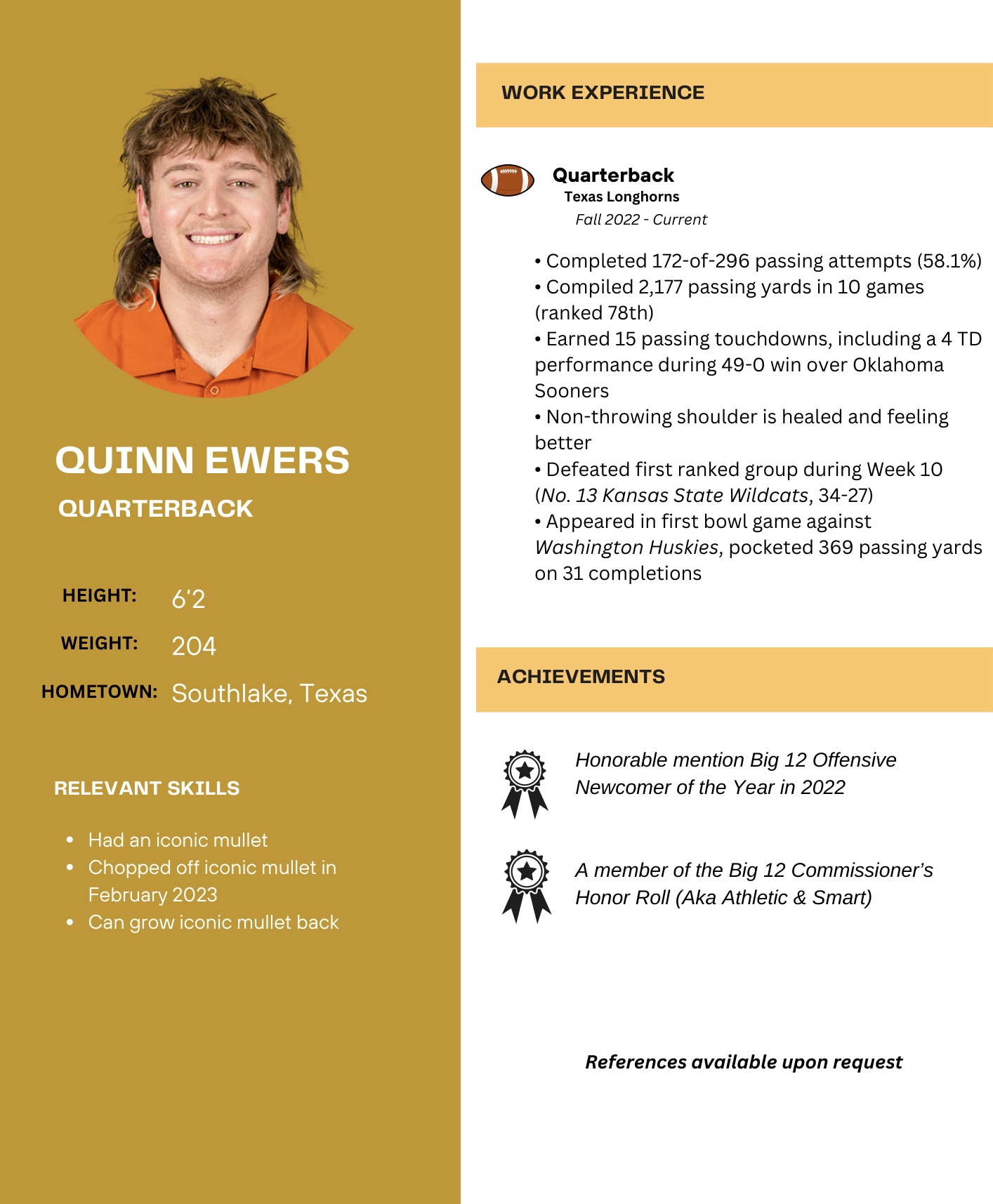 The six-foot-two, 206-pound QB looked promising early last season, recording 225 passing yards and two touchdowns in his debut against the Louisiana-Monroe Warhawks. But the Texas native didn't have an easy road being pitted against No. 1 Alabama in Week 2 and suffering an injury to his non-throwing shoulder in the first quarter.
Ewers, who received honorable mention for Big 12 Offensive Newcomer of the Year, returned in early October, picking up back-to-back wins and seven touchdowns across the two contests. But health was a concern and Ewers never seemed to lock into his full potential, finishing the year 6-4 through 10 starts while throwing for 2,177 yards, 16 touchdowns and six interceptions.
Resume Review: Arch Manning
Manning is still a senior at Isidore Newman high school, yet the 17-year-old has accomplished enough to set himself up for a promising future. In terms of his football career, the Louisiana native started all four years of secondary school, posting a 34-9 record. I know what you're thinking: "Oh, this kid is only getting looks because of his uncles." Partially true. But Manning has some impressive statistics of his own that actually surpassed his uncles' success.
Through four seasons, the six-foot-four quarterback threw for 8,599 yards and rushed for 1,155 yards to total 9,754 yards combined. That breaks the school record of 7,268 yards previously held by – you guessed it – Eli Manning. If that's not enough, Arch has amassed 115 passing touchdowns and 25 rushing majors to reach a whopping 140 total touchdowns. That number smashed the previous high of 93 total TDs put up by Peyton, his other uncle. Man, holiday dinners must be a blast at the Manning household.
So, Who Gets The Job?
Ewers has already been praised many times by Sarkisian for his leadership on and off the field. He isn't hesitant to be vocal in the dressing room and give his group pep talks when needed. Manning will be the talk of the campus and hype will surround him, but would you promote someone to a position without training them first? No, you wouldn't. He'll get a fair shot, but all tigers need to earn their stripes.
Ewers has established himself and proven he has what it takes to lead a program at the collegiate level. Like every job in life, Manning will need some time to prove himself. There are plenty of eyes on him already coming from the Manning family. We see it constantly – too much pressure and high expectations can crack an athlete before he gets started. Expect Texas to develop both young quarterbacks effectively, but with a healthy Ewers, he will get the nod to start the season.