Playing for real money at an online cardroom or casino can be a lot of fun, but before you get started, you'll need to deposit money into your account. Many sites offer a gamut of online poker banking options, each with their own pros and cons. What is the best online poker banking option for you?
Online Poker Banking Types
There are six major categories of online poker banking options: credit cards, debit and prepaid cards, cryptocurrencies, e-wallets, conventional banking methods and electronic payment services. While different options within these groups will largely behave the same, individual methods may have some key differences. In the case of cryptocurrency, for example, different coins will have different values; one Bitcoin is not equal to one Ethereum.
Credit Card Deposits
Credit cards are the most common online poker banking method. While different poker rooms or online casinos will accept different credit cards, you should expect all of them to accept both Visa and MasterCard. Some gambling sites will even allow you to withdraw using one or both of these major cards.
Prepaid Deposit Methods
Over the last decade or so, prepaid and gift cards have become more widely used as an online poker banking method. Visa and MasterCard are leading the charge here as well, providing players with options that may fit their play habits better than conventional credit cards.
Cryptocurrency Deposits
As an online poker banking method, cryptocurrency has quickly become favored, both for its ease of use and the speed at which deposits and withdrawals can clear. The majority of poker rooms and online casinos accept Bitcoin, though many also accept different types of cryptocurrency.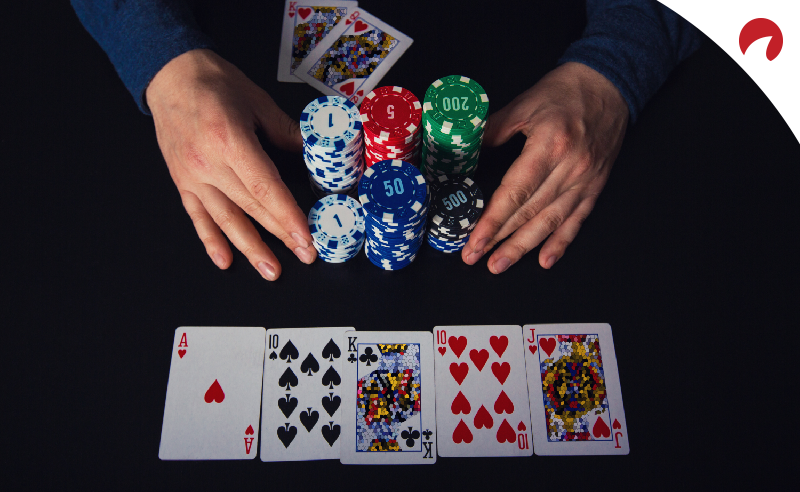 E-Wallet Deposits
E-wallets are a safe and secure way to deposit funds at an online cardroom. As users can choose how much they would like to deposit into their e-wallet, they may need to periodically refill their balance. Due to this, e-wallets are excellent for responsible gambling.
Banking Options
While they aren't as fast or high-tech as the latest digital methods, traditional banking methods are always a valid online poker banking option.
Electronic Payment Services
Electronic payment services allow you to quickly and efficiently transfer money to the online cardroom or casino of your choice.
How To Choose A Deposit Option
Given the wide variety of different online poker banking methods available at the average poker room, there's a very low chance that they won't accept what you already use in your day-to-day. However, depending on the amount you want to deposit, withdraw or play, there are a few extra considerations you may wish to look at.
Credit and debit cards are incredibly convenient and flexible options, but short of calling up your bank, they don't have any kind of meaningful limiting options. Not even poker rooms want you to hit your credit card limit or empty your bank account while playing with them, so these options may not be great for people who get caught up in the moment or who have trouble with cutting their losses.
Cryptocurrency's speculative nature means that not only do different coins have different values, the same coin can be worth a different amount of money, even on the same day. While differences in value are mostly slight, depositing the same amount twice does not mean that the values would be exactly the same.
E-wallet services like ecoCard and Skrill require players to set up a separate account and routinely top up the available funds with their own money, but this can go a long way to ensuring you gamble responsibly. Modern poker rooms and online casinos have excellent data security standards, but some players still may not be comfortable with providing payment information directly to them. To that end, e-wallet services can provide an extra layer of security.
Online poker banking options like wire transfers and e-check deposits may be slower than other options, but since they are facilitated by your bank, they can help keep your information away from any kind of third-party platform.
Ultimately, no online poker banking option is a right fit for every type of player. While it might be slightly less convenient in the long term, don't be afraid to branch out from what you typically use.
Online Poker Banking FAQ
How do you deposit for online poker?
You can deposit for online poker by signing up for a legal poker room or online casino and adding money to your account. Leading poker rooms are able to accept deposits in multiple ways, such as via credit card, prepaid cards, cryptocurrencies, e-wallets, electronic payment services and direct wire transfers. While having multiple deposit options is useful, you should always sign up for a poker room that supports what you already use.
 
Can you use a debit card for online poker?
Yes, you can use debit cards for online poker. Depending on the specific poker room or online casino, debit cards may be offered as a deposit option. However, they typically aren't featured as a withdrawal option. If you want to use a debit card to deposit, you should also have another payment option to make withdrawals with.
Is it legal to play poker online for money?
Yes, it is legal to play online poker for money in certain states. While there are currently only a handful of states that allow for real money online poker, that list is always increasing; online poker came to Michigan in early 2021. As online poker becomes more widespread, there is a better chance that more states will make playing online legal.
What states allow real money online poker?
Currently, the following states allow you to play real money online poker: Delaware, Massachusetts, Michigan, Nevada, New Jersey, Pennsylvania and West Virginia. Bills that would allow legal online poker have been introduced in Connecticut, Kentucky, New York and Virginia, though they have yet to be approved. The ability to play poker has to be approved on a state-by-state basis as there are no federal laws about online gambling.