Our Top Sportsbooks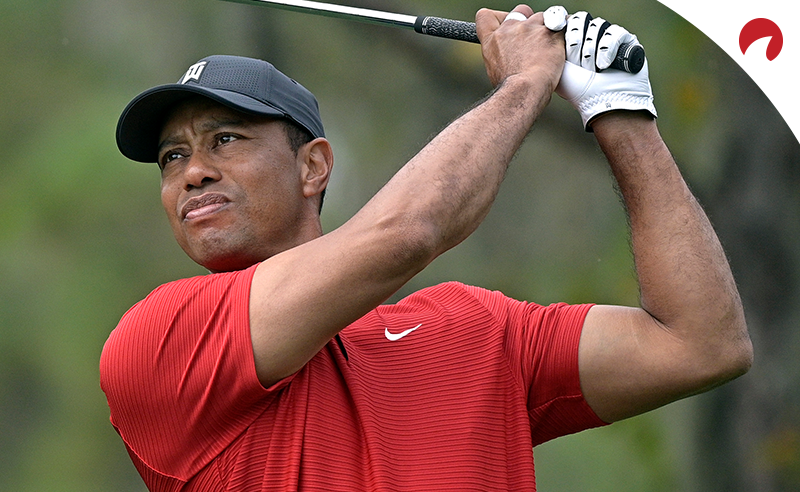 When the images were released after the car accident on February 23, 2021, the golf world held its collective breath in fear that arguably the greatest professional golfer of all time was seriously hurt or worse.
But now, almost 17 months following the crash, Tiger Woods has made his return to action. It wasn't the all-time great moment that many were anticipating or hoping for when the 2022 Masters wrapped up, but the fact that Woods made the comeback at all was extremely impressive, and making the cut was one of the greatest accomplishments of his career.
Tiger followed his Masters performance by making another cut at the PGA Championship – though he withdrew after the third round – and then sat out the U.S. Open.
But this week is the event we've been waiting for. Tiger announced months ago that he had the Old Course circled on his calendar and he'll get a chance to win a third Open Championship in what some believe may be his final PGA tournament.
See Odds Shark's Best Golf Sites
Over at Bodog, you can bet on Tiger Woods odds and props and bet on where you think Tiger will finish, whether he will even make the cut and much more. Check out the full list of props below.
If you're new to betting on golf, check out our How to Bet on Golf page or head over to our Best Golf Betting Sites page to see which sportsbooks have the best deals for you to sign up now.
Tiger Woods Open Championship Props: Making The Cut
will tiger woods make the cut at the 2022 open championship?

| Option | Odds |
| --- | --- |
| Tiger to make the cut | -175 |
| Tiger to miss the cut | +125 |
Odds as of July 12 at Bodog
The 2022 Open Championship will be played at the Old Course at St. Andrews in Fife, Scotland, and it's a course Tiger knows well.
Tiger is one of just two golfers (Jack Nicklaus) to win the Open at St. Andrews twice since James Braid in 1905 and 1910. Woods won in 2000 and 2005, finished T-23 in 2010 and was cut in 2015.
Tiger Woods Props: To Miss The Cut (+125)
Either way this is likely Tiger's last shot to win at St. Andrews, but if it truly is his final PGA event, we really hope he makes the cut and we get to see him walk over Swilcan Bridge one last time on Sunday.
But we have to be a little realistic here. Tiger withdrew from the PGA and didn't play at the U.S. Open due to his various injuries, and we're not convinced he's in top shape for this event either.
St. Andrews is as flat a golf course as you're going to find, so there won't be any crazy elevation changes like we see at Augusta National. But from the video we've seen of Tiger over in Scotland this week, he's still limping around quite a bit. 
The other issue we see Tiger facing is how well this course is projected to play. There should be plenty of extremely low scores over the four days and we wouldn't be surprised to see a 59 or two out there. The field is going to crush this course with winds expected to be relatively low. 
We'd like nothing more than to see Tiger in contention on the weekend, but getting him to miss the cut at plus money is a good bet.
Tiger Woods Open Championship Props: Finishing Position 
Tiger woods Open Championship Finishing Position

| Option | Odds |
| --- | --- |
| 53rd or better | -115 |
| 54th or worse | -115 |
Odds as of July 12 at Bodog
Tiger Woods To Finish 54th Or Worse (-115)
While we're not quite ready to say Tiger Woods will be hoisting the Claret Jug on Sunday afternoon, we will concede there's a decent chance he makes the cut. While we like the bet at plus money that he won't make it, his experience on this course is undeniable and sportsbooks seem to think he's got a good shot to make it to the weekend. 
So where does he finish? 
The cut will whittle the field down to 70 players, so we're leaning here toward Tiger finishing toward the bottom of those 70. With this number set so low, sportsbooks are telling us they think he's borderline to make the cut as it is, so we'll double down on the negativity here (I know, it's not as fun) and say Woods finishes 54th or worse. If the odds were more attractive for one option over the other, we would probably lean that way.
Other Tiger Woods Odds And Props
There are plenty of other Tiger Woods odds and props for the Open Championship over at Bodog, including dozens of tournament specials that pair Tiger with combinations of other golfers all to miss the cut. Think Tiger, Phil Mickelson and Paul Casey all miss the cut? You can get that at +500. 
Think Tiger, Dustin Johnson and Sergio Garcia all miss? That one goes off at +1500. 
There are also lots of combinations that include players making the cut, like Woods, Collin Morikawa and Justin Thomas all making it at +165.
Place Your Open Championship Bets Now!
---
Betting On PGA And Tiger Woods Futures
If you're betting on PGA futures and you decide to wager on Tiger Woods to win at the Open Championship, you would likely see odds listed like this at your sportsbook:
Since you're betting on events that will happen in the future, this is called a futures bet. This type of wager is slightly different than a moneyline bet because it doesn't have an obvious favorite indicated by the minus odds symbol (-). That means the golfer listed with the lowest odds is considered the favorite. In this instance, it's Rory McIlroy at +700.
If you were to bet $100 on Woods prior to the tournament and he ends up winning, you'd get a payout of $1,300 – your original $100 is returned, along with your winnings of $1,200. On the other hand, if you wagered that same $100 on Brooks Koepka and he returns to form to take the title, you'd get a payout of $1,500 – you get your $100 back, plus your profit of $1,400.
Our odds calculator can help you determine how much you'd pocket depending on the odds and the amount bet. You can also get up to speed on wagering on PGA golf by checking out our How to Bet on Golf guide.
Upcoming Events
Doc's Picks Service
Need more winning picks? Get $60 worth of premium member picks from Doc's Sports – a recognized leader and trusted name in sports handicapping since 1971.