One of the most exciting times on the sports calendar is early spring. We have NBA and NHL playoffs beginning shortly, NFL free agency is at its peak and perhaps most importantly, March Madness is taking place.
If you're looking for wagers to place on the daily games throughout the tournament, you can certainly check out our college basketball computer picks. This page, however, is reserved for the experts. Prediction Machine's Tony Farmer and ESPN's Joe Fortenbaugh are here to share their March Madness bracket predictions.
Below you will see each of their brackets along with betting picks from their predictions on the national championship and the winners of the Midwest, East, South and West regions. 


Joe Fortenbaugh's 2023 March Madness Bracket Predictions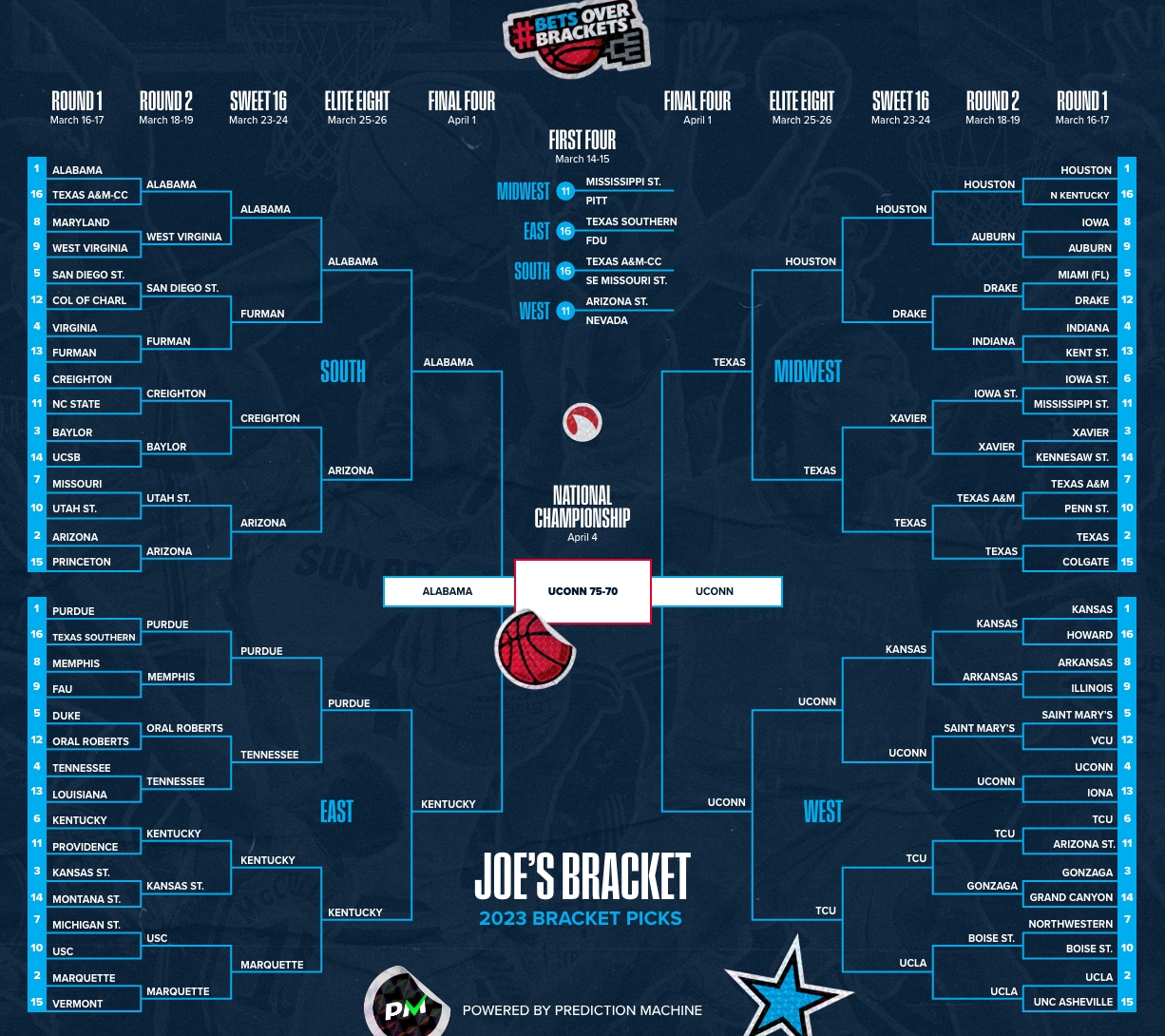 Joe Fortenbaugh's Picks For Each Region

| Region | Team | Odds |
| --- | --- | --- |
| East | Kentucky | +900 |
| Midwest | Texas | +400 |
| South | Alabama | +180 |
| West | UConn | +450 |
Right off the top, we have to talk about the national championship and Fortenbaugh has chosen UConn to win its first title since 2014.
According to our March Madness odds page, the Huskies are offered at odds of +1600, which means if you were to wager $100 on them and they win the title, you profit $1,600. Our sports betting calculator translates those odds into an implied win probability of 12.90 percent.
If you're not willing to wait for the net to be cut down, Joe is also providing value with his East Region pick with Kentucky at +900.
Tony Farmer's 2023 March Madness Bracket Predictions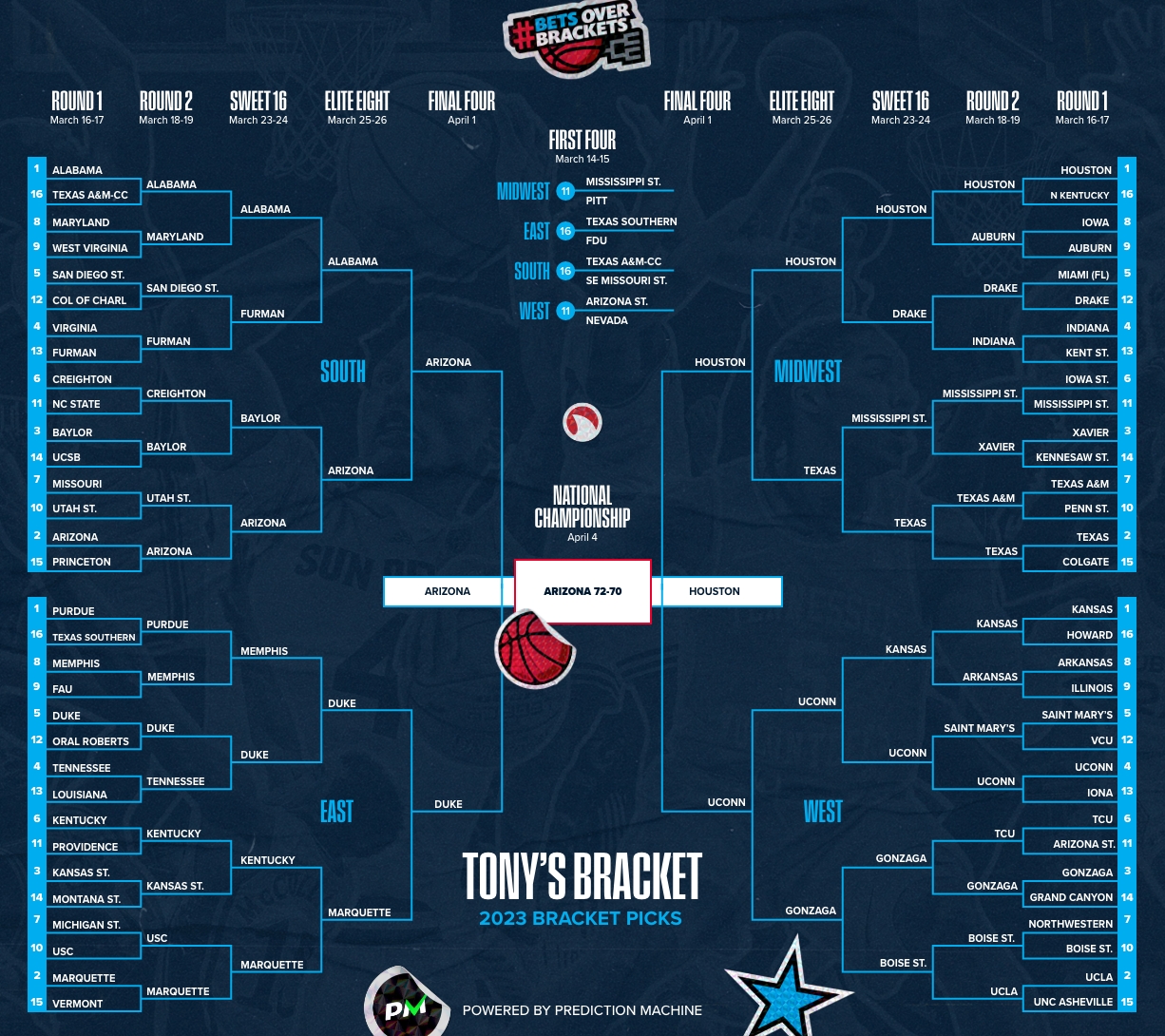 While Joe elected to go with UConn as the eventual champion, Tony has his sights set on the team sitting sixth on the oddsboard, the No. 2 seed in the South, the Arizona Wildcats at +1500.
Tony Farmer's Elite Eight Picks

| Team | Odds |
| --- | --- |
| Houston | -125 |
| Alabama | -110 |
| Arizona | +150 |
| Texas | +150 |
| Marquette | +195 |
| Duke | +195 |
| Gonzaga | +195 |
| UConn | +200 |
Tony also has his sights set on some drama in the West Region, with No. 2 seed UCLA falling in the Round of 32 to Boise State. That opens the door for a nice Elite Eight appearance for Gonzaga at +195 if the Bulldogs can sneak past those Broncos in the Sweet 16.
Remaining in that scary West Region, there's value on Joe's national champ winners, the UConn Huskies, at +200 to appear in the Elite Eight.
Betting On A March Madness Bracket
The tournament is a fun time to see how your bracket does, especially if you're in a pool with some of your buddies. However, even if your bracket is busted early, there are plenty of ways to stay invested in the excitement by placing a wager on some of the tournament-long March Madness props, or maybe you have a couple of national championship picks. 
Creating Your Own Bracket
If you've never created a bracket but want to know what all the hype is about, you can see our How to Fill Out a March Madness Bracket article. Additionally, we have an excellent history of the opening-round seed matchups below with their results against the spread and straight up.