Our Top Sportsbooks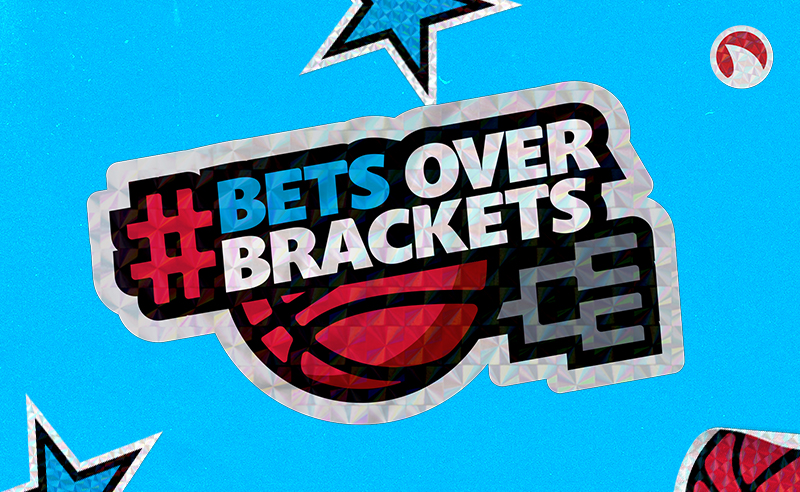 One of the most exciting times on the sports calendar is early spring. We have NBA and NHL playoffs beginning shortly, NFL free agency is at its peak and perhaps most importantly, March Madness is taking place.
If you're looking for wagers to place on the daily games throughout the tournament, you can certainly check out our college basketball computer picks. This page, however, is reserved for our expert Joes, Joe Osborne and Joe Fortenbaugh, to share their March Madness bracket predictions and help you cash in on some of the March Madness bracket challenges you may be playing in.
Below you will see each of their brackets along with betting picks from their predictions on the national championship and the winners of the Midwest, East, South and West regions. They would also assist with your moneyline selections throughout the tournament.
If you've never bet on college basketball, don't worry – we have a great How to Bet March Madness article to fill you in. Furthermore, our best March Madness betting sites is a great resource in choosing where to bet on March Madness.
See Odds Shark's Best March Madness Sites
Joe Fortenbaugh's 2022 March Madness Bracket Predictions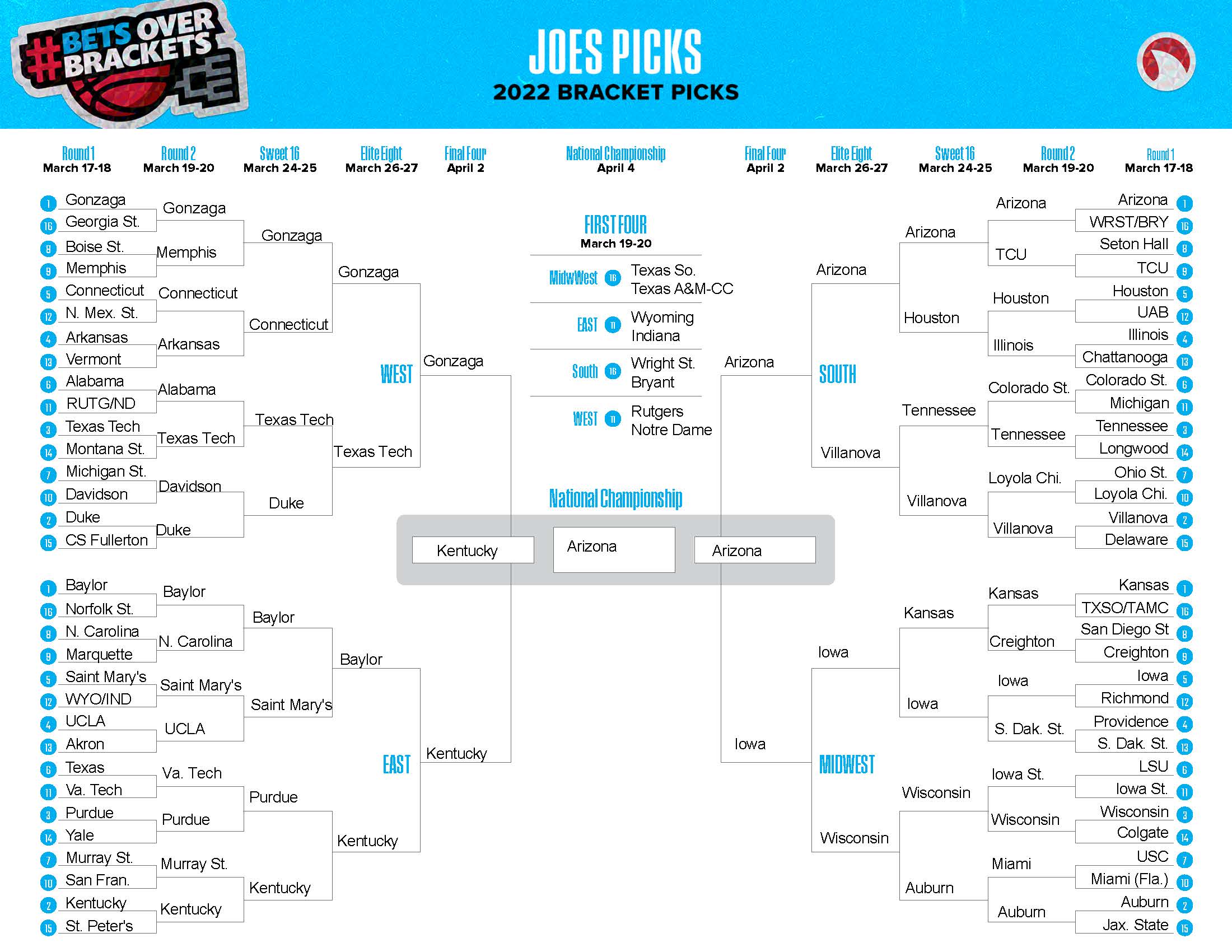 Right off the top, we have to talk about the national championship and there, Fortenbaugh has chosen Arizona to win its first title since 1997. According to our March Madness odds page, Arizona is offered at odds of +675, which means if you were to wager $100 on the Wildcats and they win the title, you profit $675. Our sports betting calculator translates these odds into an implied win probability of 12.90 percent.
If you're not sold on 'Zona winning it all, perhaps a wager for less value for them to come out of the South Region appeals to you. Our odds to win the South Region have Arizona as the favorite at +180. Also looking at Joe's bracket for the same markets, you will see that he has Gonzaga coming out of the West Region with odds of -160, Kentucky out of the East at +200 and Kansas from the Midwest at +200.
Joe Fortenbaugh's Picks For Each Region

| Region | Team | Odds |
| --- | --- | --- |
| East | Kentucky | +200 |
| Midwest | Iowa | +325 |
| South | Arizona | +180 |
| West | Gonzaga | -160 |
Many March Madness betting sites have props that you can wager on with the help of the Joes' brackets. For example, one prop found at [ol-sportsbook-bp:48:Bovada:26:Bodog] is how many No. 1 seeds will make it to the Final Four with the OVER/UNDER set at 1.5 and Fortenbaugh picking two top seeds (Arizona and Gonzaga), which would cash at +110.
See Odds Shark's Best March Madness Sites
Joe Osborne's 2022 March Madness Bracket Predictions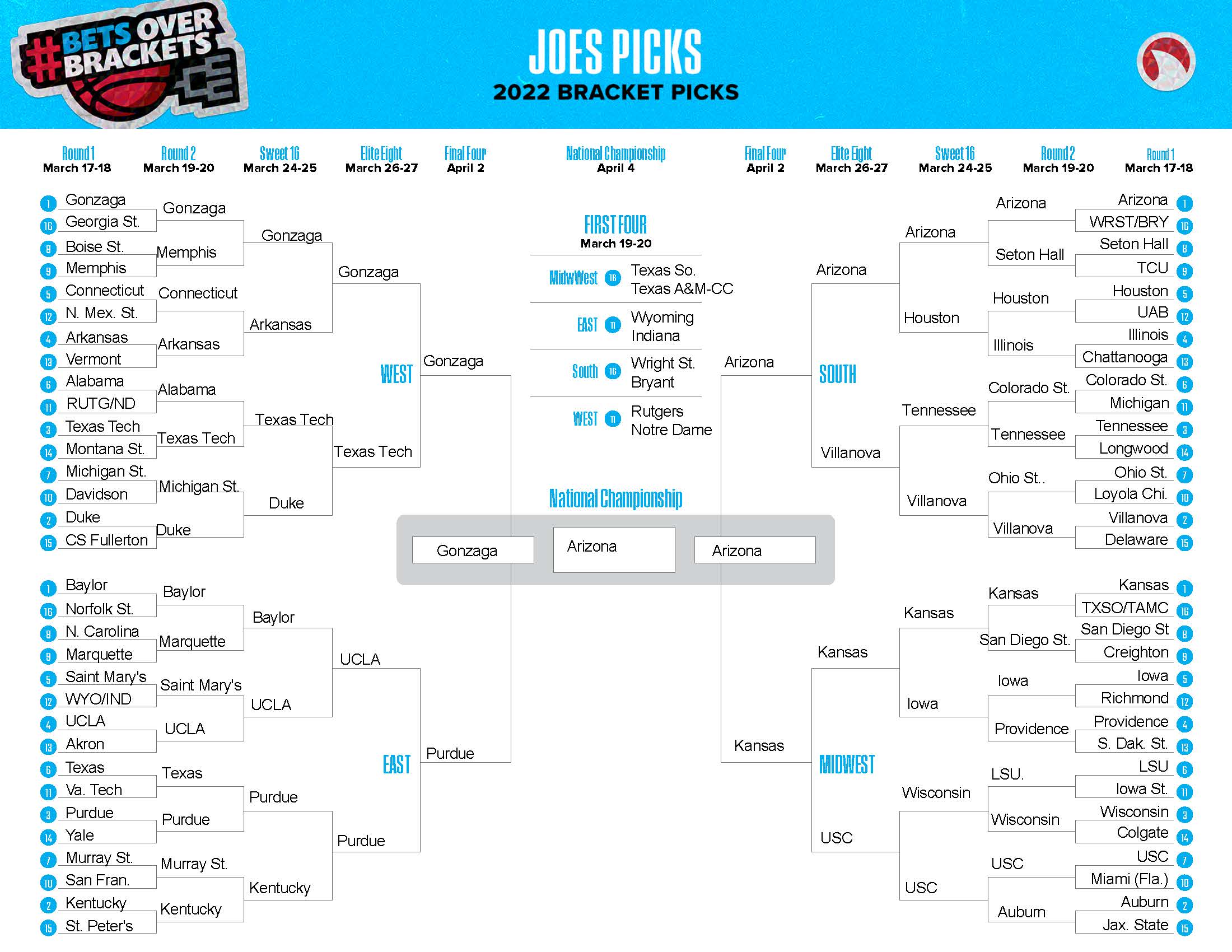 It appears that our two resident Joes have chosen Arizona at +675 to win the national championship. However, Osborne is finding a little more value in the odds to win the East Region with Purdue topping UCLA and cashing at +450. With that result, a $100 wager would net you $450.
Joe Osborne's Elite 8 Picks

| Team | Odds |
| --- | --- |
| Gonzaga | -350 |
| Arizona | -130 |
| Kansas | +120 |
| Villanova | +130 |
| Texas Tech | +175 |
| UCLA | +215 |
| Purdue | +240 |
| USC | +700 |
Joe has also found value in the tournament when it comes to the odds to make the Elite Eight and the Sweet 16. The team that has caught his attention is the USC Trojans and you can get them at +450 to make the Sweet 16 and +700 to make it one round further.
Using our college basketball scores page, you can see which picks throughout each of the Joes' brackets would represent upsets or the favorites winning. This page can also assist you in your choice of who will advance through the tournament. You might want to shy away from Longwood as a 17-point underdog to Tennessee in their Round of 64 matchup.
Betting On A March Madness Bracket
The tournament is a fun time to see how your bracket does, especially if you're in a pool with some of your buddies. However, even if your bracket is busted early, there are plenty of ways to stay invested in the excitement by placing a wager on some of the tournament-long March Madness props, or maybe you have a couple of national championship picks. You can see lots of great March Madness betting information here at Odds Shark.
See Odds Shark's Best March Madness Sites
Creating Your Own Bracket
If you've never created a bracket but want to know what all the hype is about, you can see our How to Fill Out a March Madness Bracket article. Additionally, we have an excellent history of the opening-round seed matchups below with their results against the spread and straight up.
Upcoming Events
Doc's Picks Service
Need more winning picks? Get $60 worth of premium member picks from Doc's Sports – a recognized leader and trusted name in sports handicapping since 1971.