Our Top Sportsbooks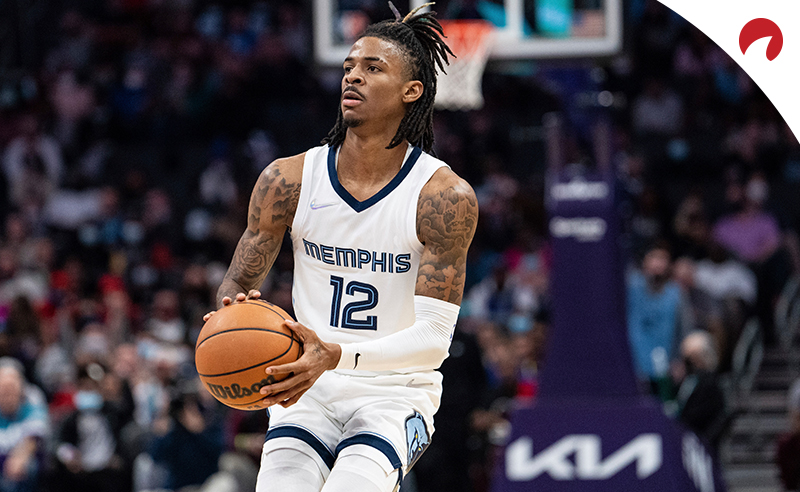 Three of five teams are all but out of contention in the Southwest Division. That leaves the choice between either the resurgent Memphis Grizzlies or the ever-improving Dallas Mavericks. How to bet the Southwest Division? Odds Shark breaks down the NBA Southwest Division odds below along with betting suggestions and strategies to deploy.
According to the NBA Southwest Division odds at Betway, the Memphis Grizzlies (-1430) are strong contenders for the division title, followed by the Dallas Mavericks (+750).
See Odds Shark's Best NBA Betting Sites
For more NBA odds, take a look at Odds Shark's dedicated NBA page, which also includes prop betting opportunities and other betting suggestions from the National Basketball Association.
NBA Southwest Division Odds
Odds To Win NBA Southwest Division

| Team | Odds |
| --- | --- |
| Memphis Grizzlies | -1430 |
| Dallas Mavericks | +750 |
Odds as of February 22 at Betway
Favorites To Win The Southwest Division
The NBA Southwest Division odds for the favorite have shortened even further since our last update.
Memphis Grizzlies (-1430)
The Grizzlies have been in devastating form this season right from the outset. There was a period when health concerns and injuries hampered their progress but that was quickly put behind them. The Grizzlies took a 41-19 record into the all-star break, which put them 5.5 games ahead of the chasing Mavs. That resulted in a drastic shortening of their NBA Southwest Division odds.
"We are staying together and keeping our composure," Desmond Bane said. "We've been in a lot of close games this year and I feel like that is the difference between our team this year and last year. We have been able to win those close games down the stretch. We are on a mission and we are trying to do special things."
The Grizzlies have been a force offensively this season. They move the ball quickly but they have also added an efficient mid-range game, led by star Ja Morant, who is leading the Grizzlies in points scored (26.8), assists (6.9) and field-goal percentage (49.5).
As a whole, the team has been excellent too. The Grizzlies are averaging 113.8 points per game, second in the league. In terms of ball movement, they are seventh with 25.3 assists per night, while they have dominated the boards, averaging an NBA-best 48.9 rebounds.
The Grizzlies have made steady progress as a franchise from a 22-60 record in 2017-18 to a 38-34 record a year ago for a .528 win percentage. This season, that has improved to close to .700. If the Grizzlies can continue to use their youth effectively, they could be a team that continues to blow the NBA Southwest Division odds out of the water.
Value Picks To Win The Southwest Division
Only one team is a possibility for this category.
Dallas Mavericks (+750)
The Mavs took some momentum into the all-star break, winning six of their last seven games to move to 35-24 on the season. That is impressive considering there has been some roster fluidity after the departure of their second star, Kristaps Porzingis.
"I'm the coach who has to put them in a position to be successful, get paid, find a way to win," Jason Kidd said. "As we go through this journey, we'll see if we come across a No. 2 guy. It could be the team that we have where there is no real second star. You've just got guys who play roles at a very high level. And you've seen teams win championships that way, too."
The Mavericks offense seems to have fallen away this season, averaging just 106.6 points per game to rank 25th in the NBA. They dish out 23.7 assists per night, which is 17th in the league. There will be a major void without Porzingis too. He was averaging 19.2 points and 7.7 boards per game.
The Mavs will aim to compensate for his absence with new acquisitions Davis Bertans and Spencer Dinwiddie, who had signed a three-year, $54-million contract in the offseason with the Washington Wizards. Bertans fell away quickly with the Wizards too. He signed a five-year, $80-million deal in the 2020 offseason but has managed an average of just 5.7 points in 34 games this season.
Betting Strategy For The NBA Southwest Division
This market comes down to value. If the Grizzlies slump, making up 5.5 games does not seem implausible for a team as good as the Mavs. To make a decision, we will have to analyze the possibility of that happening because betting is always based on probability and not certainty.
I would say, based on historical data and a bit of empirical evidence, that the Grizzlies should lose some of their rhythm after the all-star break. The NBA is a long season, which means sustaining excellence over a lengthier duration is incredibly hard. At these NBA Southwest Division odds, I'd say the Mavs are worth a punt. The risk is exceptionally high but there is a fair reward at the end too.
One thing is for sure, if you have not previously bet on the Grizzlies for this market, then it is definitely too late. We would certainly advise against betting on Memphis at these NBA Southwest Division odds. The risk and reward relationship is skewed too much in favor of the former.
To sum up, don't bet on the Grizzlies. If you're feeling a bit risky, then a minor investment on the Mavs might just be worth your time.
Odds Shark will be back at some point in February for an update to the NBA Southwest Division odds. Till then, watch this space as we bring you more information from various divisions and betting opportunities from around the NBA.
---
Understanding NBA Southwest Division Odds
When you visit any NBA betting site, you'll see NBA Southwest Division futures odds displayed like this:
At -200, oddsmakers predict that the Mavericks have the greatest chance of taking the division. If you're on board with those odds and wager $100, you'd get a payout of $150 – your $100 comes back, coupled with your winnings of $50. Or, if you like to take risks and think the Rockets are going to storm the Southwest, that same $100 would give you $900 – your original money is returned along with your prize of $800.
Our Odds Calculator will show you what you'd win based on the offered odds and amount you bet.
What Is An NBA Futures Bet On Divisional Odds?
Any bet that is placed weeks or months in advance is a futures bet. Here, the action is on a team's shot of taking the Southwest. You can argue that all bets are done prior to a specific event; however, futures odds are released before the regular season even starts.
Because the action is released early, the lines are subject to change. As games are played, players get injured and squads make trades, oddsmaker's will shift the odds to reflect that. If you see lines you like, take them early. Getting a team at plus money (+) will get you more value on a winning bet than if you were to get them at minus money (-).
Upcoming Events
Doc's Picks Service
Need more winning picks? Get $60 worth of premium member picks from Doc's Sports – a recognized leader and trusted name in sports handicapping since 1971.