Our Top Sportsbooks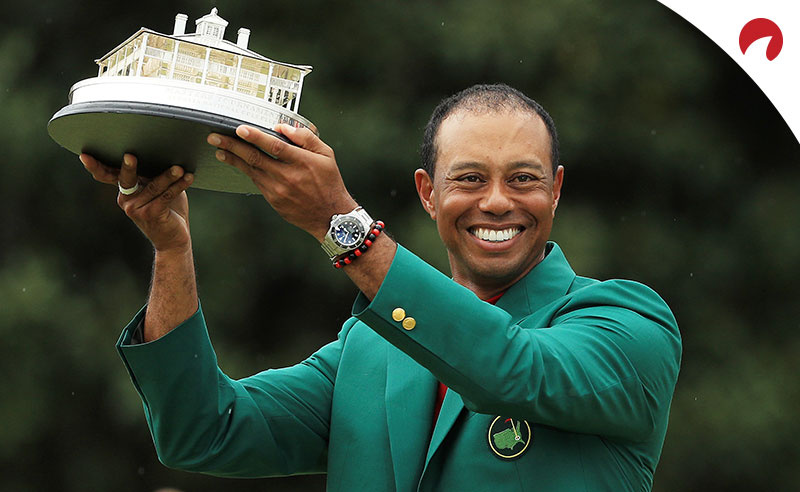 The Masters is a tradition unlike any other. Augusta, Georgia serves as the setting for the highlight of the golfing calendar at Augusta National Golf Club every April for a reason. The Masters Tournament is more than just a golf tournament – it's a spectacle.
Of the four major tournaments on the PGA Tour, the Masters is undoubtedly the most prestigious. Unlike the other majors, it has been held at the same location since its debut in 1934. That kind of continuity has made Augusta a favorite for fans and players alike.
Ahead of the 2022 edition of the event, which is scheduled for April 7 to 10, there are a litany of ways to make watching the Masters Tournament even more enjoyable by having some skin in the game. Make sure you're aware of how to bet on the Masters before you tune in to watch the best players in the world tee it up on the most famous course in the United States.
We have a full breakdown of the 2022 Masters odds.
See Odds Shark's Best Golf Betting Sites
How To Bet On The Masters Online
The Masters Tournament is the equivalent of the Super Bowl to the golf world, so it makes sense that it perennially has the widest array of betting options of any tournament. One of the most fun ways to put some money on the action is through props. Props (short for propositions) are alternative betting methods that fall outside of the more traditional betting paths.
Masters Prop Bets
For example, some of the most popular Masters props are centered around nationality. A Masters prop bet option titled "Top Australian player" would come down to the Aussie who finished the tournament with the lowest score.
Let's say Jason Day is the +200 favorite, followed by Adam Scott (+225), Marc Leishman (+275) and Cameron Smith (+350). If you're confident Day will beat out his fellow countrymen, a shot on him at +200 could present value. Since he only has to beat out three other golfers, the chances of him winning your bet are solid.
Elsewhere on the prop board are options such as "Will there be a hole-in-one?", "What will the cut line be?", "How many players will finish under par?", "Will there be a playoff?" and even some odds regarding who the eventual winner will hug first on the 18th hole.
Tournament Matchups
Tournament matchup odds can be extremely profitable for a number of reasons. A tournament matchup prop pits a pair of golfers against each other, and in order to win your wager, the golfer you bet on simply has to finish the Masters Tournament with a better score than his counterpart.
Since tournament matchup options are between only two golfers, the odds are always closer to EVEN money. Let's use Bubba Watson and Hideki Matsuyama, for example. The men have a similar chance of winning the Masters, so a tournament matchup between the two of them would likely come down to -110 odds on each side.
If Watson, a two-time Masters champion, finishes the tournament at 4 under par and Matsuyama ends things at 2 over par, bettors who placed money on Watson at -110 in this example would come away victorious.
Live Betting
One of the most popular vehicles of betting across every sport is live betting. The reason why is simple – bettors can find edges by watching events unfold in front of them. Live betting in golf is no different. Throughout tournaments, odds can adjust by the second depending on whether players are performing poorly or playing well.
Let's say it's Sunday at the Masters Tournament and the final pairing of Dustin Johnson and Justin Thomas are tied at 10 under par heading into hole No. 18. Both Johnson and Thomas are all-world talents, so their odds of winning would likely be very similar at that point. If Johnson hooks his drive into the rough and Thomas lands his tee shot safely on the fairway, the live odds would shift to make Thomas the favorite.
If you believe Johnson is going to win the Masters Tournament despite his poor opening shot, you'd be able to grab him at a much better price than when the hole began. Betting on golf is already thrilling since things can change so quickly, and live betting provides a whole other level of excitement on top of that.
How To Bet Read Masters Odds
Handicapping golf odds can be complicated if you're new to betting on the sport, so don't worry if it's a little overwhelming at first. Four-time major champion Brooks Koepka is no stranger to cleaning up the hardware on golf's biggest stages, so it makes sense for oddsmakers to tab him to finish in the top five.
Sportsbooks might have Jon Rahm as the +1200 fave to slip on the green jacket at Augusta. That means a $100 bet on him to win the Masters Tournament would pay out $1300 – your bet amount of $100 plus winnings of $1200.
Considering it's an incredibly tough tournament to win, there is risk involved in pre-tournament bets given the significant amount of competition in the field. But Rahm's immense talent and past success in majors makes him an appealing option despite the shorter odds.
On the other side of the fence, a golfer like Kevin Na would be considered a long shot to emerge triumphant at the Masters. Let's say Na has +17500 odds to go all the way in Georgia. A $100 bet on him to win outright would pay out $17,600 – your $100 is returned coupled with your winnings of $17,500.
How To Place A Bet On The Masters: Where To Wager
Now that you're up to speed on the various ways to get your money in on the Masters, it's important to find the Masters betting site that's right for you. Finding the right online betting site can be daunting at first, but that's why we at Odds Shark are here to make it a seamless experience.
How To Sign Up At A Masters Sportsbook
To start, head over to our best golf sites betting page. These are the Tiger Woods of golf sportsbooks. Once you've decided which online sportsbook you're going to go with, click the Join or Sign Up prompt to carry you through the registration. From there, you'll be asked questions such as name, date of birth, email and address.
If you're still unsure of who to back at the 2022 Masters, don't fret. Our Masters preview outlines the full list of odds for every golfer who's going to showcase their talents in the Peach State. Leading up to the tournament, stay tuned to our golf News page for more informative betting content surrounding the high-profile event.
See Odds Shark's Best Online Sports Betting Sites
Deposit Options
Next, it's time to make a deposit. Most online sports betting sites will offer a welcome bonus, which often matches your initial deposit up to a predetermined amount. Some even go as far as matching 100 percent up to $200 for first-time depositors. Along with excellent customer service, our recommended top golf betting sites also offer easy cash-out options.  
To get your money in, you can choose from deposit choices like Bitcoin, credit cards, PayPal or e-transfer/online interac. Signing up at a sportsbook is a fairly simple process that only takes a few minutes. All of the books we recommend are safe and secure to make transactions with.
How To Bet The Masters Tournament
Considering the Masters Tournament doesn't start until the second week of April, it's smart to take your time in this process. Besides, you can make wagers right up until the opening round on Thursday, so don't feel rushed. If you wait until the tournament starts, you can always jump in via live betting.
Now that you know how to bet on the Masters golf tournament, you're all set to move forward! Whoever wins the tournament at Augusta will have the memory of a lifetime, and you can put some extra cash in your pocket in the process while watching history unfold at the iconic venue.
How to Bet on the Masters FAQ
When is the 2022 Masters?
The 2022 edition of the Masters will be held between April 7 to 10 at Augusta National Golf Club in Augusta, Georgia. For a full preview of the highly anticipated event, visit our 2022 Masters Odds breakdown.
How do I bet on golf?
If you're new to betting on golf, it can be a sport that seems to be overwhelming at first but is a lot of fun once you get comfortable with it. Check out our golf betting tutorial to learn the type of bets you can make and how to make them.
What golf major is played after the Masters?
After the Masters concludes, the PGA Championship is the next major tournament on the PGA Tour schedule. The PGA Championship will be played from May 19 to 22 at Southern Hills Championship Course in Tulsa, Oklahoma.
Upcoming Events
Doc's Picks Service
Need more winning picks? Get $60 worth of premium member picks from Doc's Sports – a recognized leader and trusted name in sports handicapping since 1971.