Our Top Sportsbooks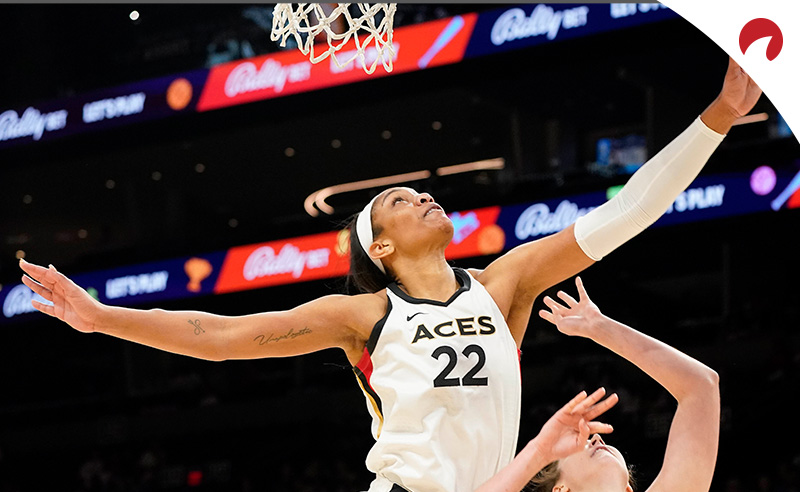 There are about three weeks left in the WNBA regular season and the Chicago Sky (21-7) and Las Vegas Aces (20-8) are your top two teams, having already clinched a playoff spot. But with the postseason creeping up on us, there's a 2022 WNBA MVP title to be decided before a league champion is crowned.
The Las Vegas Aces are currently favored to take it all home at +165 odds to win the WNBA championship. So, it doesn't come as a shock that its top players, A'ja Wilson and Kelsey Plum, are high on the list of the opening odds to win WNBA MVP.
According to the best basketball betting sites, Wilson is the clear favorite sitting at -200, followed by the Seattle Storm's Breanna Stewart at +200. There's a drop-off in the odds after those two with Las Vegas' Plum (+1400), the New York Liberty's Sabrina Ionescu (+2000) and Chicago's Candace Parker (+2500) rounding out our top five.
If you've never bet on WNBA basketball before, be sure to check out our How To Bet WNBA guide to get you up to speed.
Join A Top-Tier WNBA Betting Site Now
Who Will Win The 2022 WNBA MVP?
Odds to Win the 2022 WNBA MVP

| Player | Odds |
| --- | --- |
| A'ja Wilson | -200 |
| Breanna Stewart | +200 |
| Kelsey Plum | +1400 |
| Sabrina Ionescu | +2000 |
| Skylar Diggins-Smith | +4000 |
| Jonquel Jones | +4000 |
| Elena Delle Donne | +8000 |
| Nneka Ogwumike | +10000 |
| Kahleah Copper | +10000 |
| Natasha Howard | +10000 |
| Brionna Jones | +10000 |
Odds as of July 28 at BetUS
Why Is A'ja Wilson Favored To Win WNBA MVP?
Wilson and the Aces wasted no time easing into the league's May start, opening the season by going 13-2 in their first 15 games. Sure, they hit a bit of a slump in June by suffering five losses in seven games. But they got back into their groove and have only lost one since, improving their record to 20-8.
Who has been at the forefront of all their success? A'ja Wilson and Kelsey Plum.
Since being drafted by the Aces in 2018, Wilson has been steady and this year she is having one of her best seasons with the team, shooting a career-high 49.7 percent from the field.
The 25-year-old won the MVP award back in 2020 when she averaged 20.5 points per game and led her team to the No. 1 spot before the playoffs began.
This year, she's putting up equally impressive numbers, averaging 19.4 points per game to rank fifth in the league. She is also tied for first, with the Minnesota Lynx's Sylvia Fowles, at 9.7 rebounds per game.
The University of South Carolina product's talent shined during the Commissioner's Cup final on July 26 as she piled up 17 points, 17 rebounds and six blocks. The game featured the best two teams in the league and the oddsboard's top favorites to win the championship – Wilson's Aces and the Sky, the reigning 2021 champions.
Though the 93-83 outcome didn't affect regular-season records, it was a crucial contest to measure each team's level of competitiveness. Ultimately, Las Vegas claimed victory and put Chicago on its first losing streak of the season.
To my surprise, Wilson didn't get MVP of the game despite her stellar performance on both ends of the court. Instead, it was given to the Aces' Candace Gray, who collected 19 points.
Wilson's stats from the Commissioner's Cup marked the second time all season that single-game totals of over 15 points, 15 rebounds and five blocks were written next to a name on the scoresheet. Who posted the impressive stats before? Oh, that was Wilson too.
Check Out Our Top Sportsbooks Reviews
Value Pick: Breanna Stewart +200
With fewer games left to be played and playoff spots being clinched, it's clear Wilson is favored at -200, which might not be worth the investment. Las Vegas and Chicago are getting all the attention and so are their players. But sometimes the names flying under the radar represent the best bet for a value pick.
The Seattle Storm's Breanna Stewart is directly behind Wilson in the WNBA MVP odds and leads her team, which sits fourth in the overall standings, in almost every area, including 7.4 rebounds and 1.8 steals per game.
The 27-year-old leads the entire league in scoring, averaging 21.3 points per game, which is just slightly below the 21.8 points per game she averaged in 2018 when she won her first MVP title. Since then, she has averaged over 20 points in every season except 2019, when she fell just short at 19.7 PPG.
Her squad, currently second in the Western Division, should appear in the playoffs looking to take back their title after having won the franchise's fourth championship in 2020. Each time the Storm have been in the WNBA Finals, they have come out victorious.
I'm not saying Stewart's Storm have what it takes to win it all but I expect her to continue making her value known throughout postseason play too. All I'm saying is it's harder to achieve an MVP level without a balanced team.
Wilson's Aces lead the league by scoring 90.4 points per game in comparison to the Storm's 80.5. It's obvious Stewart is Seattle's main weapon, whereas Las Vegas has a few it can depend on, including MVP candidate Plum (+1400). Stewart has a higher value on the court and in your bets at +200.
How To Read WNBA MVP Odds
At an online sportsbook that would list WNBA MVP odds, they would look similar to this:
The minus sign (-) indicates who the odds consider the favorite. In this case, it's the Las Vegas Aces' A'ja Wilson at -200. Every other player who's listed is considered an underdog.
If you believe Wilson will win the WNBA MVP and you bet $100 and it happens, you would win $150 – your $100 is returned and you would gain $50 in profit.
Check out our Odds Calculator to see how much you'd win based on the odds and amount wagered.
Upcoming Events
Doc's Picks Service
Need more winning picks? Get $60 worth of premium member picks from Doc's Sports – a recognized leader and trusted name in sports handicapping since 1971.