Our Top Sportsbooks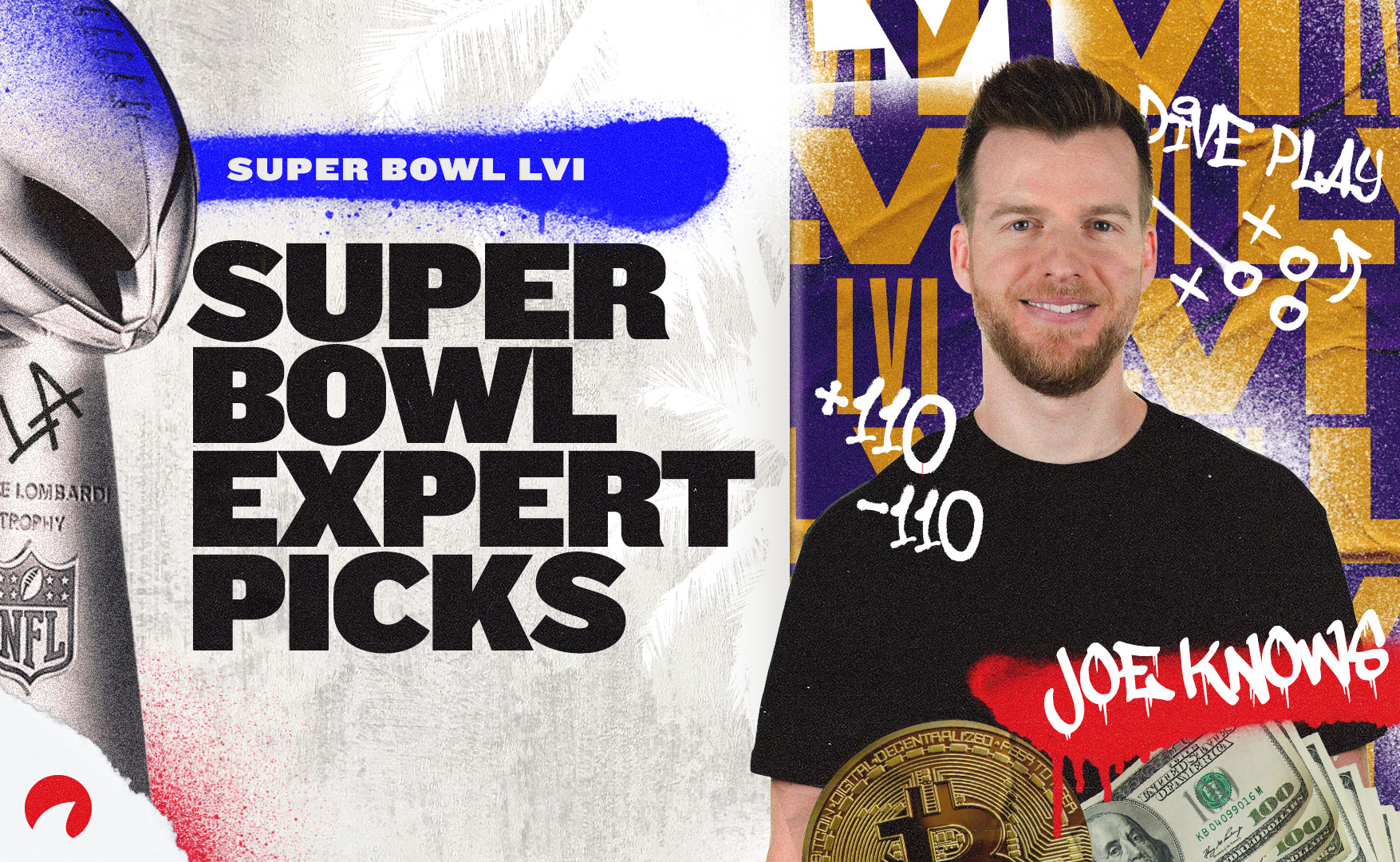 The roller-coaster ride that is betting on the NFL continues here at Odds Shark and we've reached our final destination: Super Bowl 56. For our final NFL expert picks column, we will break down the big game in-depth with picks against the spread and on the moneyline and total.
Here's a look at how we did in the conference championships:
✓ Bengals (+7) at Chiefs
✓ 49ers (+3.5) at Rams
The dogs were barking last weekend, and we nailed both of them.
We thought the Bengals game would be within a touchdown but were as surprised as anyone that they pulled off the upset in Kansas City.
We also thought the 49ers had a great chance to beat the Rams, and although they couldn't finish strong and pull off the upset, the hook on that bet came through as the Niners lost by just three points.
Visit Our Recommended NFL Betting Sites
Now we move on to Super Bowl 56 with a battle of two franchises trying to end long NFL championship droughts – the Rams haven't won the Super Bowl since 2000 and the Bengals have never lifted the Lombardi Trophy. Check out our NFL expert picks below as we try to find the best sides and totals over at Bovada.
If you want to make some player prop bets or novelty prop bets on this year's big game, we've got you covered. Check out Odds Shark's breakdown of this year's Super Bowl odds, Super Bowl MVP odds and everything else Super Bowl-related.
Party Prop Games | Player Props | Exotic Props | National Anthem Prop Bets | Coin Toss Betting | Halftime Prop Bets | Gatorade Shower Odds | MVP Odds
Odds Shark's NFL Expert Picks: Super Bowl
Cincinnati Bengals (+4) vs Los Angeles Rams 
The Cincinnati Bengals are a Cinderella story if there ever was one. They went 4-11-1 last season. Their rookie franchise quarterback and first overall pick tore his ACL halfway through that year. There have been legitimate questions about their defense and offensive line all season long.
But it doesn't seem to matter. There's something special about Joe Burrow and this Bengals team that lets them shine in the biggest moments. 
We can get lost in the analytics and rankings and X's and O's of football and lose sight of the fact that sometimes, when it's just 22 people on a field playing a game, it comes down to who can make the big play at the right time. Joe Burrow is that guy. And his team has shown the never-give-up scrappiness and pugnacity needed to pull off playoff wins in January.
Watch: The Best Super Bowl 56 Quarterback Props
But it's not all "feel" and "grit". The numbers back it up too. Burrow had the top-rated passing grade in the NFL this season per Pro Football Focus. He also had PFF's top offensive grade among QBs, the best completion percentage and the third-best passing grade while under pressure. Needless to say, all of those rankings were higher than those of his Super Bowl 56 counterpart, Matthew Stafford. 
However. The Rams have some ballers of their own as Cooper Kupp and Aaron Donald are probably the two best players, regardless of position, playing in this game. You could argue Jalen Ramsey is the third. And not much further down the list is Von Miller.
The Rams have sold the farm to get to this point, sacrificing essentially all of their high-end draft capital to bring in the likes of Miller, Ramsey, Stafford and Odell Beckham Jr. 
The Miller acquisition in particular could be a key one in this game as the former Super Bowl MVP, along with Donald and Leonard Floyd, present the biggest mismatch on the field.
The Rams pass rush against the Bengals offensive line is a major reason we're picking the Rams to be Super Bowl champions. If we remember back to last season, the favored Kansas City Chiefs were no match for the fearsome Tampa Bay front that chased Patrick Mahomes all over the field and held the Chiefs to just nine points.
The Chiefs offensive line was not healthy for that game, but neither is Cincinnati's, and the talent isn't as good to begin with. The Bengals have been without starting tackle Riley Reiff since Week 14 and starting guard Xavier Su'a-Filo since Week 2. 
But it's a bit too simplistic to say "the Rams will win because of their pass rush." The Bengals know it's a mismatch just like everyone else and they will adjust. But how they adjust will be a major determining factor in how this game plays out.
Do they run the ball more? Do they use a sixth offensive lineman or tight end-heavy sets to maximize their protection? The answer is likely both. The problem is we just don't think those strategies will be super effective. Making the offense more conservative and dedicating more resources to protection minimizes the impact of the team's best players: Burrow, Chase and Higgins.
We still expect the offense to make enough plays to put some points on the board. But in a game we expect to be close, we like the Rams' superior talent level and pass rush to shine through and pull off the victory. 
That said, we like the Bengals to cover the 4-point spread in a close game that should come down to the wire.
PICK 1: Bengals +4
PICK 2: Rams ML
Super Bowl Expert Picks: OVER/UNDER 48.5
That Rams pass rush is also a major reason we like this game to go UNDER the total of 48.5. We have seen some 49s out there and would recommend jumping on that number if possible, but our pick here is UNDER the current number over at Bovada.
We expect the Bengals offensive line to be a problem that holds back the Bengals offense from shining, much like what happened in their divisional-round win over Tennessee, but the other major reason is the conservative nature we have seen from the Super Bowl coaches.
Both Sean McVay and Zac Taylor (who worked under McVay in L.A. as quarterbacks coach) have shown a willingness to settle for field goals instead of aggressively pushing for touchdowns – decisions widely panned by the analytics community. 
Add Another NFL Sportsbook Today
Taylor in particular has been criticized for his conservative play-calling and tendency to settle for field goals. For example, the Bengals ran the ball on 17 of their 27 first downs against the Chiefs. 
We think there could also be some Super Bowl jitters early in the game with so many key players on both teams playing in their first Super Bowl and we like the UNDER for first-half points as well.
All those factors have us leaning toward the UNDER in Super Bowl 56 expert picks.
PICK 3: UNDER 48.5
---
Upcoming Events
Doc's Picks Service
Need more winning picks? Get $60 worth of premium member picks from Doc's Sports – a recognized leader and trusted name in sports handicapping since 1971.