Our Top Sportsbooks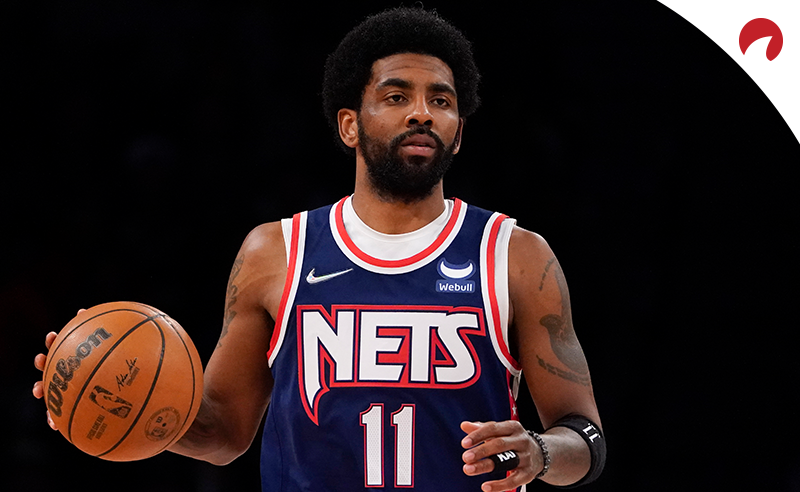 "Normal people keep the world going, but those who dare to be different lead us into tomorrow."
This was the cryptic quote NBA superstar Kyrie Irving gave to The Athletic's Shams Charania after deciding to opt into his $37.5-million player option for this season with the Brooklyn Nets.
If only the rest of us were as daring as Kyrie.
It's hard to tell what's going on in the seven-time all-star's head most of the time, thus making it hard to predict what his next move is. 
The enigmatic guard's immediate future appeared to be set in stone earlier this week after he decided to stay in Brooklyn, but now with teammate Kevin Durant reportedly requesting a trade away from the Nets, Irving's future with the team is once again in question.
Online sportsbook BetOnline Sportsbook has released Kyrie Irving next team odds in response to the situation, with the Los Angeles Lakers now the favorite to land him at -300.
Join A Top-Tier NBA Betting Site Now
Check out the latest odds below with our breakdown of where Kyrie might end up. And head over to our NBA free agency odds page for the latest on this whirlwind start to the NBA offseason.
Kyrie Irving Next Team Odds
Kyrie Irving Next team odds if traded

| Team | Odds |
| --- | --- |
| Los Angeles Lakers | -300 |
| New York Knicks | +500 |
| Los Angeles Clippers | +600 |
| Miami Heat | +700 |
| Dallas Mavericks | +800 |
| Memphis Grizzlies | +1200 |
| Philadelphia 76ers  | +1400 |
| Phoenix Suns | +1600 |
Odds as of July 1 at BetOnline Sportsbook 
Join A Top-Tier NBA Betting Site Now
Where Will Kyrie Play Next?
After being granted permission to look for sign-and-trade destinations throughout the league, Kyrie decided to opt into his one-year deal with the Nets after reportedly finding the list of teams who could – or wanted to – acquire him to be a little less desirable than he may have thought.
According to Charania, only Detroit, San Antonio, Orlando, Indiana and New York had the needed cap space to take on Kyrie in a sign-and-trade scenario and all of those teams are in the middle of rebuilds around younger players. 
The Los Angeles Lakers were reportedly interested in Kyrie, but more as a free-agent signing than as a trade target,  thus leading Kyrie to be daring enough to do something dozens of NBA players do every year – opt in.
However, what Kyrie may not have foreseen was how teammate Kevin Durant saw himself fitting into all of this. Despite having four years left on his contract, Durant reportedly informed the Nets of his desire to be traded, and it looks like they will fulfill his request.
That leaves Kyrie in a bit of a weird spot. 
Why would the Nets keep Kyrie and the headaches he often presents if they're going to trade Durant away? And can the Nets even compete for a championship if they trade Durant? The answers are: they wouldn't, and no.
So, where will Kyrie land?
The favorite is understandably the Lakers as there appears to be mutual interest from Kyrie and L.A. for him to play with LeBron James once again. But would that mean the Nets having to take on Russell Westbrook and his bloated contract? That doesn't make much sense for Brooklyn, and Westbrook would be a terrible fit with Ben Simmons.
The Knicks are the next team on the list, but they are reportedly fixated on signing point guard Jalen Brunson away from Dallas. How would Kyrie work with Brunson there to be the primary ball-handler? 
The bottom line here is we wouldn't put it past Kyrie to simply sit out until the Nets trade him where he wants to go. We already saw him give up $11 million last season after refusing to get vaccinated.
If that happens, we wouldn't be surprised if the Lakers are his final destination.
The best bet in Kyrie Irving odds might be to wait and see how the Durant situation plays out. Otherwise, we might be holding our nose and clicking on the Lakers at -300.
Upcoming Events
Doc's Picks Service
Need more winning picks? Get $60 worth of premium member picks from Doc's Sports – a recognized leader and trusted name in sports handicapping since 1971.