Our Top Sportsbooks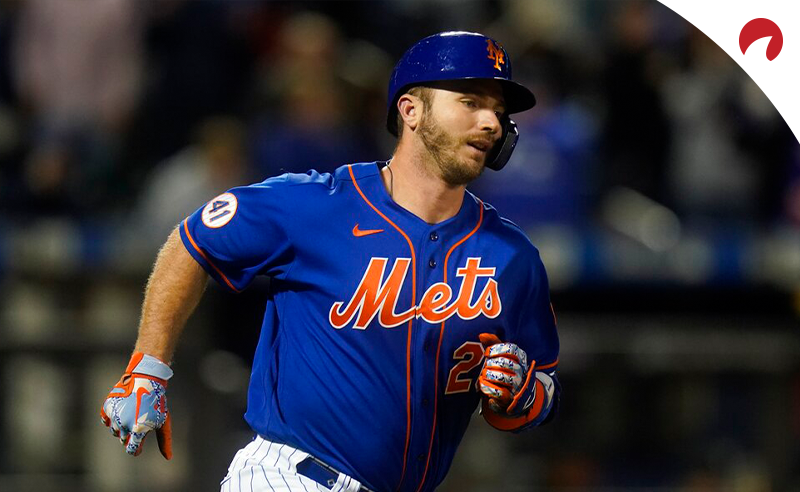 The Atlanta Braves are the reigning World Series champs, but now they look up at the New York Mets in 2022 NL East odds.
Almost 50 games into the 2022 Major League Baseball season, it's time to examine the updated odds to win the NL East. Online sportsbook BetOnline Sportsbook has provided us with new NL East odds and the Mets (-275) are heavily favored over the defending champion Braves (+325).
Using our sports betting calculator, these 2022 NL East odds tell us that the Mets have an implied win probability of 73.33 percent.
Mets, Braves Battle In 2022 NL East Odds
2022 National League East Odds

| Team | Odds |
| --- | --- |
| New York Mets | -275 |
| Atlanta Braves | +325 |
| Philadelphia Phillies | +700 |
| Miami Marlins | +3300 |
| Washington Nationals | +50000 |
Odds as of May 30 at BetOnline Sportsbook
See Odds Shark's Best MLB Sites
New to betting on baseball? Be sure to check out our How to Bet on MLB betting guide. Also, keep an eye on our MLB odds page for the latest up-to-date betting lines.
Best Bet: New York Mets -275
After an offseason of splashy acquisitions, the Mets were at the top of these NL East odds and in World Series odds to begin the season. Despite some weird bounces and rough early-season injuries, they've justified bettors' faith with a strong start, further solidifying themselves as NL East favorites.
Though dominant starters Max Scherzer and Jacob deGrom are both on the shelf with injuries right now, the Mets are still building their division lead. With both Cy Young-caliber righties set to return in a few weeks, the Mets will only get better. Get in while there's still some value – even the Mets can't mess this one up, right?
Can The Braves Repeat?
The Braves are at it again, middling out around .500 and dropping out of division contention early in the season. But this is exactly what the Braves did last year, and we all know what happened. Atlanta could load up at the trade deadline, surge into the division lead and snatch another World Series title. Would I bet on it? Not at these odds.
Is There Value In The Marlins, Phillies Or Nationals?
Despite Cy Young-tier pitching and some NL MVP candidates, the NL East bottom-feeders aren't doing much to start off the 2022 season.
Bryce Harper's Phillies are the best of the bunch, and they're currently 10.5 games out of the NL East lead before even playing 50 games. The Phillies added some big-name hitters in the offseason, but it hasn't seemed to change much in 2022. Behind the Phillies, the Marlins and Nationals have both been incapable of scoring runs and look like two of the worst teams in baseball.
Even with all the talent on the Phillies, Marlins and Nationals, the NL East is playing out almost exactly as most people thought. The Mets and Braves are doing battle in the top two spots, and no one else is even going to sniff a playoff spot.
---
What Is A Futures Bet On NL East Odds?
When you decide to bet on the National League East odds for Major League Baseball, you'll see an option to bet on which team will win the division. Since you're betting on events that will happen in the near future, this is called a futures bet.
At your sportsbook, you would see NL East odds listed like this:
Similar to a moneyline bet, the clear favorite is indicated by the minus odds symbol (-) and the rest of the teams listed are considered underdogs.
If you were to bet $100 on the Mets at the beginning of the season and they win the NL East Division, you'd get a payout of $380 – your original $100 is returned, along with your winnings of $280. On the other hand, the same bet amount on the Marlins would give you a payout of $2,900 – you get your $100 back, plus your profit of $2,800.
Our Odds Calculator can help you determine how much you'd pocket depending on the odds and the amount bet.
Upcoming Events
Doc's Picks Service
Need more winning picks? Get $60 worth of premium member picks from Doc's Sports – a recognized leader and trusted name in sports handicapping since 1971.