Our Top Sportsbooks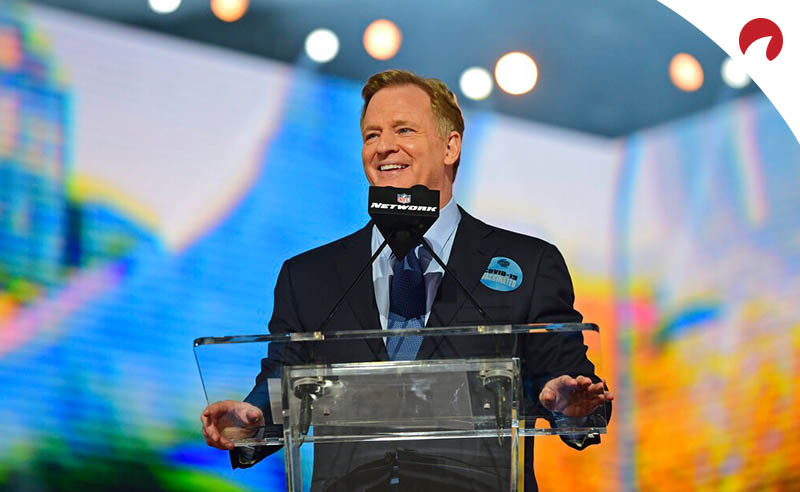 Do you love the NFL draft but are new to betting? Do you love betting but haven't wagered on the draft before? No sweat. We've got you covered like the Legion of Boom!
NFL football is widely considered to be the most popular sport for betting in the United States and Canada. NFL bettors today aren't just looking at spreads, totals and Super Bowl futures odds. They want to bet on every part of the league calendar, including placing bets on the NFL draft. In this How to Bet on the NFL Draft guide, we'll show you the types of bets you can make so that you'll be ready tackle the draft like Terry Tate against office workers.
How To Sign Up At A Sportsbook To Bet On The NFL Draft
Step 1:
Before you learn how to bet on the NFL draft picks, you should select the best sportsbook for you. Sportsbook is the fancy industry name for the betting site or bookmaker you visit to bet on the draft. All of the betting sites we champion are reputable, safe, secure and meet our criteria, otherwise we wouldn't recommend them. There are a number of online betting sites to place your first NFL draft bets with.
Our Favorite NFL Betting Sites
Step 2:
Sign up. The process is simple and takes only a few minutes. All you need is your name, email address and your deposit information ready. You will also need to enter your birthday to prove that you are of legal betting age.
Fill out the relevant information and wait for a confirmation email or link. Make sure you have your deposit info handy because once the sign-up process is complete, you can place your first bet.
Step 3:
Make a deposit. How you want to fund your account is up to you. Playing for real money at your sportsbook of choice involves finding a deposit option that makes sense for your needs.
The majority of betting sites allow you to make deposits using your credit cards (Visa, MasterCard, AMEX), e-wallets (PayPal, Neteller, Skrill) and debit. Many online sports betting sites will accept cryptocurrency as a deposit method. Generally, you'll find gambling sites that take Bitcoin, Litecoin, Dash and Ethereum.
Step 4:
Place your wager. Now that you're equipped with enough information to get you going, and you know how to bet on the 2022 NFL Draft, choose a sportsbook from our list and get started!
How Does The NFL Draft Work?
The NFL draft consists of the 32 teams of the National Football League welcoming in the newest crop of players. The order of the NFL draft is decided based on the previous year as the teams with the lowest winning percentage will have the highest draft pick slots.
The team with the worst record in the NFL the previous season will generally have the first overall pick and will be able to select any player eligible for the NFL draft. To be eligible to enter the draft, a player must be at least three years removed from high school.
With so many players on an active NFL roster, you are probably thinking "How many rounds are there in the NFL draft?" In the draft, there are seven rounds and the entire draft process plays out over a three-day span.
With such a long and intense process, teams often put it all on the line and make huge moves, while others swing and miss. For the teams that truly miss the mark in the offseason and lose more free agents than they gain, the NFL will supply them with compensatory picks that will be applied in the following offseason.
How Do NFL Draft Odds Work?
You're generally deciding between two possible outcomes, either the OVER or UNDER on draft position, or the number of a certain position to be selected. The biggest difference is in picking from select groups of players to be chosen with the No. 1 pick or to be the top player selected at their position.
What are the best places to find NFL draft betting odds? Online sportsbook BetOnline Sportsbook releases a long list of odds for the NFL draft, including the first player drafted at each position, specific rounds for when players will be taken, and OVER/UNDERs on draft position.
Wagering On The NFL Draft: Betting Options
If you're just learning how to bet on the NFL draft, the most common bet type is for who will be the first overall pick. Bet options will focus on the top prospects, especially at the skill positions. Players' potential landing spots, as well as their draft spot, are available betting options.
Bets will also separate players by position and look at who will be the first QB, WR or RB to be taken. People will also be able to bet on how many of a certain position will be selected in the first round, or overall. Prospects may also be pitted head-to-head for who is the first to be picked.
Moneyline: How To Make A Straight-Up Bet On The NFL Draft
When you visit any of the top online sportsbooks, you'll see odds that look like this for who will be the No. 1 pick in the 2022 NFL Draft:
In this case, Aidan Hutchinson is the favorite to be selected first overall by the Jacksonville Jaguars. We know this by the minus sign (-). The others are considered underdogs. We know this because of the plus sign (+).
If there is no clear favorite, then the player with the lowest odds would be it. If Hutchinson was at +150 instead of -180, he'd still be the favorite since those odds would still be the smallest.
If you think Walker will be the first overall pick, and you bet $100 on the edge threat out of Georgia, you would get a payout of $275. You would get your original $100 back plus your winnings of $175. If you think Ikem Ekwonu, Malik Willis or anyone else with even lower odds of being the first overall pick will be selected at No. 1, you can make a significant profit if you're correct.
Our Odds Calculator will show you how much you'd win based on the odds and amount bet.
What Is A Draft Prop Bet?
When you bet on the NFL draft, you're making a prop bet. Short for proposition, this is a bet on the occurrence or non-occurrence of certain player or team milestones that may not directly correlate to the outcome of a particular game. You can make this kind of bet as soon as draft odds are announced. If you see odds you like, jump on them quickly as the lines could move or be taken off the board. 
Prop bets are fun side bets for established gamblers or those just learning how to bet on the NFL draft online and can involve just about anything. NFL draft props will range from:
Totals: Betting On Draft Position
When you're wagering on the draft, you're betting on either the OVER or UNDER on draft position. For example: Where will Garrett Wilson be drafted?
| Option | Odds |
| --- | --- |
| OVER 12.5 pick | +110 |
| UNDER 12.5 pick | -150 |
If you think Wilson will be selected anywhere between 1 and 12, and you bet $150 on the wide receiver, you would get a payout of $250. You would get your original $150 back plus your winnings of $100.
If you think Wilson will be selected 13th overall or later, and you bet $100 on the Ohio State wideout, you would get a payout of $210. You would get your original $100 back plus your winnings of $110.
The numbers under the Odds column are the juice. This is the cut the sportsbook takes from your bet. It's like paying a tax or commission.
When you see -150, it means you have to bet $150 to win $100. When you see +110, it means you'll have to bet $100 to win $110.
Live Draft Betting: Wagering While The Draft Is Unfolding
One of the greatest things about betting on the NFL draft, besides the potential to win money, is live betting. Football wagering sites offer live odds and lines as the draft is going on, giving you the chance to bet on almost every selection. If a prospect gets drafted fifth overall instead of 12th as he was initially projected, then that will have an effect on live odds and lines with regard to the remaining selections.
Best Sportsbooks for NFL Draft Betting
Futures: Who Will Win It All?
Football betting sportsbooks offer NFL wagering year-round in the form of futures. These are bets made on events that usually take place at the end of the season. You can bet on things like which teams will win their divisions, NFL season win totals, which teams will make it to the Super Bowl, total passing and rushing yards, where NFL free agents will land, and all NFL draft picks.
Learning how to bet on the NFL draft can even help your overall football betting. The draft will have a direct impact on futures based on team selections, so check out updated odds on which team will win the championship in 2023 in our Super Bowl 57 odds article!
How To Bet On The NFL Draft FAQ
Can I Bet On The NFL Draft?
Yes, you can bet on the NFL draft. You can wager on things like which player will be drafted first overall, who will be the first wide receiver selected, whether a particular player will go OVER/UNDER a certain draft position, or even the number of running backs who will get drafted.
How Many Rounds Are In The NFL Draft?
There are a total of seven rounds in the NFL draft. Teams are given 10 minutes to make each pick in the first round, seven minutes to make each selection in the second round, five minutes to make each pick in rounds 3 through 6, and four minutes for each pick in the seventh and final round.
How Long Does The NFL Draft Last?
The NFL draft is conducted over three days at an approximate total length of 13 to 14 hours. The first-round broadcast of the NFL draft lasts roughly three hours. Rounds 2 and 3 last around four hours, and rounds 4 through 7 of the NFL draft take anywhere from six to seven hours.
Doc's Picks Service
Need more winning picks? Get $60 worth of premium member picks from Doc's Sports – a recognized leader and trusted name in sports handicapping since 1971.