Our Top Sportsbooks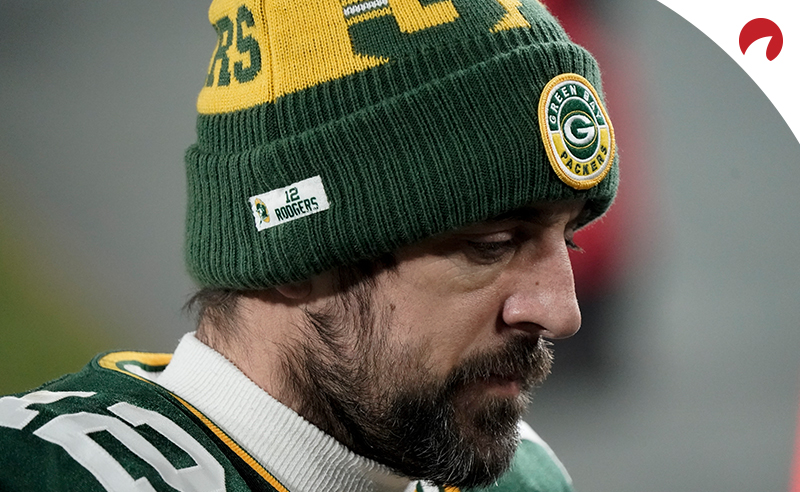 Since getting selected with the 24th pick in the 2005 NFL Draft by the Green Bay Packers, Aaron Rodgers has become as much of a staple in Wisconsin as cheese, beer and cold weather.
For the last year or so, however, the future Hall of Famer's tenure with the Packers has felt like it has been in serious jeopardy. Rodgers and the organization were at a crossroads last offseason, but he returned to play the entire year. As we head into another offseason, there is a new team that has emerged as the favorite to land the star quarterback.
See Odds Shark's Best NFL Sites

According to Aaron Rodgers odds at Bovada, the chances of No. 12 suiting up for another team by Week 1 of the 2022 season seem to be increasingly likely. The Broncos are the new -130 favorites to add Rodgers' services, with the Packers (+165), Pittsburgh Steelers (+600) and Miami Dolphins (+1200) following at the top of the list.
For more information on the various ways to bet on football, check out our How to Bet on the NFL page. To find the sportsbook that's right for you to wager on the gridiron, let our sportsbook review give you a hand.
Here's a look at the book's full list of Aaron Rodgers odds:
Aaron Rodgers Odds
What team will Aaron Rodgers play for in Game 1 of the 2022 NFL Season?

| Option | Odds |
| --- | --- |
| Denver Broncos | -130 |
| Green Bay Packers | +165 |
| Pittsburgh Steelers | +600 |
| Miami Dolphins | +1200 |
| Las Vegas Raiders | +1500 |
| Philadelphia Eagles | +1500 |
| New Orleans Saints | +1600 |
| Cleveland Browns | +1600 |
Odds as of January 29 at Bovada
Where Will Aaron Rodgers Play In 2022: The Favorites
Denver Broncos (-130)
The Denver Broncos have been one of the teams rumored to be interested in Rodgers dating back all the way to last offseason. Just days ago, Rodgers' now former offensive coordinator, Nathaniel Hackett, was hired as head coach of the Broncos.
See Odds Shark's Sportsbook Review Page
Rodgers has had nothing but amazing things to say about his former OC, at one point saying, "There's nobody in the building that brings me more joy than Nathaniel Hackett. I hope he doesn't go anywhere ... Unless I do." That is some incredibly high praise from the probable NFL MVP for the 2021 season.
A Hackett-Rodgers reunion in Denver is looking to be more and more of a possibility. The oddsmakers believe it too as they have the Broncos pegged as the fairly heavy favorites to land Rodgers. If he were to move to the Mile High City, he would inherit a similar offense in the sense that he would have two really good, young power running backs at his disposal.
Green Bay Packers (+165)
One of the obvious favorites to land Aaron Rodgers is his current team, the Green Bay Packers. Despite the rift between the front office and Rodgers last offseason, he was able to put that aside and play arguably his best season in the NFL.
With that being said, the Packers are going to need a whole lot in return if they are going to move the probable MVP winner of this season. Although he is 38 years old, he is at the top of his game and has a lot to prove after an early playoff exit.
If Rodgers were to stay, that would likely get arguably the best receiver in football in Davante Adams to stay, and the Packers still have one of the best running back duos in football in Aaron Jones and A.J. Dillon. 
There weren't too many holes in the Packers roster, besides special teams, which could be fixed this offseason. Another thing that should be noted is that the Packers play in a much less competitive division in the NFC North. If Rodgers moves to Denver, for instance, he would be in the same division as the Chiefs and Chargers.
Aaron Rodgers staying in Green Bay is still a real possibility, but Denver becoming the odds-on favorite for a guy who isn't even on their roster is quite telling of where the oddsmakers believe he will be.
Pittsburgh Steelers (+600)
The Steelers are an interesting destination for the star quarterback, as they have just lost their franchise signal-caller, Ben Roethlisberger. The Steelers have been one of the best organizations for the last decade or more as Mike Tomlin continues to be one of the top head coaches in the NFL.
Pittsburgh has a very formidable defense and exceeded many expectations this year by squeaking into the playoffs. Looking at holes on the roster, quarterback is clearly the biggest one, with the offensive line not too far behind.
One thing that the Steelers do have is a tremendous array of weapons at their disposal. Running back Najee Harris was outstanding in his rookie season considering their offensive line struggles and wide receiver Diontae Johnson took a massive leap in becoming one of the elites.
With what appears to be a weaker draft class when it comes to quarterbacks, the Steelers are certainly in the market for one and who better to bring in than Aaron Rodgers. He is used to playing in cold weather so that wouldn't be an issue and like the Packers, the Steelers are a historic franchise.
Aaron Rodgers and the Pittsburgh Steelers are a great fit, but teams in contention would have to give up a whole lot to get the 38-year-old quarterback. Which team is willing to do that ... we may find out very soon!
Best Bet: Green Bay Packers (+165)
Upcoming Events
Doc's Picks Service
Need more winning picks? Get $60 worth of premium member picks from Doc's Sports – a recognized leader and trusted name in sports handicapping since 1971.