Our Top Sportsbooks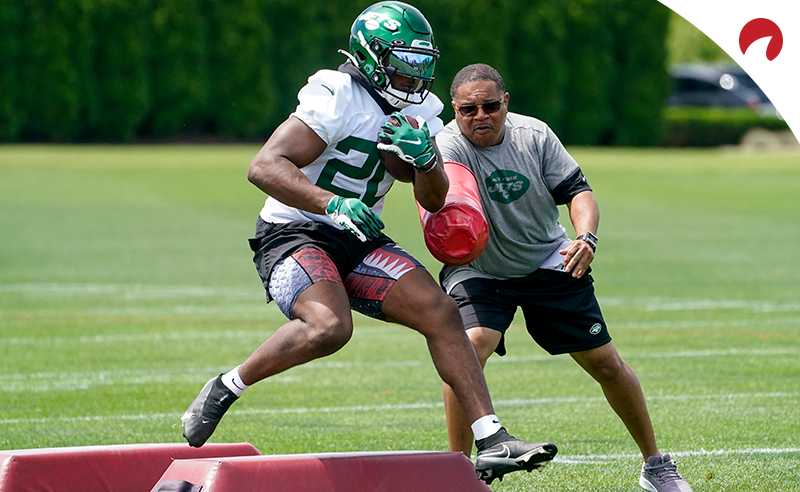 With the 2022 NFL regular season just days away from its start, now is the perfect time to bet on NFL awards and futures.
This year's NFL draft had defense flying off the board early and often with the first five picks coming on the defensive side of the ball. However, there were still some dynamic offensive players selected who are great options for NFL Offensive Rookie of the Year accolades. 
With the latest NFL Offensive Rookie of the Year odds from Bodog, the early favorites are Jets RB Breece Hall and Saints WR Chris Olave, both at +750.
To find the top places to bet on football, head over to our best NFL betting sites page. For more information on the various ways to bet on the NFL, make sure to check out our How to Bet on the NFL page.
Add Another NFL Sportsbook Today
Hall, Olave Lead NFL Offensive Rookie Of The Year Odds
2022 NFL Offensive Rookie of the Year Odds

| Player | Odds |
| --- | --- |
| Breece Hall | +750 |
| Chris Olave | +750 |
| Drake London | +900 |
| Garrett Wilson | +1000 |
| Jalen Tolbert | +1000 |
| Kenny Pickett | +1000 |
| Skyy Moore | +1000 |
| Treylon Burks | +1000 |
| Christian Watson | +1200 |
| Kenneth Walker III | +1200 |
| James Cook | +1500 |
| Dameon Pierce | +1800 |
| Jameson Williams | +1800 |
| George Pickens | +2000 |
| Jahan Dotson | +2000 |
| Romeo Doubs | +2000 |
| Desmond Ridder | +2500 |
| Alec Pierce | +3000 |
| David Bell | +3000 |
| Rachaad White | +3000 |
| Kyren Williams | +4000 |
| Isaiah Spiller | +4500 |
| Malik Willis | +5000 |
| Trey McBride | +5000 |
| Tyler Allgeier | +5000 |
| Wan'Dale Robinson | +5000 |
| Isiah Pacheco | +5500 |
| Zamir White | +6000 |
| Matt Corral | +7500 |
| Sam Howell | +7500 |
| Tyquan Thornton | +7500 |
| Kyle Phillips | +8000 |
| Brian Robinson Jr. | +10000 |
| Cade Otton | +10000 |
| Calvin Austin III | +10000 |
| Charles Cross | +10000 |
| Evan Neal | +10000 |
| Ikem Ekwonu | +10000 |
Odds as of August 12 at Bodog
How To Bet On NFL Offensive Rookie Of The Year Odds:
Unlike some other NFL awards like NFL MVP, there isn't a particularly strong formula to picking who will win the rookie of the year honors other than the fact that it is usually a first-round pick.
Each of the last four winners was a top-six pick in the draft and 15 of the last 20 were first-round picks. The five outliers were Alvin Kamara (3rd round), Dak Prescott (4th), Eddie Lacy (2nd), Anquan Boldin (2nd) and Clinton Portis (2nd). 
Position doesn't seem to matter much, but it's usually a quarterback or running back who wins as nine of the last 20 were QBs, seven were RBs and four were WRs, including last year with Bengals WR Ja'Marr Chase.
With only one QB drafted in the first round this season and none of the QBs expected to start right away, it's safe to say this year's winner will likely be a RB or WR. No offensive lineman has ever won the award.
Offensive Rookie Of The Year: The Favorites
RB Breece Hall (+750)
It's easy to see why Hall is the co-favorite in NFL Offensive Rookie of the Year odds. A five-foot-11, 217-pound all-purpose back who ran a 4.37 40-yard dash, Hall looks a lot like Jonathan Taylor from an athletic profile standpoint.
Hall had a whopping 23 rushing touchdowns in each of his final two college seasons at Iowa State and showed that he's a capable receiving back by catching 82 passes in three college seasons, including 36 last year.
The knock on Hall in NFL Offensive Rookie of the Year odds is the fact that he was drafted by the Jets. Their already-questionable offense suffered a major blow with the loss of starting left tackle Mekhi Becton for the season due to a knee injury, and there are still plenty of questions about how good QB Zach Wilson actually is and how many touchdowns the Jets will score this season.
That said, the Jets definitely look better on paper heading into the year with the addition of Hall, multiple offensive linemen and receiver Garrett Wilson (+1000) in the first round.
There's also a good chance the Jets try to limit Zach Wilson's attempts and support him with a strong running game, which helps Hall's chances. He's a solid bet at +750.
Chris Olave (+750)
The Saints traded up in the first round of this year's draft to select Olave at No. 11 as the third receiver off the board, and it's easy to see why. A fantastic route-runner already, Olave put up good numbers at Ohio State on a stacked offense with several passing game options.
Olave now enters a Saints offense that is a bit of a mystery without longtime coach Sean Payton calling the shots and with QB Jameis Winston returning from an ACL tear. Olave figures to get plenty of run with Michael Thomas also returning from a long injury, but we fear there are too many options in this passing game for a rookie to emerge as the go-to guy, or close to it.
Jarvis Landry was also added this offseason and Alvin Kamara figures to earn a bunch of targets on a team we think will probably try to limit Winston's attempts to begin with. There are other players we prefer in Offensive Rookie of the Year odds.
See Our Most Trusted NFL Betting Sites
NFL Offensive Rookie Of The Year Odds: Best Value Picks
Romeo Doubs (+2000)
Doubs put up huge numbers at Nevada in college, and has seemingly translated that production into a noteworthy training camp with the Packers. Doubs might be the most hyped player on the team right now, and despite being a fourth-round pick he appears to be heading toward a fairly prominent role with the team.
This could just be camp hype, but oddsmakers clearly believe there is something to the news, having moved him from an obscure long shot to +2000 odds. The Packers are rail-thin at receiver and fellow rookie and second-round pick Christian Watson is hurt. Could the stars be aligning for Doubs?
Isiah Pacheco (+5500)
Is Pacheco the next Darwin Thompson? Or the next Elijah Mitchell?
The seventh-round pick is getting major camp buzz with some suggesting the Rutgers product could win the starting job in Kansas City.
The Chiefs already have in place former first-rounder Clyde Edwards-Helaire, who has been a major disappointment, and veteran Ronald Jones, who rumors suggest could be a cut candidate. This opens the door for Pacheco, who ran a 4.37 40 time, a 99th percentile time for someone his size, according to Player Profiler. Pacheco didn't put up big numbers in college, but he played on one of the worst teams in the country.
Crazier things have happened, but there's a reason Pacheco is even on this list when so many players drafted in his range will never play a snap. He's a good long-shot bet.
Zamir White (+6000)
White is big and fast and was drafted by the current Raiders regime. That's a lot more than we can say about incumbent starter Josh Jacobs, who has rumors of a potential trade swirling around him.
Jacobs was asked to play in part of the Hall of Fame Game, a rarity for starters, which started the narrative that the coaching staff may not be happy with him. A more likely scenario is new coach Josh McDaniels wants to deploy a running back-by-committee approach like he did in New England and use several backs at once rather than one workhorse. 
Either way, if Jacobs is on the outs, it opens the door for White, a guy the team obviously likes who also profiles a lot better athletically than Jacobs. White is a great long-shot bet. 
---
How To Bet NFL Offensive Rookie Of The Year Odds
At any NFL betting site, you'll see offensive rookie prop odds laid out like this:
Drake London -325
Kenny Pickett +215
Unlike a traditional bet where there is a clear favorite and underdog, the player with the lowest odds is the fave. The rest are considered dogs. If you think London is the way to go, and you bet $100, you'd get a payout of $130.77 – you get your original money back along with your winnings of $30.77. Conversely, if you believe Pickett is going to win it, that same $100 would give you $315 – your $100 is coupled with the $215 you'd win.
Our Odds Calculator is a tool that will show you what you'd win based on the amount you bet and the odds offered.
If you're going to bet on underdogs, make sure to do your research – or at least bookmark this page and let our NFL experts do the work for you. There's a reason that a player's odds are a certain way. They've succumbed to injury, their production is slowing down, they've been traded and are having a hard time jelling with their new team – these are some of the many factors that will hinder a player in winning Offensive Rookie of the Year (OROY).
What Is A Prop Bet On NFL Offensive Rookies?
To wager on something like the OROY, you would be making a prop bet. This is a bet based on the occurrence or non-occurrence of specific milestones that may not correlate directly to the outcome of a certain matchup.
For instance, a contender for this award could play on a mediocre squad yet still be in the running due to his on-field prowess. It wouldn't matter if his team wins football games or not, as long as he's racking up yards and catches.
NFL Offensive Rookie of the Year FAQ
Can I bet on the NFL Offensive Rookie of the Year?
Who is the favorite to win the NFL Offensive Rookie of the Year?
Steelers QB Kenny Pickett and Falcons wide receiver Drake London are the current betting favorites to win the NFL Offensive Rookie of the Year award. They are currently tied at +600 to win the award.
Who won the NFL Offensive Rookie of the Year in 2021?
It was Cincinnati Bengals WR Ja'Marr Chase who won the NFL Offensive Rookie of the Year award in 2021. The fifth overall pick in the 2021 NFL Draft caught 81 passes for 1,455 yards and 13 touchdowns during the regular season.
Upcoming Events
Doc's Picks Service
Need more winning picks? Get $60 worth of premium member picks from Doc's Sports – a recognized leader and trusted name in sports handicapping since 1971.