You've learned the basic rules of poker, signed up for an online poker account and you're ready to play. What's the best game to start your poker journey?
It used to be relatively simple as there simply weren't many games to play. Casinos generally spread cash games and little else.
What are Easy Poker Games?
These days, players have a variety of different poker games to choose from, including Hold'em, Pot-Limit Omaha, Seven-Card Stud, Razz, Short Deck and more in addition to a number of different formats including cash games, tournaments, Sit & Go's, jackpot, bounty and many, many more.
So with that amount of choice, where's the best place for a beginner to start? It's actually pretty simple and we lay out some of the best options below in our ongoing Poker 101 series.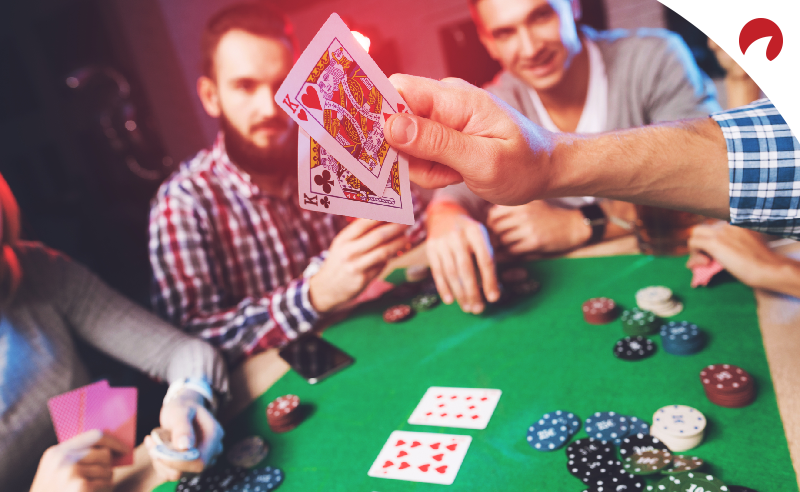 Best Poker Variations for Beginners
When you're first learning to play poker online, it can often be a bit overwhelming. It's easy to get lost in all the rules, terms and variations of poker out there. Not to mention all the side bets, bonus rounds, live dealer games and more. It's enough to make your head spin.
That's why we've put together a short list of the easiest poker variations for beginners to learn. Playing a few rounds should help give you the confidence you need to eventually tackle the big tournaments (but more on that later). Everyone has to start somewhere, right?
Pot-Limit Omaha (PLO)
Omaha poker has become one of the most popular easy poker game variations in the last decade. The gameplay is similar to Texas Hold'em and it's one of the easiest games for beginners to learn. There are two variations of Omaha poker; Omaha Hi-Lo, and Pot Limit. We suggest that beginners start with Pot Limit Omaha to get the feel for this game. Pot limit simply means that there is a betting limit placed on the game. No raise may exceed the amount in the pot at the time the raise is made.
Here is the basic gameplay for Omaha Poker:
There are five phases - the pre-flop, the flop, the turn, the river and the showdown.
Game play starts once the big blind and small blinds place their bets.
The players are each dealt 4 cards, face down and the betting round begins
The dealer places community cards face up in the flop, turn and river rounds
In the showdown, players use at least two of the cards in their hand in combination with any of the community cards to make a 5-card hand
The highest ranking hand wins the round
Seven-Card Stud
Seven card stud is probably one of the most famous poker variants. It's really easy to get started:
Each player is dealt two face down cards and one face up in turn.
Players place their bets
There are four subsequent betting rounds where players receive three more cards face down, and one more face up. Bets are placed after each of these rounds.
At the showdown, players turn up all their cards and select five of the seven cards as their hand. The remaining two cards are discarded.
The highest ranking hand wins.
In the popular five-card stud variation, players are dealt 5 total cards, not 7.
Razz
Razz Poker is one of the oldest forms of poker. It's also an easy poker game to learn and it's a great introduction to lowball poker for beginners. The object of lowball poker is to make the lowest possible hand, not the highest.
In Razz, you're dealt seven total cards (the game play is very similar to 7 Card Stud). You then select five of those cards to make your low hand. The best possible hand you can get in Razz Poker is A-2-3-4-5.
Eight or Better
Eight or Better poker is another variation of Seven Card Stud. This is a split pot game in which you need to make the best five-card high and low hand with the cards you're dealt.
All the cards in a qualifying low hand must be an 8 or lower. The ace is the lowest card and the lowest possible hand is the same as Razz poker—A-2-3-4-5.
If no player has a low hand that qualifies, the entire pot goes to the player with the highest hand. If you're lucky you can scoop the pot if you have both the high and low hand in the round.
Texas Hold'em
In the world of online poker (and poker in general) there's no bigger game than Texas Hold'em Poker. This variation is the one you've all heard about. It became incredibly popular in the 2000s thanks to tons of exposure in the media. It continues to be one of the most popular variations today. The great thing about Texas Hold'em poker? Even though it sounds complicated, it's an incredibly easy poker game to learn.
Texas Hold'Em is similar to Omaha, but you only get two hole cards with which to build your hand, not four.
Each player is dealt two hole cards and a betting round takes place.
In the flop, the dealer places three community cards face up on the table followed by another betting round. This is then followed by the Turn and the River rounds.
At the showdown, each player makes the best possible five-card hand from any of the cards in play (two hole cards and five community cards).
In today's online poker rooms, you can play Limit Texas Hold'em or No Limit Texas Hold 'em.
No-Limit Hold'em is King
Despite the rising popularity of games like Pot-Limit Omaha and Short Deck Poker, No-Limit Hold'em is still the overwhelming favorite in the poker world.
It's easy to see why, as Hold'em is arguably the easiest game to learn and the most entertaining to watch. In Hold'em, each player starts with just two cards and then makes use of a community board that every player can see.
If you're a No-Limit Hold'em specialist, then you'll always be able to find a game wherever you go. That's not as easy for someone who prefers a game like Razz or Badugi.
That's not to say that other games don't have value, in fact some of them might arguably be easier to beat, but Hold'em is the perfect place to start your poker education.
Back in the day, beginner poker players would start with Limit Hold'em, but over the last few years people have started skipping straight ahead to No-Limit Hold'em.
There's no real danger in going straight to No-Limit Hold'em. It's true there's a little more volatility in Hold'em but you can always play small enough stakes so that it doesn't matter. You'll likely have more fun playing No-Limit Hold'em than its methodical limit cousin anyways.
Now as far as the format goes, there are two options that most longtime poker players recommend for new players.
HORSE Poker
Once you've familiarised yourself with the common variations above, you can think about trying a game of HORSE Poker. This game is a combination game where you play a hand of five different poker variations in rotation. The H.O.R.S.E. comes from Hold 'Em, Omaha, Razz, Stud and Eight or Better.
What is Draw Poker?
Draw poker is simply a type of poker game where the player is dealt a complete hand before the first betting round happens. In later rounds, players can develop their hands by replacing their cards by drawing from the deck. An example of draw poker is standard Five Card Draw. It's the first poker game that most people learn and very common in home games. The reason we don't go into it in much detail here is because it's not that popular in casinos or in tournament play.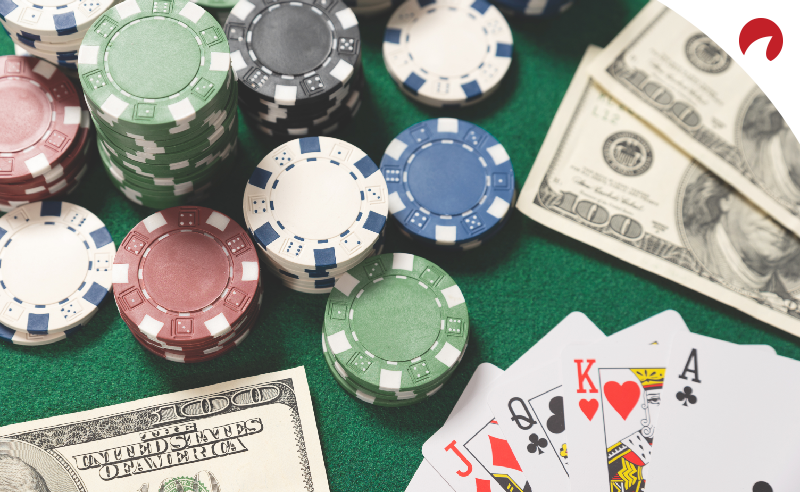 Types of Real Money Poker Games to Play Online
It's not enough to learn how to play the different easy poker game the different variations of poker online. When you want to start playing poker for real money, there are two options for games that beginners should seek out.
Option 1: Micro-Stakes Cash Games
Cash games are the best place for most people to start playing poker. Small-stakes cash games are an inexpensive way for players to play lots of hands without worry about being eliminated.
Online poker sites offer particularly good value for new players because they spread micro stakes, which are the lowest-stakes games in the world. We're talking blinds of just $.01/$.02. That means the average buy-in is just $1. Even if you get unlucky and lose your entire stack on a bad beat, you're still losing less than the cost of a Starbucks latte.
In addition, the blinds don't increase, like in tournaments, so you don't have to worry as much about short-stack strategy because you can reload any time you want. You also won't blind out of the game.
For tournaments, it's often correct to play extremely tight for the first portion of the event. You don't have to take the same approach to cash games and that means you'll generally get to play more hands.
Cash games are also better for learning to read players because you won't get moved. Instead you'll be seated with the same players and you'll get a chance to exploit your opponents' weaknesses.
Finally, you can leave a cash game at any point. That's great for players who aren't looking for a big-time commitment and might play anywhere from 10 minutes to an hour.
Here is why cash games are a great starting spot for new players:
Option 2: Micro-Stakes Sit & Go's
Cash games aren't for everybody.
Some players really don't like the fact that cash games don't really have a "winner" and they just keep running.
If you're the kind of player who's motivated by finishing first and you want the excitement and volatility of playing tournaments, then we'd suggest Sit & Go's.
Sit & Go's are a relatively new addition to the poker world and were popularized by the online poker boom of the early 2000s.
As you might expect, Sit & Go's begin the minute the table is full. They are generally played with nine or six players and the last player standing gets the lion's share of the prize pool. They take far less time than traditional multi-table tournaments and it's easy to fire up a few at once if you're playing online.
Despite their turbo-charged pace, Sit & Go's are a great way to learn some of the fundamentals of bigger, more traditional multi-table tournaments. You'll have to learn concepts like: stealing blinds, short-handed play, short-stack play and more.
Sit & Go's are really fun too. The feeling of winning your first Sit & Go is something that will stick with you and it's arguably more satisfying than winning a buy-in or two in a cash game.
To summarize, here are the reasons that Sit & Go's are good for new poker players:
Why You Should Skip Big Tournaments
You'll notice that we've essentially bypassed large-field, multi-table tournaments (MTTs) in this article. There's a reason for that.
MTTs are one of the most difficult formats for poker and even the best players go through long periods of finishing out of the money. The payoffs can be huge but they are few and far between.
That's why MTTs are a poor choice for new players. You can play well and still miss the money in 10 straight tournaments. You'll also be playing fewer hands as you've got to try to conserve your chips in an effort to go deep in a tournament.
There's also a great deal of waiting when it comes to big tournaments. You'll be waiting until they start, waiting for the money bubble to burst and waiting for a good hand. There's plenty of times where it makes sense to play very conservatively in big tournaments and that's not the best environment to get better at poker.
Keep in mind that the information in this article is primed for improving your poker game. If you don't really care about getting better and love to play multi-table tournaments in an effort to make a huge score, then just go for it.
There's nothing wrong with playing poker purely for entertainment. Just don't bet more than you're willing to lose!
More Poker Tips for Beginners
Learning easy poker games and mastering the game variations in online poker is only one part of becoming a poker expert. There's always something more to discover. Here are a few things to remember when you're starting out:
Play for fun first. It's great to make some money at the poker tables and everyone loves to win. But always remember that you should be having fun. There are plenty of sites where you can play poker online for free to hone your skills before you invest for real.
Be Selective with your Hands. It may be temping to play a hand if it's you think it's ok… but you really should be playing your top 20% of hands and discarding the rest. There are some handy charts available to help you figure out what this means. Which leads us to our final tip:
Put in the time. There's no such thing as talent in poker. The people who play well are the ones who've done the work. They study, practice and hone their skills constantly. Poker is a sport and the top-tier players train just like other elite athletes. Remember, lay a solid foundation and you'll be a sensation. Best of luck!
More Poker 101 Articles