Major League Baseball will look a little different this year.
The games are going to be faster, more exciting, and have a few more balls in play — at least that's what MLB leadership is hoping their recent rule changes will accomplish. The league imposed a bunch of new regulations for the 2023 season, including banning the defensive shift, making bases bigger and instituting a pitch clock.
These rules probably won't turn your favorite fifth starter into a Cy Young candidate or transform Miguel Cabrera into a 30-steals guy, but they could have subtle impacts across the majors. Below, I'll break down the new rules and some players they'll help or hurt this year:
Banning The Shift
If you're at spring training or an Opening Day game this year, one of the most obvious changes will be the lack of infield shifts. While players used to load up on one side of the field for extreme pull hitters, or put four guys in the outfield for the big boppers, MLB's new rule states that:
"At the time a pitch is thrown, all four infielders are required to be on the infield dirt (or infield grass) with two on each side of second base."
The league-wide impact of the shift ban will be to create more singles and help out massive pull players (specifically left-handed batters). Here were the three most-shifted players (minimum 500 PA) in baseball last year:
Who Will The Shift Ban Impact?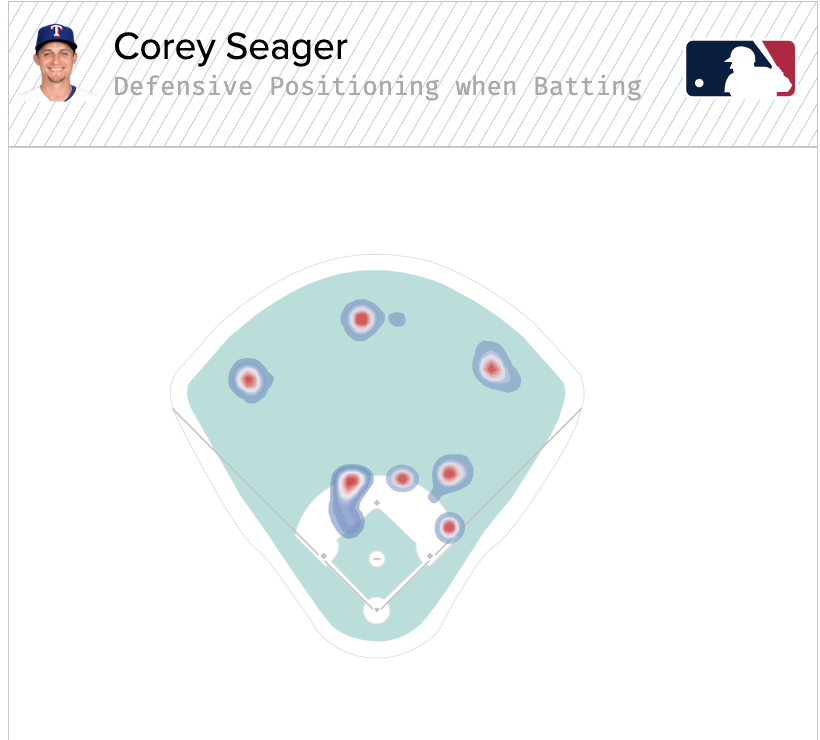 You can see in the graphic above (from Baseball Savant) how teams heavily shifted Seager last year. But he wasn't the only one on the Rangers who got that treatment, as Texas was the most-shifted team in baseball in 2022 and should benefit as a whole with the new rules.
The Rangers were also one of the most improved teams (by added WAR) this offseason, with the free-agent signings of Jacob deGrom, Andrew Heaney, Nathan Eovaldi and Robbie Grossman. After winning 68 games in 2022, Texas' 2023 win total is set at 82.5 wins at most sportsbooks.
Pitch Clock
There's been some early spring buzz about this new pitch clock rule, but here's the basis of how it works:
Pitchers must "begin their motion" within 15 seconds (20 seconds with a runner on base) of getting the ball back from the catcher/umpire from the previous pitch. If they don't, it's an automatic ball.
Batters must be in the box and ready for that pitch with eight seconds remaining on the clock. If they are not in the box and ready, it's an automatic strike.
The goal of the rule is to speed up games by cutting out the increasing downtime between pitches. It shouldn't have a tangible impact on results, but there could be an adjustment period for some of baseball's slower hurlers:
Who Will The Pitch Clock Impact?
While the three snail-paced pitchers above are all relievers, the new pitch clock could also impact AL MVP favorite Shohei Ohtani, who has the longest time between pitches of any starting pitcher at 21.8 seconds on average.
There shouldn't be any adjustment at all for some of the fastest-paced guys like Cole Irvin (14.1 seconds), Steven Matz (14.4) and Logan Webb (14.5).
Bigger Bases
Another slight change this year will be bigger bases, with them upsized from 15 square inches to 18 square inches. That may not seem like a lot, but it'll shrink the distance from first to second (and second to third) by 4.5 total inches. That slight difference could be all the difference needed to add a few more stolen bases to the totals of some of the league's fastest guys.
The bigger base rule also pairs alongside a new regulation that doesn't allow pitchers to throw over to a base more than three times. If the pitcher doesn't pick off the runner on the third throw over, the baserunner is automatically awarded the next base.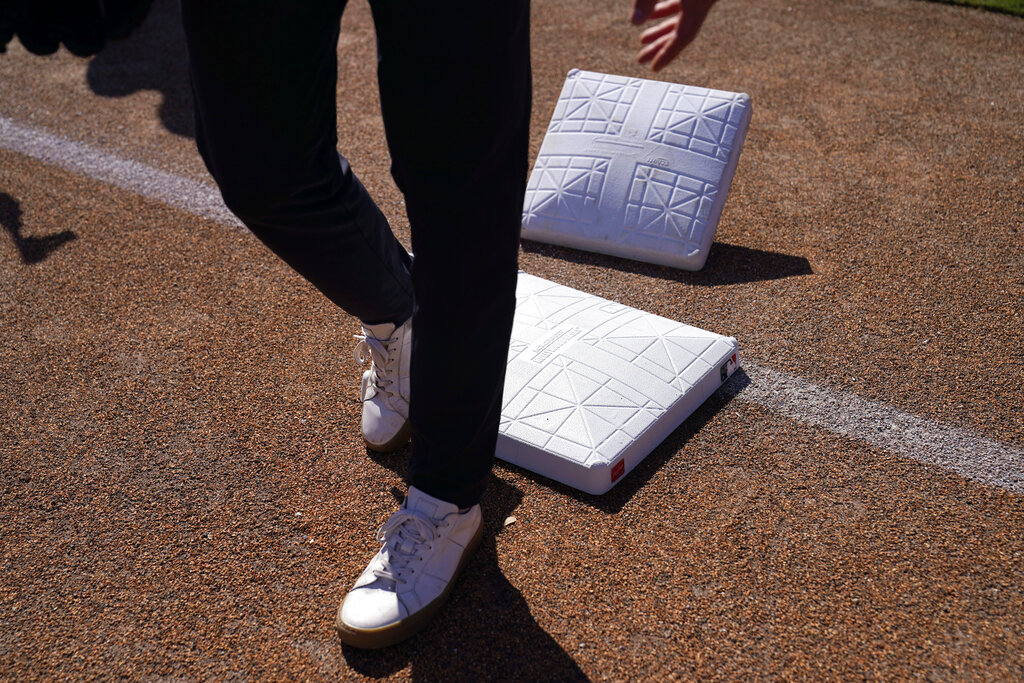 Who Will Bigger Bases Impact?
One big-name prospect who could benefit from these pro-stealing rules is Volpe, who pilfered 50 bases in the minors last year with many of the rule changes already implemented in Triple-A. Volpe could win the Yankees' Opening Day shortstop role in camp this year and is currently +900 to win the AL Rookie of the Year.
These pro-stealing rules could also hurt some teams that already struggled to throw out baserunners. The worst team at catching base thieves last year was the San Diego Padres, who threw out just 13 of 102 runners.