Our Top Sportsbooks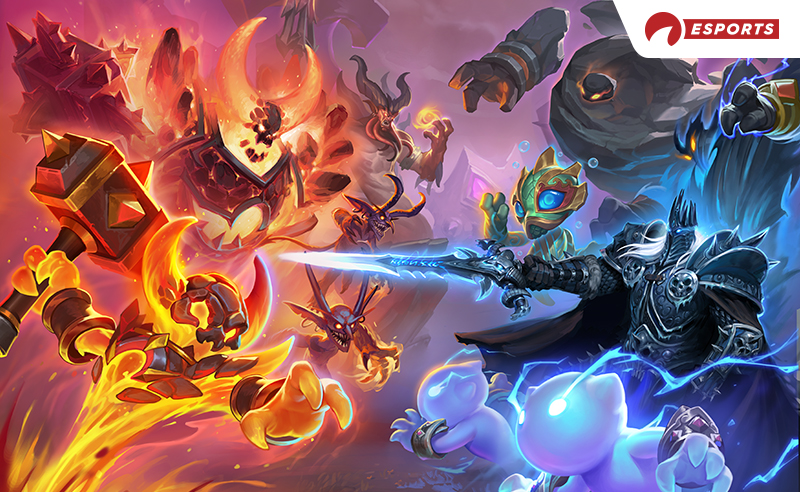 It's almost time for Hearthstone's biggest event of the year, as each region's Grandmasters League winners meet at the ultimate card game clash – the Hearthstone World Championship.
There's $500,000 on the line and just a few matches can make the difference in winning a life-changing prize. This means that the pressure's on, and every match will display the pinnacle of Hearthstone skills. We'll see two players from each of the four major regions, making up a total of eight participants. Let's take a closer look at who's attending.
Who's Playing at the 2020 Hearthstone World Championship?
Eight of the best Hearthstone players in the world will be battling it out at the world championship. This features two players from each major region: Asia-Pacific, EMEA, Americas and China.
Surprisingly, only one player who played at the 2019 world championship returns – American favorite bloodyface, who placed second at last year's event. Regardless, all of the players here are veterans of the game and we can expect to see some amazing matches.
The favorite, XiaoT, has always been a force to be reckoned with in China, while European hopefuls SilverName and Jarla have been competing as far back as 2016.
Odds to Win 2020 Hearthstone World Championship

| Player | Odds |
| --- | --- |
| XiaoT | +350 |
| Jarla | +400 |
| Glory | +450 |
| bloodyface | +500 |
| Bankyugi | +600 |
| Syf | +700 |
| Monsanto | +1200 |
| SilverName | +1500 |
Odds as of November 27 at [ol-esports-bp:189540:Bovada:189523:Bodog]
Will China Hold on to the World Championship Title?
XiaoT and Syf essentially enter the event as the defending world champions, as their countryman, Liooon, was able to claim the trophy in 2019. XiaoT enters as the initial favorite and will be the one to carry the hopes of the dominant region.
China has always produced strong Hearthstone players and going back through the years, you'll struggle to find an international tournament in which a Chinese player has not played well. This rings especially true in the last two years, as the introduction of structured regional events has made it more difficult for players outside China to research Chinese players.
Fans and players alike might see a few surprises coming out of the region, as XiaoT and Syf set their eyes on the trophy.
Is This bloodyface's Year?
Due to the brutal qualification system, it's very difficult for players to qualify for the world championship. All that matters is a player's performance at one of two regional competitive seasons, with only the winners advancing to the world championship.
While this does mean we only see the best card slingers around, it also means qualifying to two events in a row is incredibly rare. This is why bloodyface is not one to ignore. By qualifying for the world championship again, he's proved that he's managed to stay at the top of American Hearthstone for over a year.
Combining that with the fact that he is the only one with actual experience at this world championship makes him a very dangerous competitor.
Should You Back an Underdog at the Hearthstone World Championship?
If there was ever a time to back an underdog, this may just be it. Out of all competitive games out there, Hearthstone is likely the one with the highest potential for an upset and the most inconsistent tournament results.
It's almost unheard of for players to string together multiple tournament wins, and players rise and fall like the waves. This is due to the nature of the game. Despite the incredible amount of skill it takes to be the best, sometimes all you need is a bit of luck.
Drawing the cards that you need, when you need them, is all up to luck. If one player is having an unlucky day, that could be it for them at the world championship. As such, if you were planning to take a punt on some high-odds action, this is the place to do it. Simply back a name and hope they draw the perfect cards.
Upcoming Events
Doc's Picks Service
Need more winning picks? Get $60 worth of premium member picks from Doc's Sports – a recognized leader and trusted name in sports handicapping since 1971.