Our Top Sportsbooks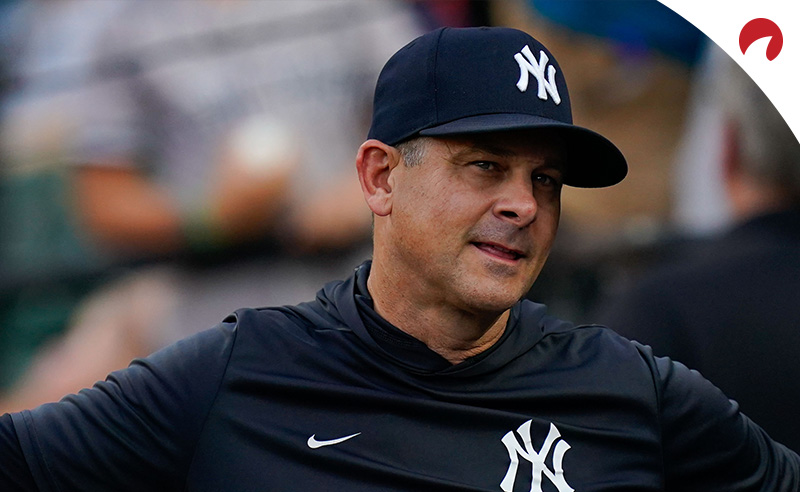 Who doesn't love a good old-fashioned face-to-face tussle between an umpire and manager? Maybe some dirt-kicking, screaming and a skipper mockingly ejecting the umpire, as if to say, "No, you're gone!"
Or how about a player losing his marbles after the home plate ump rings him up on a ball six inches off the plate? Baseball's disagreements have a special flair to them, which is why Bodog provided us with 2022 MLB ejection odds.
The odds for the most MLB ejections have been split into two subsections – managers and players. On the player side, it's San Diego Padres third baseman Manny Machado in chalk position (+125). As for skippers, New York Yankees bench boss Aaron Boone (+400) is the favorite for most MLB ejections. 
Before we get any deeper into the ejections, check out some of our MLB betting resources. There's also the Odds Shark MLB Betting Hub, as well as our MLB computer picks page. 
Aaron Boone Leads Managers in 2022 MLB Ejection Odds
2022 MLB Manager Ejection Odds

| Manager | Team | 2022 Ejections | 2021 Ejections | Odds |
| --- | --- | --- | --- | --- |
| Aaron Boone | Yankees | 5 | 6 | +400 |
| David Ross | Cubs | 5 | 4 | +500 |
| Bob Melvin | Padres | 3 | 6 | +950 |
| Mike Matheny | Royals | 2 | 2 | +950 |
| David Bell | Reds | 2 | 5 | +950 |
| Craig Counsell | Brewers | 1 | 5 | +950 |
| Brandon Hyde | Orioles | 2 | 2 | +2000 |
| Don Mattingly | Marlins | 2 | 3 | +2000 |
| Torey Lovullo | Diamondbacks | 2 | 2 | +2000 |
| Alex Cora | Red Sox | 2 | 2 | +2000 |
Odds as of July 29 at Bodog
See Odds Shark's Best MLB Sites
Unfamiliar with betting on baseball? Be sure to check out our How to Bet on MLB betting guide. Also, keep an eye on our MLB odds page for the latest up-to-date MLB betting lines.
Why Is Aaron Boone Favored To Have The Most Ejections?
This one almost needs no explanation. From the moment Boone, a former Yankees player, was hired to manage the Bronx Bombers, he brought an element of fire and energy that his club has responded well to.
The 49-year-old has never shied away from challenging an umpire on balls and strikes – which usually guarantees an ejection – with some of his more famous tirades involving him squatting behind the plate and mimicking where the pitches were.
Here is the video of the Aaron Boone (@AaronBoone) ejection from tonights Yankees-Tigers game:#StartSpreadingTheNews #BooneEjected pic.twitter.com/fTUYAMQFec

— Ethan Semendinger (@EthanSem) September 1, 2018
Boone has always criticized umpires for calling incorrect low strikes on Yanks star slugger Aaron Judge, who stands six-foot-seven. If Judge gets rung up on a bad one, expect the skipper to come charging out, ready to add to his major league-leading five ejections. 
MLB Ejection Odds: Best Value Bet
Brandon Hyde (+2000)
While he only has two ejections as of August 4, the grizzled former catcher is likely to rack up a few more before the season's end. We already know Hyde has a penchant for a foul-mouthed rant or two – Toronto Blue Jays pitcher Robbie Ray found that out in 2021.  
Microphones picked up Orioles manager Brandon Hyde talking shit to Blue Jays pitcher Robbie Ray pic.twitter.com/6zEPJBXy2J

— Jomboy Media (@JomboyMedia) September 11, 2021
Hyde isn't afraid to lose his cool, especially when he feels the need to stick up for his young Baltimore Orioles squad, which includes former top prospect Adley Rutschman. As the O's hang around a playoff position, there are bound to be some tense moments that Hyde finds himself in the middle of. 
At +2000, he has ground to make up, but his prickly personality makes a comeback in MLB ejection odds very possible. 
MLB Ejection Odds: Best Bet
Bob Melvin (+950)
First off, Melvin finished second in MLB last season with six ejections while managing the Oakland A's. As of August 4, he's tied for fourth in the majors with three heave-hos. We're counting on that number increasing as his uber-competitive San Diego Padres bid for a playoff spot and a run at a World Series title. 
A three-time Manager of the Year award winner, Melvin is a well-respected baseball mind. A former catcher, as many managers tend to be, the 60-year-old has earned a reputation for his on-field calculus, as well as his leadership in the clubhouse. Good managers know when to keep their cool and when to explode out of the dugout like a madman. 
Teams will be intimidated by the Padres, who acquired Juan Soto at the MLB trade deadline. If opposing pitchers try to buzz Soto's collar with pitches up and in, expect Melvin to protect his young superstar.
2022 MLB Player Ejection Odds
2022 MLB Player Ejection Odds

| Player | Team | Odds |
| --- | --- | --- |
| Manny Machado | Padres | +125 |
| Brad Miller | Rangers | +160 |
| Joey Votto | Reds | +170 |
Odds as of July 29 at Bodog
MLB Player Ejection Odds: Best Bet
Joey Votto (+170)
Famous for his quirky personality and over-the-top confrontations with umpires, there's never a dull moment when Votto's in the spotlight. Whether he's crushing paper airplanes, baiting fans or bumping into officials, the Canadian plays with a high intensity that invites a few ejections per season.
While Votto hasn't earned an early exit this season, the 38-year-old was tossed twice in 2021, once on a check-swing call and once for arguing balls and strikes. The Cincinnati Reds aren't very competitive this season, and Votto's having a down year at the plate, but perhaps that works in favor of our bet. Maybe the frustration boils over and JoVo pops off for an epic ejection or two. 
How To Bet On MLB Ejection Odds
Betting on who will lead MLB in ejections is just like betting on any other futures odds. Find the book where these odds are posted, Bovada, and then figure out which player or manager you want to bet on. At the sportsbook, you'll notice the futures odds are listed like this:
In this example, Machado is the favorite to lead MLB players in ejections. If you believe that he'll finish the season as MLB's most ejected player, you can place $100 on him to win $125 in profit if you're right. The other two players, Miller and Votto, are slightly more valued bets, with a $100 bet on Votto paying out $170 in profit in this example.
Check out our odds calculator to see how much you'd win based on the odds and amount wagered, as well as the implied probability of all odds.
Upcoming Events
Doc's Picks Service
Need more winning picks? Get $60 worth of premium member picks from Doc's Sports – a recognized leader and trusted name in sports handicapping since 1971.