Our Top Sportsbooks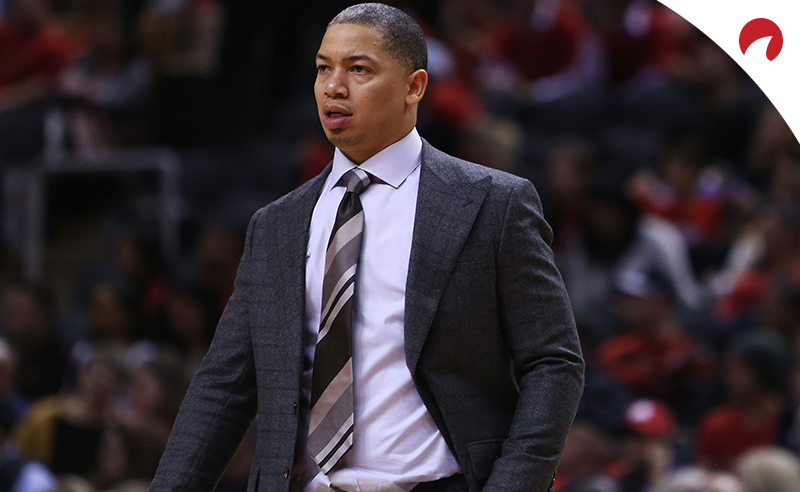 The Los Angeles Clippers need a new head coach, and they may not need to look far to find him.
An assistant coach for the Clippers the last two seasons, Tyronn Lue has emerged as the betting favorite to take over the head job for the 2021 season.
The Clippers need a new head coach because on Monday, September 28, Doc Rivers stepped down from his position, despite having years left on his contract. Rivers had led the team for seven seasons. The Clippers were competitive throughout Rivers' tenure but won only three playoff series during that time and never advanced to the Western Conference final.
See Odds Shark's Best NBA Sites
While he had some successful teams, Rivers was never able to get the Clips over the proverbial playoff hump. His teams blew two separate 3-1 series leads, this year against the Denver Nuggets and in 2015 against the Houston Rockets.
After trading for Paul George and signing free agent Kawhi Leonard last offseason, the Clippers had high hopes of contending for the NBA title this season, but they didn't even make it out of the second round.
The way it happened added insult to injury too. The Clippers led their series against the underdog Nuggets 3-1 before losing the final three games in dispiriting fashion.
With such a talented roster, the expectations from ownership were for this team to win a championship. If the Clippers want their next head coach to have championship experience, Lue would be a good choice.
Lue played in the league from 1998 to 2009 and won NBA titles with the Los Angeles Lakers in 2000 and 2001.
He began coaching in 2011 and was the head coach of the Cleveland Cavaliers when they won the 2016 NBA title. Lue led the Cavaliers back to the NBA Finals in 2017 and 2018, but they lost to the Golden State Warriors both times.
Following an 0-6 start to the season in 2018, the Cavaliers fired Lue, and he worked in an informal role with the Clippers under Doc Rivers. Before the 2019-20 season, Lue was elevated to the Clippers' top assistant coach position.
Because of his coaching experience and his familiarity with the Clippers' win-now roster, Lue has the best odds to be named the team's next head coach at -125, according to BetOnline Sportsbook.
Also from BetOnline Sportsbook, Lue is the second favorite (+400) to be named the next head coach of the Houston Rockets behind Sam Cassell (+200), and is tied for second favorite (+500), along with Mark Jackson, to be the next head coach of the New Orleans Pelicans. 
Whoever the Clippers choose as their next head coach will come in with a big sense of urgency, as George and Leonard can become free agents following the 2020-21 season. Here is a look at other options the Clippers have.
Odds to be the next Clippers' full-time head coach:
| Coach | Odds |
| --- | --- |
| Tyronn Lue | -125 |
| Jeff Van Gundy | +450 |
| Chauncey Billups | +550 |
| Phil Jackson  | +650 |
| Mike D'Antoni | +700 |
| Mark Jackson | +800 |
| Brett Brown | +900 |
| Sam Cassell | +900 |
| Stan Van Gundy | +1000 |
| Kenny Atkinson | +1200 |
| Jason Kidd | +1400 |
| Becky Hammon | +1600 |
Jeff Van Gundy (+450)
It has been more than a decade since Van Gundy coached an NBA team, but basketball fans are still familiar with him because of his work as a broadcaster with ESPN.
He was the head coach of the New York Knicks from 1996 to 2001 and in 1999 led them to the NBA Finals, where they lost to the San Antonio Spurs. From 2003 to 2007, he led the Houston Rockets to three playoff appearances. In addition to his experience, he is widely regarded as one of the world's best basketball minds.
Chauncey Billups (+550)
Billups had a great playing career, which included a three-year stint with the Clippers, but he has never coached in the NBA. He might get a coaching job eventually, but he likely would have to start as an assistant.
He certainly would not be trusted to lead a ready-made team like the Clippers. It's hard to understand why he would be listed as the third favorite, so perhaps that's a sign that there are really only two choices here. Or, maybe Vegas knows something.
Phil Jackson (+650)
Talk about making a splash. It would really be something if the Clippers tabbed the 11-time NBA champion to be their next head coach. Jackson has been retired since 2011, and it might take a lot to lure him from his home in Montana. But if it's money that will do it, owner Steve Ballmer has what it takes.
He famously spent more than he needed to buy the Clippers franchise, and he might be willing to open up his checkbook again to sign perhaps the greatest coach of all time. It's hard to get inside the brain of Jackson, who always marched to the beat of his own drum, but would $15 million a year be enough to persuade him to pick up his clipboard again? I guess we'll have to see.
The Pick: Lue (-125)
At the price of +650, it is tempting to throw down a small wager on Jackson to get the Clippers job. The smart money, however, is on Lue. He has the experience, he is familiar with the players, and the players want him. It's not that much fun to lay -125 in a situation like this, but he seems to be too far ahead of the pack to pick anyone else with conviction.
Upcoming Events
Doc's Picks Service
Need more winning picks? Get $60 worth of premium member picks from Doc's Sports – a recognized leader and trusted name in sports handicapping since 1971.