Wholesale changes could be coming for the Philadelphia 76ers after they were swept by the Boston Celtics in the 2020 NBA playoffs. Players like Ben Simmons and Joel Embiid may be on the move and the Sixers are in the market for a new head coach after firing Brett Brown.
Sportsbooks have released odds on which team Simmons and Embiid will play for next season. The Sixers remain the odds-on favorite to keep both of their all-stars, while Ime Udoka is favored to get the Sixers' head coaching job to start the 2020-21 regular season.
The best basketball betting sites released these prop odds shortly after the Sixers were eliminated on Sunday amid reports of internal unrest about playing style and whether Simmons and Embiid can co-exist on a basketball court.
Sportsbook
That being said, Embiid is listed at -750 to be with the Sixers next season while Simmons is at -240. Udoka doesn't get the odds-on favorite treatment, sitting at +250 to get the gig over the likes of Dave Joerger and Jay Wright.
Here are some key NBA betting resources you should check out if you're not familiar with wagering on basketball:
NBA Futures | NBA Odds | Bubble Betting Records | How To Bet On NBA
Let's break down each betting prop and determine if it's worth betting on a rival franchise to scoop up these pieces:
Joel Embiid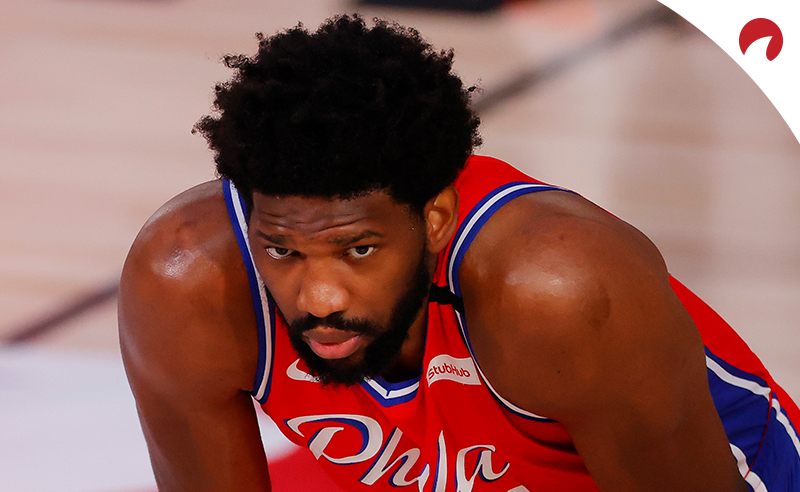 Arguably the best center in the NBA, Joel Embiid has been frustrating at times for Sixers fans (and bettors) in his career with Philadelphia but there's a reason he's listed at -750 to be there next season. The big man has shown to be a dominant force at both ends of the court and he fits the conventional style of basketball most NBA coaches are used to.
However, his conditioning and injury risk have been topics of discussion ever since he entered the league and humans that size generally aren't made to last as professional athletes. This is why the option is on the table of potentially trading him out of Philly because the return of assets would be a king's ransom for a franchise devoid of any outside of the all-star duo.
He'll likely stay with the Sixers but don't be shocked if GM Elton Brand is taking calls for the all-star center in the offseason.
What Team Will Joel Embiid Play for In The 2020-21 NBA Season?

| Team | Odds |
| --- | --- |
| Philadelphia 76ers | -750 |
| Golden State Warriors | +750 |
| Boston Celtics | +900 |
| Miami Heat | +900 |
| Atlanta Hawks | +1800 |
| Brooklyn Nets | +1800 |
Odds as of August 25 at Sportsbook
---
Ben Simmons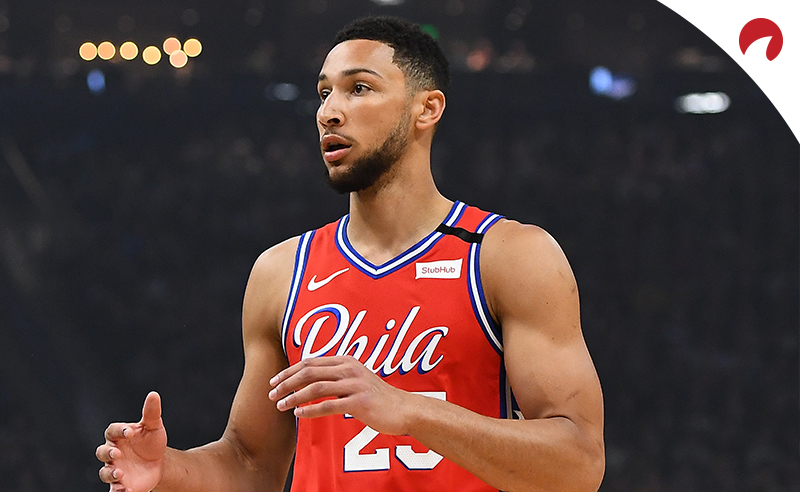 If Ben Simmons could shoot a basketball outside 12 feet, we wouldn't even be having this conversation. But his lack of a jump shot has limited him offensively thus far in his career and the Sixers may need to look at the duo of Embiid and Simmons and realize the pieces don't mesh.
Simmons is expected to remain in Philadelphia but much like Embiid, the Sixers would likely get a nice haul for the point forward. The Aussie is already a top-five defensive player on the perimeter with his ability to guard nearly any player on the court and is a wizard in transition due to his ball-handling skills and height advantage.
Keep on the lookout for a contender trying to snag him from the Sixers (the Thunder at +2000?) because there are whispers around the league that Simmons needs to be moved before Philly can take the next step in the contender hierarchy.
What Team Will Ben Simmons Play for in The 2020-21 NBA Season?

| Team | Odds |
| --- | --- |
| Philadelphia 76ers | -275 |
| Phoenix Suns  | +375 |
| Golden State Warriors | +850 |
| Chicago Bulls | +1200 |
| New York Knicks | +1200 |
| New Orleans Pelicans | +1800 |
| Oklahoma City Thunder | +2000 |
Odds as of August 25 at Sportsbook
---
Who Will Be The Sixers' Next Head Coach?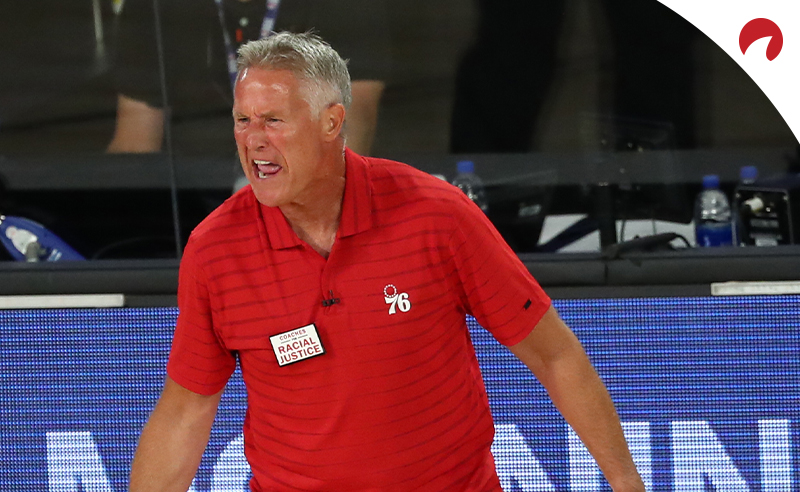 Someone who probably should've been fired last season, it seemed inevitable that Brett Brown would get canned in Philadelphia. The coach who came into Philly during "The Process" stage took his lumps in the trenches with a tanking, bottom-feeder franchise but after getting swept by Boston, nobody wanted to hear excuses in the City of Brotherly Love.
Brown had been routinely outcoached since Embiid and Simmons took the leap to all-star status and with three straight playoff exits without making the Eastern Conference final, the time had come for the team to move on.
The list of candidates who could potentially succeed Brown in Philly is a who's who of former NBA coaches and assistants but the reality is Udoka (+250) likely has the inside track on the job because he was the head assistant under Brown, Elton Brand and the players know him, and NBA analysts have raved about him. He also wouldn't cost as much as recruiting an NCAA coach such as Villanova's Jay Wright (+350) to leave a high-end program.
That said, Wright has been on the NBA radar for years and after winning two national championships with the Wildcats in the last five seasons, this may be his best opportunity to get a job in the NBA that's close to home. The Wells Fargo Center is only a 30-minute drive from the Villanova campus so he wouldn't have to uproot his family and start in a new city. He could be the sneaky play at +350.
Who Will Coach The Philadelphia 76ers In The 2020-21 NBA Season?

| Coach | Odds |
| --- | --- |
| Ime Udoka | +250 |
| Dave Joerger | +300 |
| Jay Wright | +350 |
| Sam Cassell | +700 |
| Kenny Atkinson | +800 |
| Becky Hammon | +1400 |
| Mark Jackson | +1600 |
| Jason Kidd | +1600 |
| Jacque Vaughn | +2500 |
| Wes Unseld Jr. | +2500 |
| Stephen Silas | +2500 |
| Jerry Stackhouse | +2500 |
| Lionel Hollins | +2500 |
| David Fizdale | +2500 |
Odds as of August 25 at Sportsbook
---
How To Read Sixers Prop Odds
When you go to your sportsbook to see betting odds on which team Joel Embiid will play for in the 2020-21 NBA season, the odds should be listed like this:
Sixers -750
Warriors +750
Celtics +900
This is known as a prop bet and can be quite entertaining because it doesn't pertain to a specific NBA game. In this case, the Sixers are a huge "favorite" and the minus sign (-) indicates which option is the fave, similar to a moneyline bet. Anything else with plus odds is considered an "underdog."
With the Sixers' odds listed this way, you'd need to bet a substantial amount in order to see legitimate profit. For example, if you bet $100 on the -750 option with the Sixers and Embiid plays for them to start next season, you'd get $113.33 back – your $100 bet is returned and you'd get receive a profit of $13.33.
On the flip side, if you think Embiid is done with the Sixers and you bet $100 that he ends up on the Warriors, you'd win $850 – your original $100 is returned and you'd get $750 in profit from your winning selection if he goes to Golden State.