Our Top Sportsbooks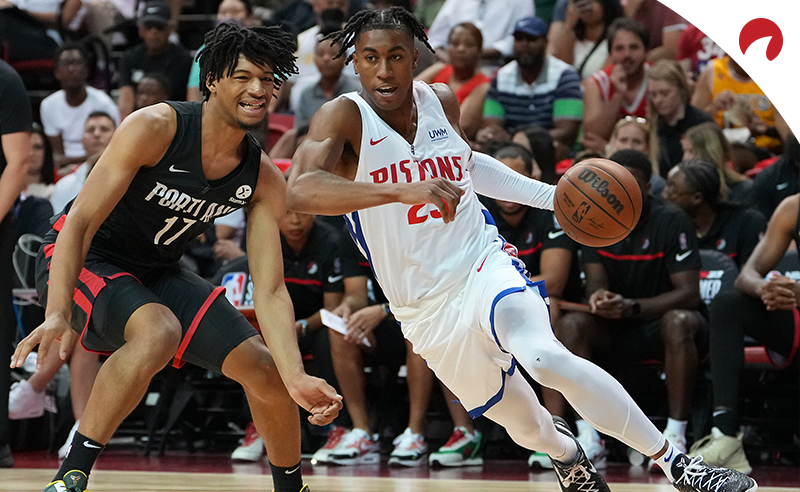 After a narrow decision that saw Scottie Barnes win with +750 odds during the past season, the 2023 NBA Rookie of the Year odds are bound to generate another excellent race, as basketball's best young phenoms duke it out on the hardwood. 
It's still early, but sportsbooks are already making their NBA ROY predictions, with BetUS listing Paolo Banchero of the Orlando Magic and Chet Holmgren of the Oklahoma City Thunder as co-favorites.
BetUS has Banchero and Holmgren each at +375, followed by Jaden Ivey (+550), Jabari Smith (+600) and Keegan Murray (+800) to round out the top five in NBA ROY odds.
Want to be locked in when you bet on basketball? Stay up to date on the NBA season by checking out our NBA news on NBA MVP odds, NBA championship odds and more. 
See Odds Shark's Best NBA Betting Sites
NBA Rookie Of The Year Odds For 2023
2023 NBA Rookie of the Year Award Odds

| Player | Odds |
| --- | --- |
| Paolo Banchero | +375 |
| Chet Holmgren | +375 |
| Jaden Ivey | +550 |
| Jabari Smith | +600 |
| Keegan Murray | +800 |
| Bennedict Mathurin | +1000 |
| Shaedon Sharpe | +1000 |
| Dyson Daniels | +1400 |
| Johnny Davis | +2000 |
| Ousmane Dieng | +2000 |
| Ochai Agbaji | +2000 |
Odds as of July 29 at BetUS
Why Are Banchero & Holmgren Favored In The ROTY Odds?
The case for Banchero (+375) is very straightforward. The 19-year-old shined in his one season at Duke, averaging 17.2 points per game to go along with a fabulously efficient .478 field-goal percentage and a respectable .338 three-point percentage. Banchero won the ACC Rookie of the Year last season, paving the way to his No. 1 overall selection in the 2022 NBA Draft.
Holmgren, the No. 2 overall pick from Gonzaga, also makes a compelling case in the 2023 Rookie of the Year odds, which is why he shares the favorite status (+375) with Banchero. The seven-foot big man is wickedly fluid for his size, boasting a knack for playmaking and mixing in a nice three-point touch (.390 shooting percentage in college).
NBA Rookie Of The Year Odds: Best Long Shots
Shaedon Sharpe (+1000)
The Canadian guard boasts all the necessary tools to be an NBA superstar (explosive vertical, seven-foot wingspan, etc.), but lacks some of the in-game experience that would have otherwise increased his NBA ROY odds. Sharpe redshirted in his only season at Kentucky, meaning he never played a game for the Wildcats before declaring for the NBA draft, where he was selected seventh overall by Portland. 
The 19-year-old still has exceptional catch-and-shoot skills and a tough-minded defensive style that might make him a dark-horse candidate in the 2023 NBA Rookie of the Year odds despite his inexperience. 
That said, some of his college injury issues persisted in his first Summer League season with the Blazers. Portland won the Summer League championship, but Sharpe was sidelined after suffering a shoulder injury in the Blazers' first game. The Kentucky product won't need surgery for a "small labrum tear," per ESPN, and should be 100 percent for fall training camp. 
Ousmane Dieng (+2000)
As the 11th overall pick, Dieng, the 19-year-old who played pro ball in New Zealand, carries some risk but also oozes potential. After the six-foot-10 forward was selected by the New York Knicks, he was immediately shipped to the Thunder, who wanted him so badly they traded away three first-round picks.
The Frenchman handles the ball surprisingly well for his size, creating frequent opportunities for himself and his teammates on offense. His biggest weakness right now is his poor shooting (.398 FG% and .271 3P%), though there's obviously hope those numbers improve with exposure to NBA coaching. At +2000, it's well worth taking a flier on Dieng's upside. 
NBA ROTY Odds: Best Bet
Jaden Ivey (+550)
Compared to high-flying Memphis Grizzlies guard Ja Morant, the 2020 Rookie of the Year, Ivey entered the 2022 NBA Draft odds as a legitimate top-three prospect. When the Purdue product fell all the way to No. 5, the Detroit Pistons gladly scooped him up, giving them the biggest steal of the first round.
Ivey was a menace in his final year of college, upping his points-per-game average to 17.3 while making massive strides in field-goal percentage (.460) and three-point shooting (.358). The 20-year-old, whose six-foot-four frame makes him a solid combo guard, is expected to carry his score-first mentality into the NBA.
In a backcourt pairing with 2021 No. 1 overall pick Cade Cunningham, Ivey is an excellent bet in the 2023 NBA Rookie of the Year odds at +550.
---
Understanding NBA Rookie Of The Year Odds
At any basketball sportsbook, you'll see prop odds displayed like this:
You'll see that Banchero and Holmgren are the front-runners because they have the lowest numbers beside their names. In this scenario, those two players are the co-favorites.
If you think Banchero will win NBA ROTY, and you successfully bet $10 on him, your payout would be $47.50. If you see better value with Sharpe at +1000, for example, then that same $10 bet will pay out $110 if it hits. To make the odds and values less confusing, check out our odds calculator.
What Is A Prop Bet On NBA Rookies?
Any bet that is made on the occurrence or non-occurrence of a certain player or team milestones that don't necessarily correlate to the result of a particular game is a prop. In this case, you're betting on a player's chances of winning Rookie of the Year.
The oddsmakers will move the lines as the season progresses. As more games are played and different players show their skills on the court, the odds will shift. If you see odds you like, it's best to take them early so, if you win your bet, you can get the most value.
NBA Rookie of the Year FAQ
Who is favored to win the 2022-23 NBA Rookie of the Year?
Chet Holmgren (+375) and Paolo Banchero (+375) are the co-favorites in the 2022-23 NBA Rookie of the Year odds. Place a bet on either of them at one of our recommended sportsbooks.
Who won NBA Rookie of the Year in 2021-22?
Scottie Barnes won the NBA Rookie of the Year in 2021-22, becoming the third Toronto Raptors player to win the award after Damon Stoudamire (1995-96) and Vince Carter (1998-99). Barnes was a +750 underdog during the season.
Has an NBA rookie ever won NBA MVP?
Yes, two players have won the NBA Rookie of the Year award and Most Valuable Player award in the same season. Wilt Chamberlain did it in 1960 with the Philadelphia Warriors and Wes Unseld accomplished the same feat in 1969 with the Baltimore Bullets.
Is there an NBA Offensive and Defensive Rookie of the Year?
No, unlike the NFL, the NBA only has one Rookie of the Year award. When voters consider which player should win the award, they factor in both offensive and defensive statistics to make their choice.
Upcoming Events
Doc's Picks Service
Need more winning picks? Get $60 worth of premium member picks from Doc's Sports – a recognized leader and trusted name in sports handicapping since 1971.