Every year you struggle with bracketry. It's OK, you can admit it. Here at Odds Shark, we're fine with being bracket noobs because we're betting pros and we always choose bets over brackets.
We want you to be NCAA March Madness betting pros too since the odds of picking a perfect bracket for all 63 games is around 1 in 9.2 quintillion. Why bracket when you can bet? That's our motto. Well, that and a Big Mac with bacon isn't a real Big Mac – it's still tasty but come on, let's not go crazy here.
Before you place your 2023 March Madness bets with our recommended betting sites, check out our expert picks from last years March Madness betting contest: "Best Bets Over Brackets". 
Why Bet Single Games For March Madness?
One of the many reasons to choose bets over brackets is when you bet on single games, you're giving yourself a bigger chance to win major coin. Here's how:
Betting = Skill | Winning Bracket Pool = Luck
Who among us hasn't lost a bracket pool to someone who was picking the teams based on team nicknames instead of Ken Pomeroy's rankings? Who here hasn't lost their skin in the game before the Sweet 16 because of another Sean Miller choke job?
Trying to win your friend's bracket pool with 100-plus entries is like playing the lottery. It's fun, but odds are you're not going to win. We here at Odds Shark recommend online betting on March Madness. Point spread bets mean a 50-50 chance of winning, while a moneyline wager – betting on which team will win a game outright – can lead to big payouts for a bettor who picks some Cinderella teams in March.
Bracket Busted? No Big Deal
Once your bracket busts – sorry, it very well could – you'll have betting opportunities at the ready to weaponize your best bracket bets that are now wasted on your busted bracket. For those who are new to online gambling or college basketball betting, your first step is to sign up with a Sportsbook or online sportsbook. We recommend the following sites because each offers NCAA basketball lines and odds on March Madness games from the First Four to the final.
Once you've chosen a site, you'll need to fund your bankroll. You can choose from credit cards, debit, Bitcoin and e-wallets like PayPal. It doesn't take long for the money to transfer and show up in your account. As soon as your deposit option appears in your account, you can start betting online and raking in your winnings.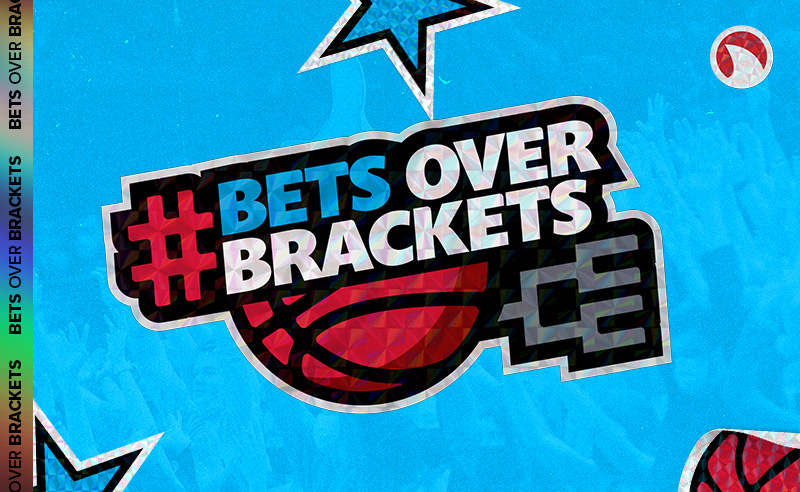 A busted bracket is actually a good thing since you can bet games outright. This is known as a moneyline bet and simply requires you to pick a Sportsbook. You only have to choose between two teams instead of trying to handicap the whole field as you would with NCAA bracket gambling.
You can also try the point spread where you predict how much a team will win or lose by. There's also a totals bet where you would decide if the total score for both teams would be UNDER or OVER the oddsmaker's set number. For more info on how to bet the NCAA Tournament, check out our March Madness betting tips.
If your bracket busts – or more aptly, when – you can still enjoy the competitiveness of March Madness and win a few bucks in the process by turning to bets over brackets. We have faith in you, unlike the Big Mac with bacon. It's not a Big Mac.
Bets Over Brackets FAQ
How do I bet on March Madness now that my bracket is busted?
If you've lost your March Madness bracket already, you're not the only one. Odds Shark has you covered with our how to bet on March Madness online betting guide. The NCAA Tournament tutorial offers March Madness betting strategy and March Madness betting tips. You'll quickly learn how to read NCAAB odds, the kinds of March Madness wagers you can make, and how to make them.
Where can I bet on March Madness now that my bracket is done?
Now that your March Madness bracket is done like dinner, why don't you wash that feeling of failure down with a nice, warm glass of the greatest March Madness betting sites ever? With so many shady sites out there, it's no wonder you don't know where to look. Thank the lucky leprechauns for Odds Shark's best places to bet on March Madness.
Who has the best odds to win the March Madness national championship?
The Gonzaga Bulldogs have the best odds to win the March Madness national championship. The Zags are on a roll all over again and can taste that tournament trophy. The Gonzaga Bulldogs are followed by the Kentucky Wildcats, Arizona Wildcats, Duke Blue Devils, and the Kansas Jayhawks as the teams with the best odds to win the 2023 NCAAB championship.