Our Top Sportsbooks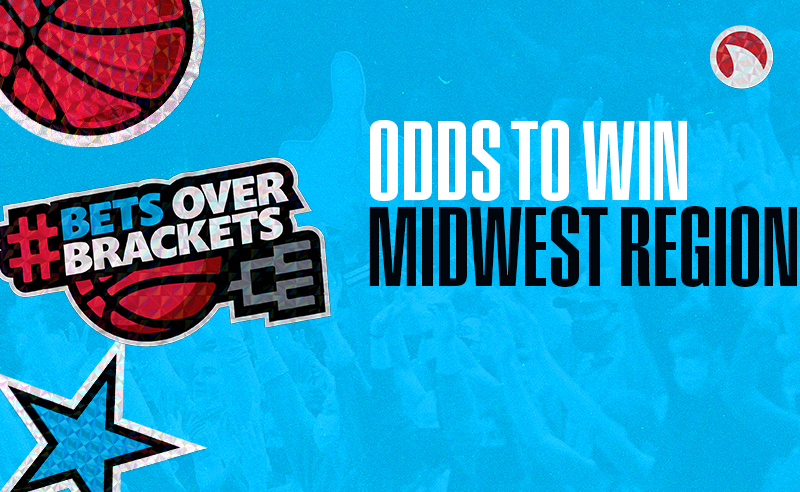 March Madness is nearing a finish, with a stacked Final Four and major upsets perhaps still to come. One of the most interesting regions in this year's tournament was the Midwest Region, which included a collection of top Big 12, Big Ten and SEC schools. 
Ultimately, the top-seeded Kansas Jayhawks beat Miami in the Elite Eight to claim the Midwest Region in 2022. The Jayhawks beat Texas Southern, Creighton, Providence and the Hurricanes on their way to a Final Four matchup with Villanova. Kansas then topped Villanova and UNC to win the National Championship.
Check out our preview for the region below, and check back ahead of next year's tournament for new Midwest Region picks:
Online sportsbook [ol-sportsbook-bp:48:Bovada:26:Bodog] has updated its odds to win the March Madness Midwest Region with No. 1-seeded Kansas as the favorite at -190 after a couple of big upsets in this part of the bracket.
Who Will Win the March Madness Midwest Region?
2022 March Madness Midwest Region Odds

| Team | Odds |
| --- | --- |
| No. 1 Kansas Jayhawks | -190 |
| No. 10 Miami Hurricanes | +500 |
| No. 4 Providence Friars | +600 |
| No. 11 Iowa State Cyclones | +600 |
Odds as of March 25 at [ol-sportsbook-bp:48:Bovada:26:Bodog]
New to betting on college basketball? Be sure to check out our March Madness betting guide to help you get some money down on the hardwood in March.
Also, keep an eye on our college basketball odds page for the latest up-to-date betting lines. Lastly, if your bracket is busted, no problem, take a look at our Bets over Brackets page to give you some insight on how to continue to enjoy March Madness as the tournament goes on.
Why Kansas Is The Midwest Region Favorite
Top seeds have traditionally struggled in the Midwest Region, but the Kansas Jayhawks will look to change the trend and deliver on solid March Madness Midwest Region odds.
The Jayhawks finished with a 28-6 record, losing just two games outside of their conference. With 12 Q1 wins and the second-hardest schedule in college basketball this year, the Jayhawks entered March battle-tested.
Kansas is led by dynamic guard Ochai Agbaji, who averages 19.7 points per game and is one of the best shooters in the country. Agbaji attempts almost seven three-pointers per game and shoots at a 40.5 percent clip from beyond the arc.
It was a cakewalk in the Round of 64 as Kansas cruised past Texas Southern 83-56. The Jayhawks followed that game up with a 79-72 victory over Creighton in their Round of 32 matchup. Kansas has now advanced to the Sweet 16 and will take on a very tough Providence team. The Jayhawks opened as 8-point favorites for that one.
Sleepers Of The Midwest 
Miami made a deep run in the ACC Tournament, losing narrowly in the semis to Duke. The Hurricanes, as a No. 10 seed, represent great betting value in March Madness Midwest regional odds.
The Hurricanes were able to get past No. 7 USC in the opening round by a narrow 68-66 margin. But the 'Canes followed that up by downing No. 2 Auburn 79-61 in one of the bigger upsets of the tournament so far.
Miami beat both UNC and Duke this season before making it to the semifinals of the ACC Tournament and was clearly one of the more underseeded teams in the NCAA Tournament.
The Hurricanes now take on one of the other criminally underrated teams in this tournament in No. 11 Iowa State. The Cyclones had several big wins this season, including victories over Texas, Texas Tech, Iowa, Creighton and Memphis, and have already beaten LSU and Wisconsin in the tournament.
One of Miami or Iowa State will advance to the Elite Eight, and if we're picking a team to upset Kansas, we like one of these two rather than Providence.
March Madness Midwest Region Historical Information
A No. 1 seed hasn't made it out of the Midwest and into the championship game since Kentucky accomplished the feat in 2014. You can use these previous Midwest betting trends to inform your bets at one of our top College Basketball Betting Sites.
Here's a look at the March Madness Midwest Region results since the 2012 season:
March Madness Midwest Region History

| Season | No. 1 Seed | Midwest Region Winner | Midwest Region Winner Final Four Result | Midwest Region Winner Championship Result |
| --- | --- | --- | --- | --- |
| 2022 | Kansas | Kansas (#1) | Kansas 81, Villanova 65 (Win) | Kansas 72, UNC 69 (Win) |
| 2021 | Illinois | Houston (#2) | Baylor 78, Houston 59 (Loss) | N/A |
| 2019 | North Carolina | Auburn (#5) | Virginia 63, Auburn 62 (Loss) | N/A |
| 2018 | Kansas | Kansas (#1) | Villanova 96, Kansas 79 (Loss) | N/A |
| 2017 | Kansas | Oregon (#3) | North Carolina 77, Oregon 76 (Loss) | N/A |
| 2016 | Virginia | Virginia (#1) | Syracuse 68, Virginia 62 (Loss) | N/A |
| 2015 | Kentucky | Kentucky (#1) | Wisconsin 71, Kentucky 64 (Loss) | N/A |
| 2014 | Wichita State | Kentucky (#8) | Kentucky 75, Michigan 72 (Win) | UConn 60, Kentucky 54 (Loss) |
| 2013 | Louisville | Louisville (#1) | Louisville 77, Oregon 69 (Win) | Louisville 85, Duke 63 (Win) |
| 2012 | North Carolina | Kansas (#2) | Kansas 64, Ohio State 62 (Win) | Kentucky 67, Kansas 59 (Loss) |
March Madness Midwest Region Odds FAQ
Where can I bet on the odds to win the Midwest Region for March Madness?
There are many places online where you can bet on the odds to win the Midwest Region for March Madness. If you wish to wager on Midwest Region odds, simply visit any one of our best March Madness betting sites online, and all of your March Madness Midwest Region betting needs will be met.
How should I bet on the Midwest odds for March Madness?
If you are looking at placing a futures bet on the winner of the Midwest Region, you should consider the favorite, but also the potential value of some underdogs. Odds Shark's How to Bet on March Madness guide has in-depth strategies and tips on how to successfully bet on March Madness futures this year.
Who has the best odds to win the Midwest Region for March Madness?
Right now, the Kansas Jayhawks have the best odds to win the Midwest Region in this year's March Madness. While the favorite does not always win, Kansas is seen by oddsmakers as the 2022 college basketball team with the best chance to advance through the Midwest Region and progress to the Final Four.
Upcoming Events
Doc's Picks Service
Need more winning picks? Get $60 worth of premium member picks from Doc's Sports – a recognized leader and trusted name in sports handicapping since 1971.