While "All of the Lights" are focused on the 2020 U.S. Presidential Election, a "New God Flow" is trying to make it to the White House. Kanye West has announced he is running for president and sportsbooks were happy to oblige him by giving him odds to win the presidency.
The best political betting sites opened Mr. West at +8000 and those odds have since moved to +6000 after he announced his intentions, conveniently on Independence Day. Here is his post that came "Through the Wire" on Twitter: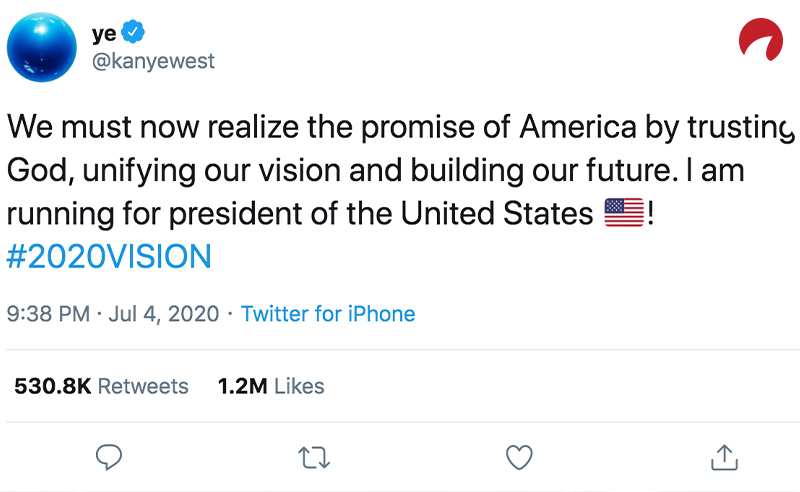 Here are the most recent 2020 U.S. presidential election betting odds and you can see where Yeezus fits in and whether it "All Falls Down" from here:
Odds To Win the 2020 U.S. Presidential Election

| Option | Odds |
| --- | --- |
| Joe Biden | -150 |
| Donald Trump | +135 |
| Hillary Clinton | +5000 |
| Kanye West | +6000 |
| Mike Pence | +6600 |
| Michelle Obama | +8000 |
| Andrew Cuomo | +15000 |
| Nikki Haley | +15000 |
Odds as of July 7 at Sportsbook
Can Kanye West Win the Presidency?
Short answer: Not likely. Long answer: It's complicated but Kanye West has never had a "Stronger" case.
The 43-year-old music artist/fashion designer/God/"Monster" may be "Famous" for the wrong reasons lately but that doesn't mean he can't win. It just means he has a long road ahead of him and we're only four months away from the final votes being tabulated in November.
In order to run for president, Kanye still needs to register with the FEC and present a campaign platform.
If Kanye were to run for president (and that's a big IF), he would likely need to go the route of an independent. The deadline to register as an independent candidate has already passed in some states but for others the deadline isn't until August, so he has a little bit of time left.
He also still needs to register his name with the Federal Election Commission and present his campaign platform, and would need some sort of financial backing to compete with the Democrats and Republicans.
That being said, he's gotten a huge endorsement from the likes of Tesla's Elon Musk and his wife Kim Kardashian West, who along with her family may have the most social media influence in the world. Even Donald Trump was scoffed at when he made his 2016 presidential campaign intentions known, so in this day and age, Mr. West may stick with his mantra of "Can't Tell Me Nothing."
Has Kanye West Tried To Run For President Before?
Kanye West hasn't ever formally ran for the U.S. presidency but back in 2016, we "Heard 'Em Say" he was running for president at the MTV Music Awards:
Even then, the population was dismissive of West's intentions and he eventually said that he was postponing his candidacy until 2024. Kanye may end up changing his mind again once he has a "Welcome to Heartbreak" moment from realizing that he can't run in certain states to garner enough Electoral College votes necessary to become the next leader of the United States. To keep the Kanye song title trend going, "No More Parties in DC."
---
Understanding 2020 U.S. Presidential Election Prop Odds
When you check out your sportsbook of choice for political betting props like who will win the 2020 U.S. Presidential Election, you'll see prop odds that look something like this:
Joe Biden -150
Donald Trump +135
Hillary Clinton +5000
Kanye West +6000
To bet on these odds, you would be making a prop bet. In this case, there is no clear favorite like there would be on a moneyline or spread bet. When you don't see odds with a minus sign (-) beside them, then the option with the lowest odds is the fave. The rest are considered underdogs.
If you think Kanye West will win the 2020 U.S. Presidential Election, and you bet $100 on him, you'd get a payout of $6,100 – you get your $100 back along with your winnings of $6,000. Our Odds Calculator will show you how much you'd win based on the odds and amount bet.